Di Isabella Rossiello
L'industria del cinema dopo la pausa pandemica ha ricominciato a sfornare film a tutto spiano, alcuni resteranno nelle cineteche, altri passeranno distrattamente nelle sale e alcuni, pochissimi saranno ricordati.
Dopo 35 anni, c'è un film culto che ancora appassiona grandi e piccini, è "Back to the Future"", Ritorno al Futuro", tre film dove si passeggia a volte allegramente a volte con suspense tra presente, passato e futuro.
Script affascinanti pieni di colpi di scena, oh no, non ci si annoia mai con Marty Mc Fly e con lo strabiliante Doc, gli attori Michael J. Fox e Christopher Lloyd.
A Bologna la Next Exhibition e Andrea Sandrone presidente dell'associazione Back to the Future presentano la prima di una mostra itinerante nata undici anni fa dall'idea di un gruppo di appassionati e collezionisti di cimeli cinematografici che collaborano con la casa di produzione Universal Italia.
Perché vedere la mostra? Semplice, è divertente, rivedi i tre film in un percorso che sciorina oggetti originali della trilogia, compresa la mitica DeLorean la fantastica macchina ideata da Doc Brown per viaggiare indifferentemente nel passato e nel futuro. Ogni oggetto ha rigorosamente un certificato di autenticità, compreso lo script.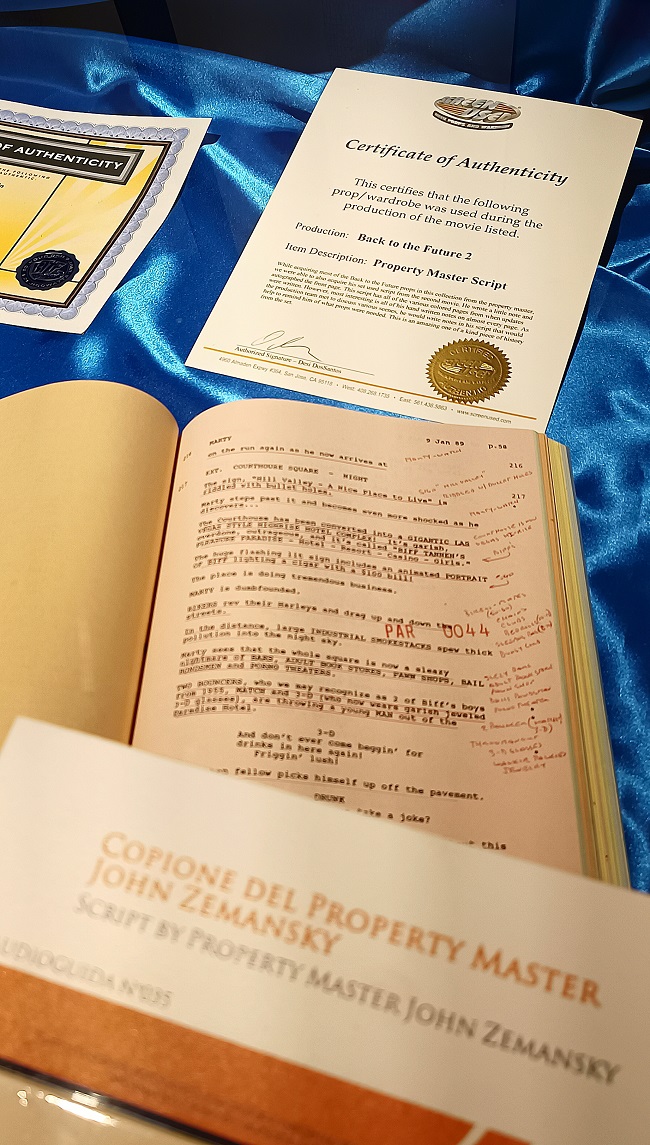 Brani del film con le scene più esilaranti o più famose scorrono tra memorabilia indimenticabili come maglie, camicette, la tuta antiradiazioni, il walkman e fra tutti un almanacco che tutti vorremmo avere: Il grande almanacco sportivo rubato dal bullo Biff Tannen, l'attore Tom Wilson, dove nel futuro ci sono i risultati di tutti gli eventi sportivi che devono ancora accadere.
Gli oggetti sono separati a seconda del film di appartenenza: Primo film 1985, secondo 1989, terzo 1990, troviamo e ricordiamo gli Hover Board, la Pepsi Diet, Pizza Hut, il Nike Mag del futuro, le decorazioni del ballo della scuola "Enchantment under the Sea" cavallucci marini di cartone e brillantini che la magia dello schermo trasforma in un vero "incantesimo".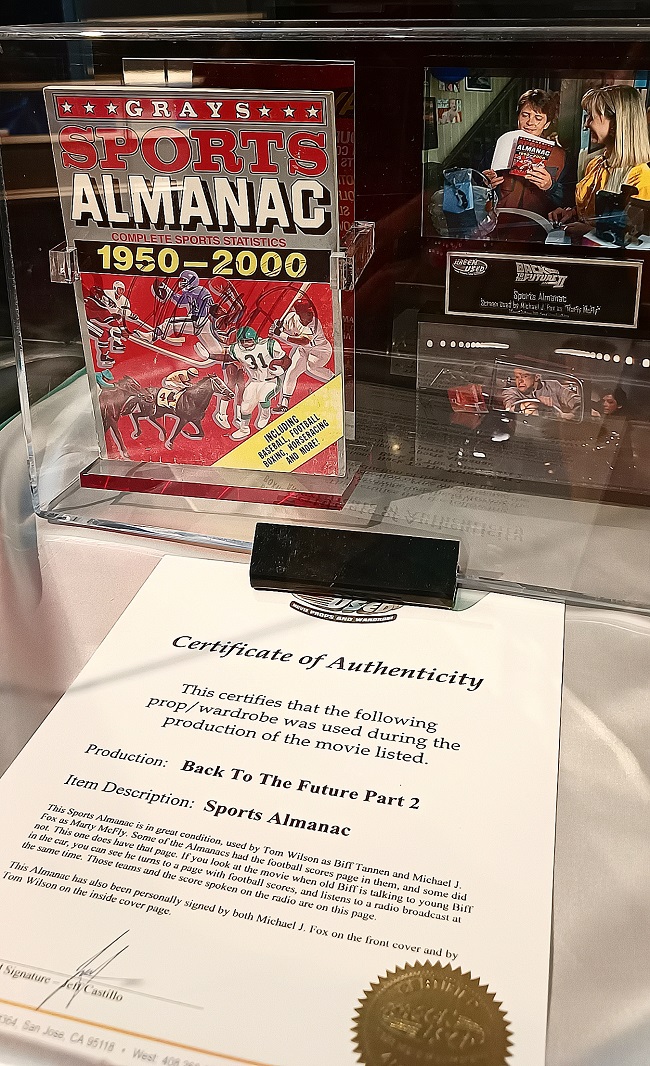 Il ballo dove uno scatenato Michael J. Fox canta e suona brani famosissimi come "Earth Angel" E Johnny be Good" tributo a Chuck Berry.
Del terzo film si ammira l'originale cinturone con pistola, cappello e camicia in perfetto stile western, il megafono di produzione, la copia del Hill Valley Telegraph datato 4 settembre 1885.
Mentre segui la mostra rivedi mentalmente i film, sorridi ricordando le battute, le scene che avevi dimenticato. Tutte le mostre emozionano, Back to the Future ti diverte, grazie alla Next Exhibition che ha omaggiato un capolavoro del regista Robert Zemeckis e dello sceneggiatore Bob Gale; i visitatori gliene ne sono grati.
GALLERIA
Back to the Future Exhibit 2022