Taco Bell knows that the next game-changing idea to make a difference is out there, and big ideas are needed now more than ever. That's why Taco Bell is looking for young people with an idea for change to apply to the Taco Bell Foundation's new Ambition Accelerator program.
Applicants can submit ideas for a chance to receive funding, be invited to a summit at Taco Bell's Headquarters, and get connected to the resources they need to bring their big ideas to life; the application period closes in just two weeks.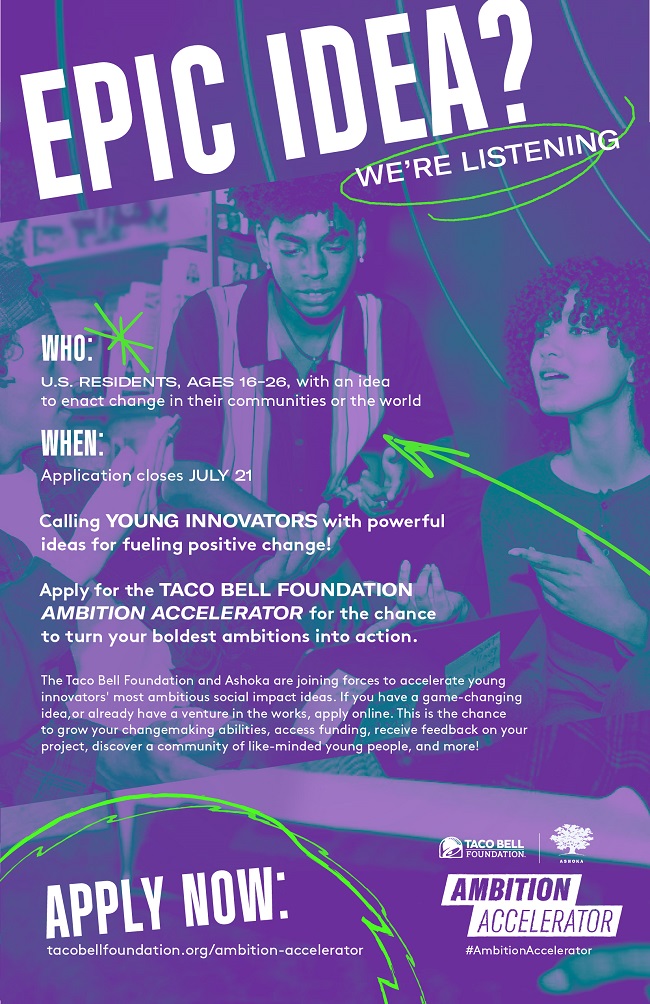 Who should apply? Anyone 16 – 26 from the U.S. and all U.S. territories with an idea or existing project to solve an issue facing their community

What do they need to submit?: Any idea small or large to address a problem they see, like mitigating climate change, advocating for social justice or building a more equitable and inclusive society

Applications can be based on anything from just a spark of an idea to a fully operational endeavor

How do they send in an application? Apply online here

Applicants can text our team for support at (571) 622-1066

What is the deadline? July 21!

What is the award for the winning idea(s)? Applicants with top ideas will get a trip to Taco Bell headquarters to pitch their ideas later this year and potentially win up to $25,000 
Funded by Yum! Brands' Unlocking Opportunity Initiative, this program is for anyone looking to make a positive local or global impact. Nominate a game-changer here. Parents, encourage your children; teachers, encourage your students; friends, encourage your colleagues and friends.