Cristina Fontanelli is always on top of the news as a classical singer (she is a soprano) and as a host for many shows. Cristina gave us the opportunity for an interview and we felt that we could integrate our questions with a brief background on her life, as appeared onCelebrityDialogue.com.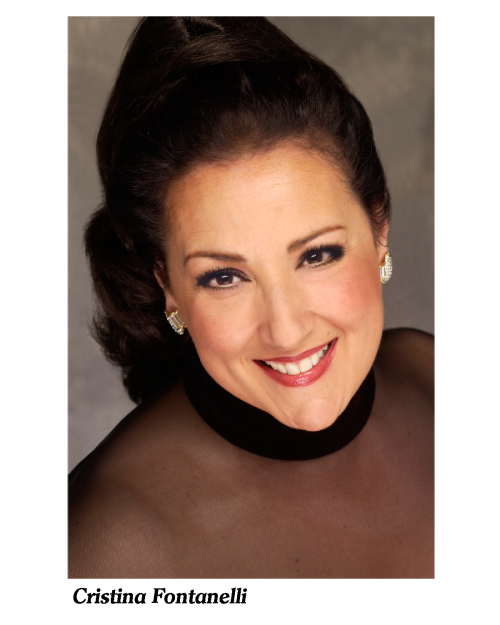 CelebrityDialogue: When did you start singing?
Cristina Fontanelli: I started as a small child to sing around the garden and the house and to put on shows in my neighborhood.  I would choose the music, choreograph  the dance/movements, I'd "cast" my friends and we would hang a curtain using a sheet or blanket in the backyard .  Put chairs for the audience.  My mother, Francesca, inspired me as she had/has one of the most beautiful voices I have ever heard.  She won a contest on the radio, but was a bit shy and timid to go after a career professionally and instead became a housewife and my Mamma, of course!
CelebrityDialogue: Tell us about your education.
Cristina: When I was 11 years old I saw "Gone With the Wind" and when Scarlett O'Hara pulled the rotten carrot out of the ground and said "As God is my witness, I'll never go hungry again" I immediately decided I wanted to be an actress.  I never thought I'd be mainly a singer. I took private piano lessons as a child and some voice lessons in High School.  I graduated from the well-respected American Academy of Dramatic Arts on Madison Avenue in NY City.  Many famous actors got their training there, including Robert Redford, Danny Devito, Kim Cattral, etc.   (I still am doing some acting and am a member of the Screen Actors Guild and have done a few acting parts on TV and in movies in recent years.) After graduating from the Academy, I started to seriously study voice and that is when I learned and began performing the world's great operatic roles because I realized you could act as well as sing.  I also attended extension classes at the famous Juilliard School in NYC and the Mannes College of Music in NYC – always taking private voice lessons.  That is a whole other interview – the proper training of the voice.  My vocal "road" was a bit rocky and I did not receive proper vocal training in the beginning.  Because of that I was always just a bit short of having a perfect vocal technique (which I now have corrected with perserverance and determination), but I was highly-qualified to sing all other kinds of music which led to my "crossover/entertainer" career, while I still always kept operatic performances in my schedule.
CelebrityDialogue: Which well-known theatre groups have you performed with?
Cristina: My career is mostly "one-woman" concerts/performances.  When I have had the opportunity of working with theaters they have been prestigious ones  such as the Coconut Grove Playhouse in Miami and the New Jersey Shakespeare Festival.  I would like to do more theater, including Broadway and I plan to put more effort into that area.
CelebrityDialogue: Would you like to tell us about the Opera companies that you worked with? Cristina: I have performed with the Palm Beach Opera, the Cairo Opera, the New York Grand Opera and received wonderful reviews for the opera performances in the New York Times, New York Daily News, Palm Beach Post, etc. all major newspapers.  I am very proud of my work in the opera field and I would also like to add more opera to my schedule.  Who knows perhaps one day at the Metropolitan Opera or at La Scala.
L'Idea Magazine: Your achievements are so many and so diverse that it is hard to classify or put a label on you. How would you define yourself?
Cristina Fontanelli: I always had a vision about my career and artistic talents that I could "meld" the worlds of classical and popular music, while still acting in film/TV and now I have also added the "role" of television host/interviewer thru my recent appearances on PBS-TV hosting for Andrea Bocelli in Central Park and interviewing Il Volo.  I actually prefer not to have a label on me because it feels limiting – so thank you for your insightful question. I must admit that it took me a very long time to realize the gift of my voice, that God gave me – I never expected to be a singer so I never took it as seriously as I should have – it came easily to me and I felt so comfortable on stage that it seemed like something I was just doing on the way to doing what I really wanted to do, so to speak.  Now I realize the obligation tied to the gift of my voice and value of what I am doing with my life.
L'Idea: Which aspect of show business is most satisfying to you and why? Which one do you identify the most with?
Cristina Fontanelli: Well, you can see from my answer above that I actually enjoy all aspects – acting, singing, TV hosting – well, my dancing is not so great!  LOL!  But even that I'm sure I could improve if I concentrated on it as I have pretty good rhythm!
L'Idea: You have been "Ambassador of Opera", recipient of a "Lifetime Achievement Awards for the Arts" and sang at the opening ceremony of the "Stars and Stripes Inaugural Ball" for President George W. Bush. Which one of these honors was the most unexpected and which one the most treasured and why?
Cristina Fontanelli: Definitely singing at the Inauguration of President George W. Bush was the most treasured moment of my career so far.  The fact that this Italian-American "girl" from Brooklyn – from a very modest background of Italian immigrants – was chosen to sing in Washington D.C. for the most important occasion – the transfer of power from one President to another – was absolutely thrilling – I will never forget the incredible energy in Washington D.C. that day/night – no matter which political party you happen to support – it is an incredibly exciting moment and to lend my voice to it was just amazing!
L'Idea: You also are the "voice" behind many commercials and TV shows. Could you elaborate on that?
Cristina Fontanelli: I have been blessed to use my voice for national radio commercials such as the Domino's Pizza commercial (such fun – I was a "Zany" opera singer, what else!); the voice of Nonna on the famous TV Chef, Lidia Bastianich's, Italian Christmas cartoon special, PBS-TV voiceovers for several specials, etc.
L'Idea: As a soprano, how did you find yourself hosting shows with other singers? What other type of shows did you host?
Cristina Fontanelli:  I wound up hosting, and it was my very first job doing that, the incredibly important and visible concert with Andrea Bocelli in Central Park, also starring Tony Bennett, Celine Dion, David Foster, etc.  The PBS-TV producer heard me sing when I was hired for a PBS donor cocktail party at the Pompeii exhibit at Discover Times Square – although he loved my voice – he said "We need your energy" – and hired me right then and there to be one of the PBS Hosts in Central Park –  "Ignorance is bliss" as they say – I wasn't nervous because I really had no clue how important it was and how if I made a mistake, it could actually have ruined the evening.  The PBS producer really took a chance by choosing me!   It turned out they  liked how I handled it and they hired me again to do yet another highly-visible TV special – the very first interview on American TV with "Il Volo" –
L'Idea: You attended the American Academy of Dramatic Arts, of which you are considered one of the most notable alumni, along with Robert Redford, Danny DeVito and Edward G. Robinson. How was your experience at that school? Do you have any anecdotes from that period?
Cristina Fontanelli: I absolutely LOVED attending the American Academy of Dramatic Arts – My first love and desire was to be an actress – I still love acting – I have an acting agent that sends me out to auditions and I have had call-backs for major TV shows including the Sopranos (I detest violence!) and Boardwalk Empire.  Recently the search engines pulled my name and cited me as one of the most notable alumni of the American Academy along with Robert Redford, Anne Bancroft, Anne Hathaway, etc.  – since I always have dreamed of winning an Academy Award – not a Grammy – you can imagine how incredible that was for me.
L'Idea: Of all the personalities you met in your life, who stands out the most and why?
Cristina Fontanelli:   This is a really difficult question to answer.  I have thought about it often and I cannot really choose one person over another – I have met so many wonderful people – from high positions to simple people – even on the Masai Mara in Africa on tour with the Ambassadors of Opera – I have a special place in my heart for so many of them and they have left a very special impression on me.
L'Idea: This the "Anno Verdiano", that is, the year dedicated to Verdi (it's his anniversary). How was your experience with Verdi's operas? Which Verdi's heroine would you want to interpret the most and why?
Cristina Fontanelli: Yes, we are coming up on the end of the year dedicated to Verdi – I have had the privilege of singing Violette in "La Traviata" several times and bits and pieces of other Verdi operas.  His music is profound and heartfelt – he suffered terribly losing his wife and two children when they were very young – all the emotion is in his music.  I wish that someday I would sing this great opera at the level it deserves, and with the emotion and now strength of vocal technique that I possess.  Yes, I certainly would like to sing that great operatic heroine again in my future career.
L'Idea: What projects are in the works right now? And for the future?
Cristina Fontanelli: I have so  many projects and so many possibilities for the future that they are difficult to list.  Certainly my annual "labor of love" that I began 10 years ago – "Christmas in Italy®" will remain on my calendar – 10 years in NYC – coming right up on Saturday, December 7 at 3 p.m. and 3 years in San Diego on December 13.  I have also performed it in Los Angeles, in W. Virginia and many other parts of the country and the world, including Korea where I have sung many times in the past, would like me to bring this show/concert to them.  I appear annually in Hollywood for Jimmy Kimmel's event and continue to perform all over the country with my own shows/concerts, with symphony orchestras, opera companies and in nightclubs and festival settings – also just this week one of the specials I hosted on PBS has been on the TV – it is exciting to know that the future – with God's help – will have so many wonderful opportunities in it.