Sicilian-American singer Michela Musolino has been internationally lauded for her unique ability to reimagine Sicilian folk and roots music, alchemized with renowned American musical genres, to mirror the history and movement of people and their musical traditions from the Old World to the New.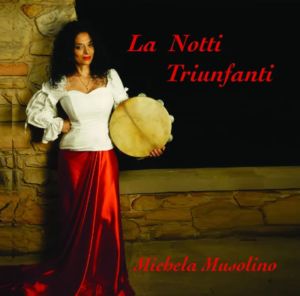 Now, the  Italian South meets the American South in the retelling of a timeless universal tale on La Notti Triunfanti (to be released Dec 9, 2022) as Michela Musolino packs up her most beloved Sicilian and Southern Italian Christmas songs and relocates to Memphis.
From traditional Sicilian Christmas sonnets infused with Beal Street swing to Neapolitan yuletide lullabies with rockabilly edge, traditions from Sicily and Southern Italy come crashing into the rich musical culture of Memphis as Musolino's voice floats freely between the ages, interweaving ancient and modern melodies.
"The fun part about these Christmas songs, for me, is that they all approach that night from different aspects," reflects Musolino. "Some of the songs are from the perspective of Mary. Some are from the aspect of what would happen to St. Joseph, or what happens when the shepherds come, or when the three kings come. So they provide a kind of multi-aspect examination of that moment of Christ's birth on that triumphant night."
"Li Tri Re Di L'Orienti" tells the story of the three kings who came to witness Christ's birth, with each king having a verse detailing the gifts that they brought. This song is a tradition all over Sicily, with many regions having their own unique versions of it. And "Quanno Nascette Ninno," a beloved song from the region of Campagne, relates the story from the perspective of the shepherds. This song dates back centuries and it is said that the shepherds throughout Southern Italy would descend from the mountains just before Christmas every year to play music in celebration.

Mary is the focal point of many of the songs about the birth of Christ, a fact represented here by songs like "Canzuna Di Natali," a Nativity song about the night of Christ's birth that relates how, when the shepherds brought gifts to the manger, Mary gave them her blessing and told them to be of good cheer because her Son is all love. Likewise, "Diu Vi Manna L'Ambasciata" is a Sicilian song in tribute to the Blessed Virgin, focusing on Mary and the importance of her role in Jesus' birth. The song begins with the story of the Annunciation when an angel of God appears and tells of the coming birth of her child, Christ.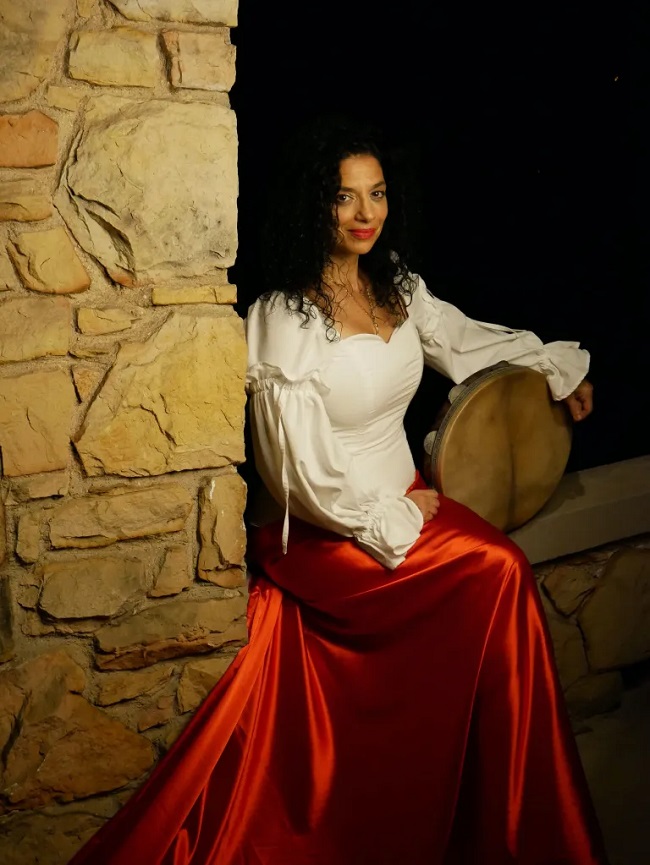 Says Musolino "You can trace a line from Mary back to the ancient goddesses of the region. It's just the natural evolution of how this process of synchronization of culture worked from antiquity when you had mother-goddess traditions. Especially in Sicily with Demeter, who was the earth's mother. And then, along comes Mary, and she fits in beautifully, especially because there's so much respect for the mother in general in Sicilian and Italian culture."
The songs on La Notti Triunfanti, in many ways, represent the oral transmission of these stories from a time when many people couldn't read the Bible — yet through music, they could pass these traditions down. Along the way, the songs picked up the unique characteristics and sounds  of the people and cultures that passed through the ancient hub of multi-cultural exchange that is Sicily.
That mutable nature of music as it passes from culture to culture over time is something Musolino is fascinated with — and it is an element she wanted to recreate in taking these Old World Christmas songs with her to Memphis, where they were recorded and mixed at Electraphonic Recording by Adam Hill, and produced by Mario Monterosso. Musolino is joined on the album by an eclectic cast of Memphis-based musicians, including Mario Monterosso on guitars, T Jarrod Bonta on piano and organs, Jeremy Barzizza on bass and flute, Alice Hansen on fiddle, and Tom Lonardo on drums, with backing vocals by Mario Monterosso and Adam Hill. 
"In recreating the songs, we tried to keep as close to the original melodies as we could while also adding in the unique rhythms and sounds that make up Memphis traditions. We wanted to just see what would happen with the collective input of the band influencing the natural evolution of these songs. And this is really what folk music does. It keeps evolving with everybody that sings or plays that song adding something of themselves and their unique experience to it."
The album's title track "Nni la Notti Triunfanti" will be put out as a single on Nov. 18, 2022, accompanied by a video produced by Two Dog Memphis Productions. The video features scenes shot in Overton Park, in front of the monument to the Memphis Belle, in front of Sun Studios, and on Beale Street – all places that symbolize Memphis – with Beale and Sun especially chosen for their historic connection to the music.
"The idea for the video was just to tell my story," says Musolino. "I moved to Memphis, following the music traditions here, and Memphis kind of leads me back to or connects to the musical traditions I brought with me – similar to the way we took Sicilian and Southern Italian traditions and arranged them with American musical traditions. When I moved here, I didn't know what to expect, I only knew that somehow, the music would either follow me or lead me. It is the music & the traditions which fill up my house and turn it from an empty space into a home.  When I tell the stories of Sicilian immigrants in song, I mention that they arrived here with nothing more than the traditions they carried with them. So…history repeats".