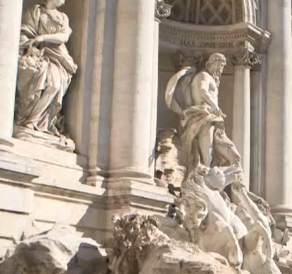 A full restoration of the Trevi Fountain in Rome, the fountain immortalized in many movies, has started thanks to a generous funding by the Italian Fashion company Fendi.
The CEO of that company, Pietro Beccari, has announced that this is part of a program called "Fendi for Fountains, an ambitious project that will revive the original luster of Rome's landmark fountains. A tribute to beauty and savoire-faire that celebrates Italian art, history and culture." The Quattro Fontane complex is also being restored at this time.  Fendi also declared that "the long-lasting love story between Fendi and Rome, its hometown, is an overwhelming and inspiring force that transcends time," and that "Fendi pays tribute to the Eternal City…where water and creativity flow liberally and relentlessly."
An estimated €2.18 million will be spent in the restoration, which is expected to take approximately 20 months. The restoration is unusual also because it will be done in stages and without ever closing the fountains to the public for visits, although water will be drained from the fountain during the works.
Karl Lagerfeld, who has published a book of images of Rome fountains obtained from daguerreotypes and platinotypes and who was the spokesperson for Fendi at the press conference announcing the project, affirmed that the fountains of Rome "are there to glorify water, which is the most important thing in life," and that the Trevi Fountain "it's not very damaged, that's why it's better to do it now than later. Now they can do it without the fountain being closed to the public."
The mayor of Rome, Gianni Alemanno, noted that "without similar initiatives, we won't be able to save the cultural memory of our country," since the fiscal austerity has removed most of the funding for monuments' restoration.
Click to see a short movie on Fendi for Fountains from the fendi.com website.