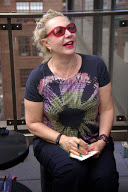 Even when jet-lagged, the Italian actress Iaia Forte has plenty of carry-on charm.
It was March 1962 when her Neapolitan family christened their daughter "Maria Rosaria Forte" but, gradually, she adopted a less common first name, Iaia (pronounced "YaYa").
In 1986, the spirited 24-year-old made her first movie, "Grandi magazzini," a comedy with Ornella Muti and Nino Manfredi. After being involved with many projects, a big break occurred ten years later when she was cast as Luna di Capua or Shadow in "Luna e l'altra." In 1997, Iaia Forte was nominated by the David di Donatello Organization for a Best Actress award. Though she didn't win, the nomination drew her into the spotlight. More recently, two motion pictures showcased her talents; in 2013 she played Cleli in "Honey" and she took the role of Trumeau in "The Great Beauty," which won the Oscar for Best Foreign Language Film. Paolo Sorrentino's "The Great Beauty" was the eleventh win for Italy at the Oscars and the first time since Roberto Benigni's 1998 "Life Is Beautiful" that the boot has scored with the Academy Award judges.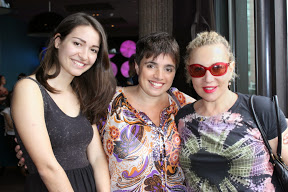 A group of journalists got a chance to learn more about the nimble Napolitana on Sunday, June 8, 2014 at Gansevoort Park Rooftop.
Iaia became an actress, she laughed, because she was about 40 lbs heavier than a ballerina. She's drawn to the imaginative work of Neapolitan screenwriter-director Mario Martone as well as the anarchic, off-center artists such as Fellini. If anyone wrote a part for her, she'd be happiest playing a tragic queen.
When she's not involved in a project for the stage or screen, she indulges her love for opera. Works written by Verdi or sung by Maria Callas especially strike her fancy.
New York City pleases her greatly because it's as busy and as cosmopolitan as Naples. She was hoping to enjoy the city as much as possible in between personal appearances in Manhattan and in the Bronx on June 9th, when she would be appearing at the Arthur Avenue Market for the opening night celebration of "In Scena!" This ambitious five-borough Italian Theatre Festival was capably organized by Laura Caparrotti, an Italian actress, director, and producer.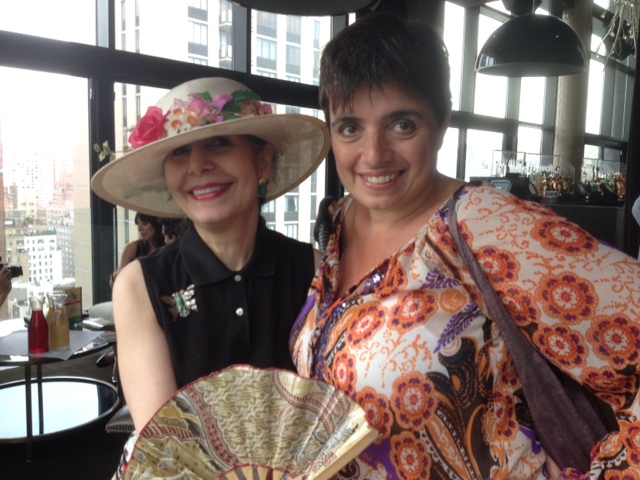 The temperature and humidity were ideal for this Sunday press conference, which took place outdoors on the hotel's 20th floor. But the party planner Herbert Fox, who organized this austere assemblage was quick to blame the weather for the scanty turn-out. However, the shrewdest invitation detectives probably noticed the absence of food and beverage sponsors and stayed away. Unlike most Italian events, where a tantalizing buffet beckons, there was no hospitality for the attendees (except for a cash bar) and not so much as ice water for the working journalists. Not my idea of a party.