Reviewed by LindaAnn LoSchiavo for L'Idea
Deep in the heart of Russia, Cupid has been causing trouble, thanks to the pen of Leo Tolstoy. The famous author had started a novel by writing: "All happy families are alike.  Each unhappy family is unhappy in it's own way." You will recognize the opening of "Anna Karenina," published in 1878. It would be fifteen more years until Mae West was born in 1893 on Bushwick Avenue in Brooklyn, New York. Fortunately, novelists and dramatists have special tools — — the ability to time travel, eavesdrop, and merge fictional worlds with reality.
Happily, Mae West will save the day and Anna Karenina will step off the heart-tugging romantic merry-go-round she boarded, which kept her whirling between an unfulfilling marriage to a dull, dutiful husband and a mad love affair with dashing cavalry officer Count Vronsky in Germaine Shames' energetic "Anna Karenina Lives!"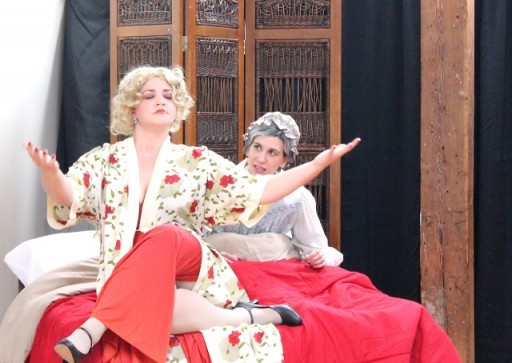 Since the playwright's title has revealed the ending, she has released New York's drama critics from any accusations about revealing "plot spoilers." Instead of throwing herself on the railroad tracks, the fitting final step for an unfaithful wife in Leo Tolstoy's moral world view, our St. Petersberg matron gets a happier ending after two sassy dames show up to school her.
Bad Quarto's ensemble cast includes Rachel Marie Kemp as Anna Karenina; Kirsten Egenes as Sophia Tolstoy; James Overton triples as a musician, Vronsky, and Anna's husband; and a vibrant, scene-stealing Brigette Estola as Mae West.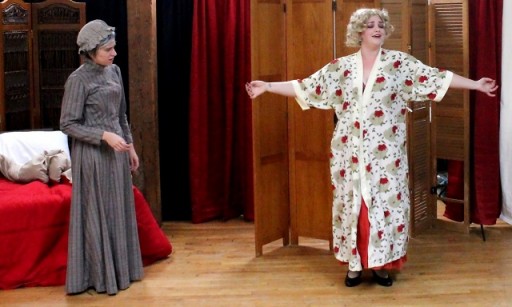 Aware that Mae West was interested in seances and spiritualism, Germaine Shames plucks her out of the 1919 vaudeville era and sends the Brooklyn bombshell back in time to the guarded bedroom of unhappy Sophia Tolstoy.  After "Comrade Mae" invigorates the bed-ridden widow by teaching her the seductive shimmy schwabble, the ladies decide to transport themselves to St. Petersberg in early 1870s in order to rewrite the plot of Leo Tolstoy's tragic novel. Why not?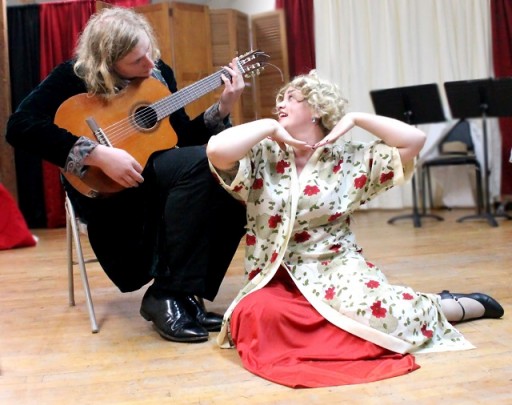 "Anna Karenina Lives!" will be onstage at 353 West 48th Street until October 22nd, 2017.  Founded in 2010, Bad Quarto applies Shakespeare's staging practices to modern works. Which is to say, productions have a stripped-down look and use few props. However, the thoughtful costuming by Joanne Famiglietti brought just the right touches to this period comedy.
Most of all, bubbly Brigette Estola really nails her role as Mae West. Brava!  Mae-mavens will be delighted to learn that Brigette's Mae croons a very fine rendition of "I'm No Angel" (from the iconic 1933 motion picture by Paramount Pictures) and offers an impressive shoulder-shivering shimmy while doing her famous 1918 song, "Everybody Shimmies Now." Wiggle to midtown West.
An interview with the stage director Tony Tambasco may be found by clicking HERE
Find Bad Quarto on Facebook — — or tweet them @BadQuartoPlays. Or phone the box office: 646-598-2128.