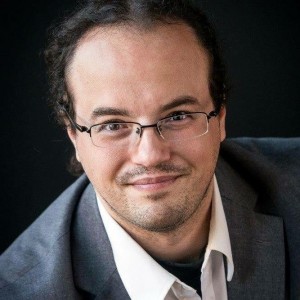 Interview by LindaAnn Lo Schiavo for L'IDEA Magazine
"Anna Karenina Lives!" will be onstage at 353 West 48th Street until October 22nd, 2017.  Founded in 2010, Bad Quarto applies Shakespeare's staging practices to modern works. Which is to say, productions have a stripped-down look and use few props. However, the thoughtful costuming by Joanne Famiglietti brought just the right touches to this period comedy.
Most of all, bubbly Brigette Estola really nails her role as Mae West. Brava!  Mae-mavens will be delighted to learn that Brigette's Mae croons a very fine rendition of "I'm No Angel" (from the iconic 1933 motion picture by Paramount Pictures) and offers an impressive shoulder-shivering shimmy while doing her famous 1918 song, "Everybody Shimmies Now." Wiggle to midtown West.  A complete review may be found by clicking HERE.
The director has kindly given us a chance of chatting about the play….:
L'IDEA:  Since I've seen two of my Mae West plays onstage (and I've attended auditions and readings of "Sex"), I know the role is difficult. What qualities were you looking for in the Mae West actress?
Tony Tambasco:  A strong actor, first and foremost, with a strong personality. Someone who could really own the stage, and who has the chutzpah to think she could remake one of the greatest novels ever written in her image. And I wanted someone who could sing and dance.   
L'IDEA:  Mae West changed her delivery and stage presence over her long career. How did you suggest that the actress prepare for her role as Mae West?
Tony Tambasco:  It was a fun challenge for us because the Mae West in "Anna Karenina Lives!" is about ten years younger than the youngest version of Mae West we know from her filmography. In my early work with Brigette Estola, who plays Mae West in our production, we spent a lot of time working backwards from the Mae West we know to a younger version of herself, a woman who was still looking for the success she would eventually achieve, but certain she would find it. And so we started with the Mae we know from history, and worked backwards from there to find a slightly less refined, but hungrier and brasher Mae.
L'IDEA: Mae West learned early on how to upstage other performers. Was the Mae actress directed differently than the Sophia Tolstoy character — — and was there intentional "upstaging" for comic effect?
Tony Tambasco:  Aside from the particulars of the characters themselves, no. Although Mae does the majority of the singing and dancing in the play, so Brigette spent more time with our music director (James Overton) and choreographer (Mike Canestraro).
L'IDEA: It's a very amusing premise — — to have the author's wife and Mae West protect or educate lovesick Anna K. Is the performance style + tempo more faithful to the Bard's era or the19th century — — or up-dated to the 1930s "screwball comedy" style?
Tony Tambasco:  Part of our mission in performing modern plays at Bad Quarto Productions [founded in 2010] is to perform them using the same Shakespearean staging conditions that form the basis of our approach to early modern plays. But that said, and while I am more familiar with Shakespearean staging, my research for the production indicates that plays on the public stages in London in the 1590s probably have a lot in common with vaudeville of the early 1920s: it seems to me that 1920s vaudeville and cabaret theatre is probably closer to Shakespeare's theatre than the Shakespearean playing companies of the 1920s were.
L'IDEA: What would you most like the audience to know about this production?
Tony Tambasco:  It's fun! There are a lot of things I like about it, and at this particular moment, I think it's important that we consider new artistic dialogues with canonical works, and Anna Karenina Lives! is a great example of that. But "Anna Karenina Lives!" is also a window to the beginnings of musical theatre.
L'IDEA: What did the director learn from directing this play?
Tony Tambasco: I learned a lot about Mae West, Sophia Tolstoy, and Anna Karenina.  But I think I've also learned to see a little more clearly the connections between Shakespeare's theatre and our own.
Find Bad Quarto on Facebook — — or tweet them @BadQuartoPlays. Or phone the box office: 646-598-2128.