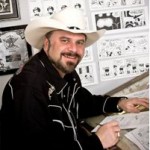 Guy Gilchrist is a renowned writer and illustrator of children's books (42 titles to his name, of which the acclaimed"Night Lights & Pillow Fights" also appears in comics and games versions) and a celebrated, syndicated cartoonist, with strips such as "Mudpie," "Screams," "The Poetry Guy," "The Rock Channel," "Today's Dogg," and, since 1995, the classic "Nancy."
Guy won the prestigious Reuben Award from the National Cartoonists Society in the Best Book Illustrator category in both 1998 and 1999, and 3 Children's Choice Awards by the International Reading Council for best books of the year. His work has appeared in newspapers and magazines across the globe and is permanently preserved at the Smithsonian Institute in Washington, D.C.
In 1981 he created the daily comic strip "The Muppets" with his brother Brad Gilchrist, which was printed worldwide in over 660 newspapers from 1981 to 1986.
In 1997, Guy founded his own international publishing company, Gilchrist Publishing.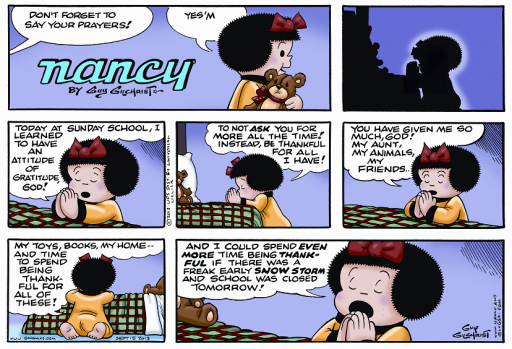 L'IDEA: Guy, you have been drawing "Nancy" for 19 years now; it has probably become part of you, almost as if you created it, although the strip appeared for the first time in 1938 and the Nancy as a character was first drawn in 1933. How different is the experience of creating a strip from scratch, creating a strip based on someone else's characters, as you did for "The Muppets," and drawing a strip that has been around already so many years, as "Nancy" is?
GUY GILCHRIST: Nancy really has become a part of my life and a part of my heart; you know, writing and drawing something for 19 years, every single day of your life, has that effect. I'm certainly not the same person I was when I began or anywhere in the middle. And I look back now at 19 years and can see the effects of the different things that were going on in my life at the time.
When I was writing and drawing for Jim Henson and the Muppets I was trying to please Jim. Also, I was very scared; I was just a kid starting out and I was given a worldwide stage to either succeed on or fail. No pressure, you know. The Muppets definitely all had incredibly wonderful personalities, which were already very well evolved. Basically, my job was to take these wonderful, crazy characters with all of this life and color and music and warmth and try to find a way to translate that into a daily comic strip. Sometimes it felt like I was trying to get a 100 piece orchestra into a phone booth! When you're doing your own comic strip, characters that you've created all by yourself, then it really is a totally different thing. You truly are like an eagle flying endless skies with no barriers to your creativity but your own mind and talents.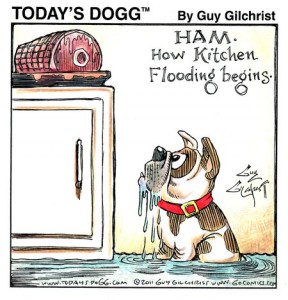 These days, of course, I have the little panel, Today's Dogg, which is very fun and free, but also, after 19 years really and truly Nancy and Aunt Fritzi and the entire group are really and truly mine. Now, the characters will always be the creations of the great Ernie Bushmiller, and he is always my inspiration, it's really important for me to be honest and funny in my own way in the comic strip each day. The best way to honor Ernie Bushmiller and his wonderful characters is to keep them alive and romping through the newspapers and the Internet for as long as it is my blessing to do so!
L'IDEA: Do you believe that the continuing success of classic strips, such as "Blondie," Gasoline Alley" and "Nancy," which seem to live well beyond their expected natural life, is tied to the "nostalgia" factor, with its simpler times and situations?
GUY GILCHRIST: I believe it is a combination of two things. I believe that nostalgia of course is extremely important in our continuing success. Many of our readers have been Nancy Fans their entire lives, since this trip is been around for over 80 years! They may remember it from when they were children, and now as parents they are reading it to their children! There has always been the Stasia, that longing to touch something from my past that has touched our hearts. My job as the Cartoonist is really twofold. I want to present our readers with a product that will please them and remind them of the characters that they so loved when they were children, but also breathe life into these characters and make them viable and entertaining and engaging to today's generation!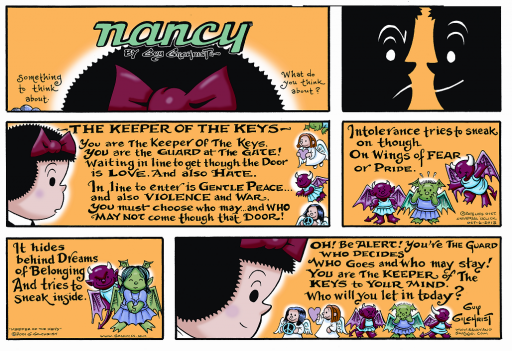 L'IDEA: Do you feel that the messages and the humor in "Nancy" are as valid today as they were in 1938? Has she been modernized, both in thinking and/or communicating, or is she still the same mischievous 8 year old?
GUY GILCHRIST: That's really my job, isn't it?! I certainly hope I'm doing that! While the cars and machines and electronics around Nancy and her gang have changed, she really hasn't! She may live in a slightly smaller town then perhaps she did early on in the 1930s, since her author these days lives in a slightly smaller town… but that is probably about it. I think the small-town feeling of Nancy is one of the things that make her so successful around the world. You know, little children still pretty much act and react the same way that little children acted in the decades before. They are both angels and brats. One moment you want to scold them, the next moment you want to hug them and hold on for dear life! These are the fundamentals of human emotions. They will never change.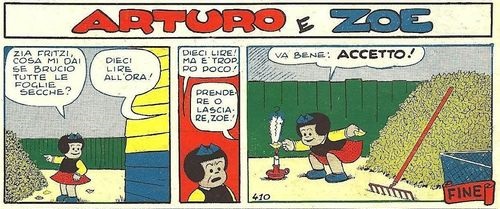 L'IDEA: I used to read "Nancy" when I was a little kid (I read it in Italian as "Arturo e Zoe," which appeared as full stories in the comics magazines "Il Monello" and "L'Intrepido"), and I am sure most of our readers have been exposed to it one way or the other. What do you feel are the most appealing characteristics of this strip?
GUY GILCHRIST: Nancy is still very popular not only in America but all around the world. Our COM X are read in over 80 different countries and by 57 million people. That's a pretty scary thought. It makes me want to check my spelling a hundred times before I send things out. I wouldn't want to make a mistake in front of that many people in that many languages! Honestly, what I have always tried to do is keep Nancy's wants and desires and her daily life simple. By that I mean that if you read the comic strip for a little while you will realize that the characters never do anything that would be expensive. They do things that really don't cost any money. They go for walks they play in the park they climb trees they ride bicycles and skateboards. The most expensive things they ever buy are ice cream cones and comic books. They spend a lot of time outside, playing. They have television sets and computers, but I don't have the children sitting in front of them all that much. I keep them also away from too many video games. I do this because no matter what generation you are from, and where you are in this world, these are common things that we all can enjoy and can remember. I was poor growing up and the comics were something that were a thrill for me. When I would see those two or three pages each day of the funnies, they were really a treasure to me! I want the same feeling for children who cannot afford much around the world, that if they see the funnies in the paper with Nancy and Sluggo in them, they will be able to identify with them and to smile.
L'IDEA: If you had any suggestions for Nancy, the little girl who is main character of that strip, what would it be?
GUY GILCHRIST: She wouldn't listen to be! I'm a grown-up! Believe me, I've had daughters and a granddaughter and I know! That's what's so much fun about Nancy! We see our own children in her and her friends!
L'IDEA: When you started drawing "Nancy," the person in charge of the stories was your brother Brad, and that went on until last year. What made you take over completely the strip?
GUY GILCHRIST: When I started drawing Nancy, my brother Brad and I shared the writing duties; after about seven or eight years, my brother Brad began to work on another project. He's always been very involved with the environment, recycling and ecology; that is his passion. It was then that Brad backed away from the Nancy comic and I began to work on it on my own. And so, I have actually been writing and drawing the strip on my own for quite a few years. I consider myself a writer first, And an illustrator second, so the transition was not a difficult one for me. Brad's name had been left on the byline by the publishers! That was okay with me and still is! A terrific way to honor my brother!

L'IDEA: What is the illustration work you are the most proud of and why?
GUY GILCHRIST: That is a really difficult question. You know, I've had a very long and very blessed career. My favorite project is always the exact thing that I am working on at this moment. That is the way you must always be as a writer and artist. You don't look toward the future and you do not look toward the past. You concentrate all you have on that scary blank white piece of paper in front of you and pray you have something to offer! In regard to highlights of my career, certainly the artwork that I did for Pres. Reagan and the White House back in 1984 that was preserved in the Smithsonian would be a blessing. I have been so blessed also to have met many people who have been touched by my story books as well as my comics. And when they share with me how much a certain book or a certain character meant to them, that becomes a very important work for me. I thank my Father in heaven every single day for the blessing that He has given me to be a writer and an artist and to be able to reach out to people in the ways that I am privileged to do so.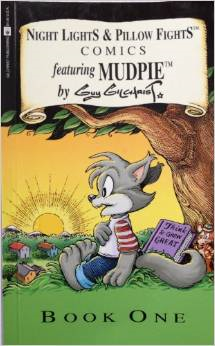 L'IDEA: You are also a popular children's book's author and illustrator. Are your books all independent of each other, as stories and characters go, or do they carry common themes, locations and characters? Which one is the character of your stories that you like the most and why?
GUY GILCHRIST: There have been common themes and common characters throughout many of my books. However, each book can be read independently and enjoyed on its own, apart from whatever series it may be a part of. The Tiny Dinos Series with Warner Books still seems to be very popular with many, many people. My Mudpie  character Has been published by several different publishing houses and was also of course a comic strip.
Then there are the Night Lights and Pillow Fights and Just Imagine books . Those were full of poems and pictures and brand-new little fairytales that I concocted! I've written so many, and each one of them is a wonderful memory!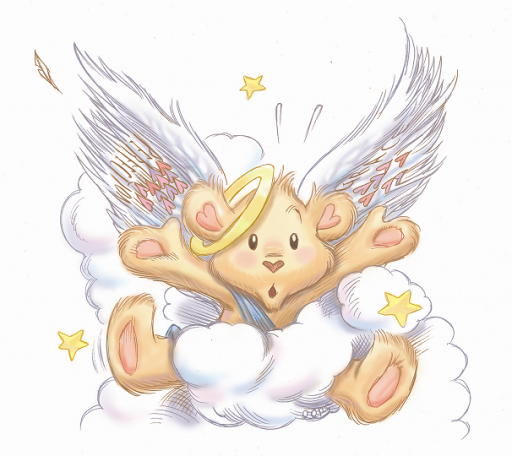 L'IDEA: Were you always interested to be an illustrator? How did you get to where you are now? If, hypothetically, you could be working in any job position in the world, what would you be?

GUY GILCHRIST: I don't consider myself to be an illustrator. I consider myself first to be a writer. You see, whether it is a storybook, a comic book, a comic strip, or a song or a speech… the idea and the story always comes first. Even as a little child when I was drawing cartoons, while I was copying Superman and Mickey Mouse and Woody Woodpecker and Popeye, I was making up stories for them! How did I get to be where I am now? First you have to tell me where that is! I hope I'm still right in the middle of a wonderful adventure! I hope I'm not near the end! I hope I'm right in the middle. I feel like I'm learning every single day. I certainly feel like the comic strip and the songs and the stories that I am writing now are the best of my career. Really, the success that I have had is not based on talent. I know that there have always been more talented artist and writers than me applying for the projects that I've had over the years. I believe that the secret to success is to stick to it. To never quit and always keep your promises. Be a person of your word who can be counted on to get the project finished. If you stay busy, you will eventually get better and better and better at everything that you do. Repetition helps to pull the genius out of you and put it down on paper! It also helps if you remember that you are a professional, and therefore it is your job. A mortgage and a lovely spouse and children are wonderful igniters for your muse!!! And never forget the power of prayer. Don't ever forget to thank God every single day for all that you have.
Oh, and hypothetically, if I could have any job in the world, I've got it!
L'IDEA: You founded the Guy Gilchrist Studios, and opened also a branch in Tokyo. What is their function?
GUY GILCHRIST: Back in the early 1990s, I was exploring the market for my cartoons and writing in Tokyo. We opened a branch office at that time and were quite successful with it! We were able to produce some Japanese versions of some of my children's books and also work with the Japanese baseball clubs and the national soccer league on some cartoon mascot projects! My agent over there, Maseo Maruyama, keeps a desk there for me, although I have not been back in quite a few years. This now Nashville cat is looking forward to getting back over to Tokyo sometime soon.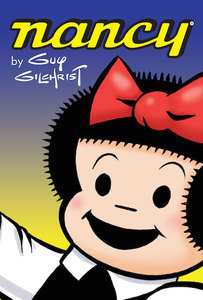 L'IDEA: What are your projects for the near future? And for the long run?
GUY GILCHRIST: We've got some fantastic projects going right now! By the way, everything that I'm working on and I can show you is over at www.NancyandSluggo.com. For instance the brand-new Nancy comic book that we just published! It's the first brand-new Nancy book in 20 years! We plan on putting out an entire line of all of the cartoons that I have done I've Nancy over the last 19 years. Also there's a figurine line called Bearly Angels. They are sweet little statuettes of angel bears that have sayings to motivate you and to fill you with God's love. We are working on a set of children's books featuring these characters. We also have a Nancy Broadway show and a project with Dreamworks in development. It's a very exciting time! My incredible wife, Teresa, is my partner in Nancy Entertainment LLC.
I have a full engagement calendar as a touring Motivational speaker. Traveling all over this country and being able to connect with people of all ages is probably my favorite thing to do! It is such an incredible joy to be able to share stories of my life with the Muppets and Nancy and all the cartoon characters that I have worked on, as well as tell the personal side of my life and how I started out as a poor child without a college education and eventually wound up as a guest of honor at the White House and beyond. It is always a great honor and blessing to be able to speak in front of audiences and connect that way. I am so, so lucky; so, so blessed. I'm hoping for a very long run.