By Joseph M. Calisi ©2022 All Rights Reserved
JFK Airport, Queens, NY
The effects of the turnover from the former Alitalia Airline that expired on October 15, 2021, have been unveiled at New York's JFK Airport today. The touchdown at 4 pm as ITA Airways landed in their new blue fuselage livery scheme has arrived. The trip began ITA's inaugural intercontinental operations from Milan's Malpensa airport with an Airbus A330-200 that took off at 1.40 pm Milan time for the 7-hour flight from Italy.
The new livery on the A330 is a combination of the blue fuselage is the historical color of the House of Savoy, dating back to before the monarchy was voted out on June 2, 1946 when the Italian public voted to remove them from power and substitute the republic that exists today. Vertically on the tail are the colors of the Italian flag. Together, a unique look helps ITA stand out from its competition.
The plane with the new livery was met by a departing plane in the old Alitalia scheme and 2 water canons formed an arch shower, an honor that's bestowed only for special occasions.
Upon departure from Milan, AerCap, the largest aircraft leasing company, confirmed that ITA Airways has a rental agreement for a dozen new generation Airbus planes for ITA's business plan that are built in Tolouse, France.
About the Plane
The Airbus-built A330 is a wide-body aircraft and is one of several derivatives of the A300, its first airliner in the mid-1970s. Then the company began development on the A330 twinjet in parallel with the A340 quadjet and launched both designs with their first orders in June 1987.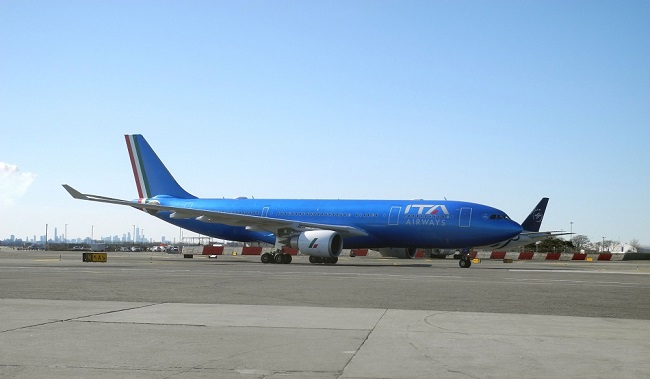 The A330 model plane has Airbus-standard wide seats and a modern cabin that bring a high level of comfort and relaxation to long-haul flights—even in economy. This model first began in revenue service in the late 1990s. Ambient lighting adds to the A330's stylish cabin design and helps counter the effects of jetlag. As a wide-body, the A330's cross-section sizing also enables freight to be carried cargo on the lower deck.
Benefitting from over 20 years of continuous incremental innovation, Airbus' A330-200 variant is one of the most modern and reliable aircraft in the sky. Typically flying between 210 and 250 passengers, it can be tailored to carry as many as 406. The twin-aisle wide-body aircraft provides all passengers with an abundance of personal space, and the modern cabin allows for 18-inch wide seats.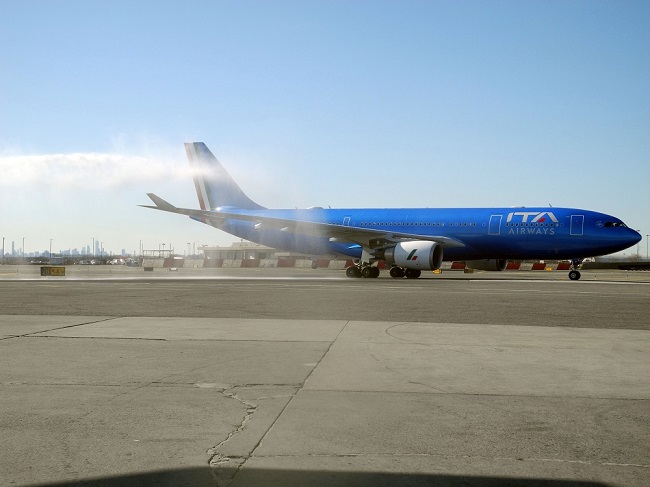 A330 family also serves as a modern widebody freighter, a corporate jet, and is deployed by military forces around the world in its Multi-Role Tanker Transport (A330 MRTT) variants.