Gabriele D`Annunzio, writer, poet, playwright, journalist, but also symbol, along with the poet Giovanni Pascoli, of the Italian Decadentism movement, was also an important political and military figure of Italian history, and a war hero.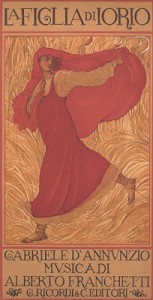 In 2013 Italy celebrated his 150th birth anniversary and most of the emphasis, rightfully, was placed on his literary contributions. Truthfully, he deserved to be recognized as one of the most influential writers in the Italian language, but there is an aspect of his multicultural activities that is mostly ignored by well-meaning essayists and critics alike, and that is music. The readers should not be alarmed by this statement: we are not stating that D'Annunzio was a composer or a performer, but that music was an essential constituent of his creative process and that, furthermore, he contributed plenty to this field through his work.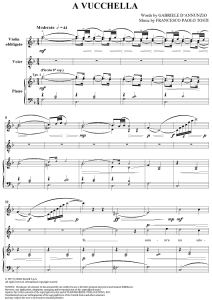 Although the great poet was not a musician by trade, he had taken piano and violin lessons and was an accomplished guitarist. His love of music can be surmised in his villa's violin-shaped garden, aptly named "garden of the dances." He cultivated friendships with many notables in the music world (Arturo Toscanini, Francesco Paolo Tosti, Giacomo Puccini, Claude Debussy, and Niccolò van Westerhout, etc.), he was a connoisseur of concert hall performances, and he was also a successful lyricist and a librettist. As a matter of fact, he wrote one of the masterpieces of Neapolitan music, A vucchella, which Enrico Caruso brought to international acclaim. The song was written as a "dare", a bet with his friend Ferdinando Russo, and was put to music by Tosti, who also used many other lyrics by D'Annunzio. D'Annunzio likewise wrote many popular songs with the composers Ottorino Respighi and Leone Sinigaglia.
A few operas were also created based on his writings; amongst these are Riccardo Zandonai's Francesca da Rimini and Pietro Mascagni's Parisina.
His love for Giuseppe Verdi's operas were only matched by his passion for Richard Wagner's music, which he never had enough of. During his Neapolitan years, this obsession was indulged and he would spend hours listening to Niccolò van Westerhout's piano renditions of Wagner's compositions. As a witness declared, the great poet "wanted to hear over and over again the unrelenting Prelude and he took notes, and he almost stared at the page of the torture of the love potion. Van Westerhout was an outstanding animator: the spasm of the lovers, entwined in the eternal fight by love and death, was twisting our nerves. Colautti [who, few years after, collaborated with van Westerhout writing the libretto for the opera Dona Flor] did not have a member of his body that he could hold still. His chair squeaked as if they were at a séance. Once, he even threw a book at the musical sheet: his compassion could not endure the agony of the hero. Only D'Annunzio remained calm, but he had resolved not to be defrauded of any notes. He matured in that peaceful contemplation the marvelous pages on the prelude of the Tristan, which later on appeared in his Triumph of Death. From these intense and ghost-rousing performances came to life the famous passage" (from G..Gatti, Vita di D'Annunzio).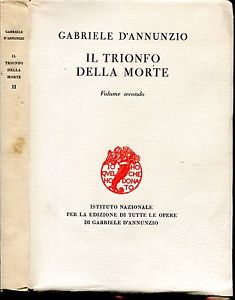 From another source we discover that D'Annunzio "goes repeatedly to call on the composer Niccolo` van Westerhout and prevails upon him to play entire operas on the piano, while he follows the libretto, going through Tristan and Isolde at least ten times. He is learning to hear the patterning of reprise and variation, to feel the great surges of emotion released by the music and to understand how they are controlled. He keeps van Westerhout at the piano for hours and hours. Tristan filled his spirit with a kind of morbid obsession. He insists on hearing certain passages over and over again. He is transfixed by the "suffering that begins with the love potion." At home he is in desperate straits. The bailiffs are encamped outside the door of his borrowed lodgings. Maria Gravina's sanity is precarious, but D'Annunzio has the knack of closing himself off from all emotional and practical demands. The musical sessions with v.W. pass straight into his influential essay on Wagner and into his suicide-haunted novel "Il trionfo della morte…" (Gabriele D'Annunzio, Poet, Seducer, and Preacher of War, Lucy Hughes-Hallet)

It is at van Westerhout's earnest piano concerts that D'Annunzio decided to conclude his novel The invincible with the Wagnerian metaphor, which probably determined the change of that novel's title to The triumph of death. It is a shame the two friends did not have the opportunity to work together on an opera, due to van Westerhout's untimely death, soon after D'Annunzio left Naples.
D'Annunzio published three articles on "La Tribuna" devoted to Wagner. In them he defended the modern work of the German composer against Friedrich Nietzsche, who had criticized Wagner's attempt to produce large works. His defense of Wagner was highly publicized and is still considered one of the best commentaries on Wagner's music.
His love relationship with music was certainly not an ephemeral one; his works, plays, prose and poems are permeated with a clear and remarkable musicality, with some of them compared by critics to a "musical score in words". "D'Annunzio the lover of music" is, therefore, also not to be forgotten.