By Joseph M. Calisi © 2021 All Rights Reserved
December 9, 2021 –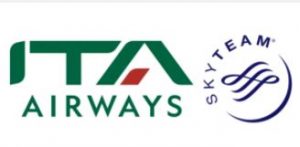 ITA Airways, Italy's new flag carrier, has recently been making itself as a new airline evolving out of the wake of Alitalia's remains. Several rapidly evolving moves have been made with new and remaining assets in the interim. In short, the post-Alitalia situation is complicated and incomplete.
Etihad Airways bought a 49% stake in Alitalia in 2015. Before then, Alitalia owned 68 slots at Heathrow Airport in London that were sold to Etihad and leased back to Alitalia at an ultimate cost of 3.76 million euros ($4.25 million). On a daily basis, Alitalia paid 10,000 euros ($11,000) for these slots.
The disposition of Alitalia's gates at Heathrow has been decided – they revert back to Etihad on March 27, 2022 with whom Alitalia had an operational/lease agreement for 6 daily London Heathrow-Rome slots and 4 more for Heathrow-Milan at Heathrow. However, the leases on those gates expire on October 29th, 2022 when those Heathrow gates revert to Etihad Airways for the Summer of 2022.
Ready for more confusion?
Now, ITA wants 98 weekly slots at Heathrow, with more London-Italy flights than daily currently offering levels – 8 to Rome flights and 6 to Milan.
Some have suggested using 72 slots at London City Airport in place of Heathrow but those London City cannot handle ITA's Airbus A319 or A320 jets.
ITA could possibly resolve these London slot issues with a new codesharing agreement with Etihad which is subsequent to the ITA-Skyteam deal. These codeshare plans are usually not for half a plane but likely for 10 or 20 seats on each other's jets. With the effects of reduced air travel, prices for these gates could be reduced by15% from 300,000 Euros making them ripe for purchase by ITA.
This new codeshare agreement is subsequent to alliances already made with KLM, TAP Air Portugal, Air Serbia, and Air Malta. Those travelers landing at Rome's Fiumicino or Malan's Malpensa airport could transfer to Palermo, Reggio Calabria, Brindisi, Bari, Lamezia Terme, and Trieste in Italy and use Air Malta to Malta and Tirana in Albania as well.
Recently, Etihad Airways issued a press release that in part said, "This new commercial partnership is designed to boost business travel and tourism between Italy and the United Arab Emirates, and will offer travelers more options and better connectivity when traveling through Rome Fiumicino, Milan Malpensa, and Abu Dhabi."
To transport all these passengers they're projecting, ITA is getting some new Airbus and some of Alitalia's plane inventory. At the end of September 2021, Airbus announced it is supplying 28 new aircraft of 7 A220s, 11 A320neos, and 10 A330neos and lease some A350s for long-haul flights. ITA will use one of the Airbus A320-200s for transporting the Pope.
Yes, ITA is building itself with relationships that could help ensure its future and longevity.