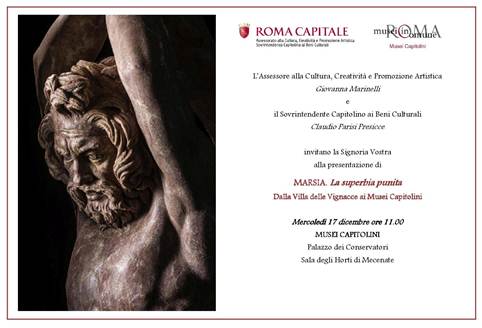 On December 17th, the "Vignacce Marsyas," a 2nd-century AD red marble statue depicting the punishment of the proud satyr Marsyas at the hands of Apollo, discovered in 2009 during AIRC's Summer Archaeological Field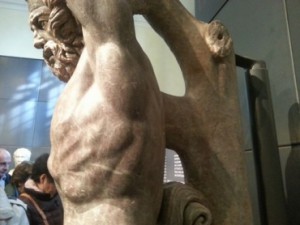 School at the Villa delle Vignacce in southeastern Rome, was presented to the public in the Horti Maecenatis section of the Capitoline Museums. The temporary display was presided by the City of Rome's Superintendent of Heritage Claudio Parisi Presicce. Excavation co-directors Darius Arya (AIRC Executive Director) and Dora Cirone were in attendance. The statue will go on permanent display at the Museo del Centrale Montemartini in the Ostiense neighborhood after February 1, 2015. According to Il Messaggero, the statue, "cleaned from millennia of layered soil, the statue has revealed traces of red okra color on the central and inferior section of the trunk. The cleaning operation, funded exclusively by private sources, costed 25,000 Euros".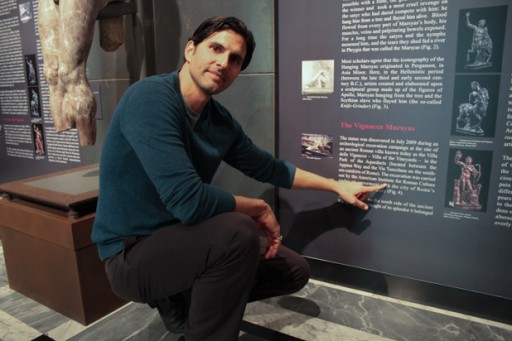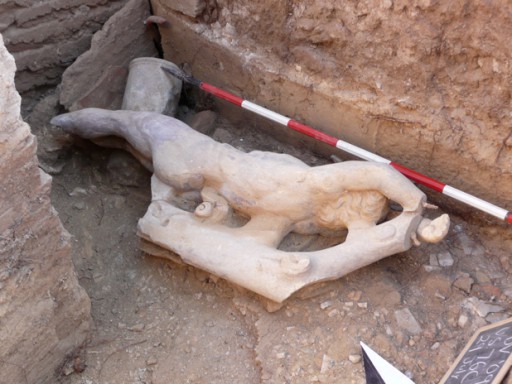 The Italian Press agency DIRE informed the public that the location where  the statue has been found allows us to hypothesize plausible connections between Maris (the owner of the villa under which the statue was found)
and the sculptures of Villa Adriana. "It is, then, a "particularly relevant discovery – said  Claudio Parisi Presicce, Superintendent to the Capitoline Museums – We have by now the certainty that this work may be placed in a very important traditional school of sculptors of whom, a very rare occurrence,   we know the members. They are a group of sculptors originally from  Afrodisia of Caira, in Asia Minor, who created very valuable statues in the Adrian era."  Nadia Agnoli, archaeologist of the government agency which oversaw the restoration, added that these sculptors  worked as buyers for the Emperor Adrian.