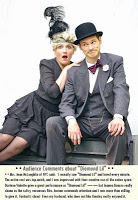 NEW YORK, NY — —  Join our English Section Director and the cast of 
"Courting Mae West: Sex, Censorship and Secrets" on Saturday afternoon, November 23, 2013 when a house of history lifts its petticoats, permitting Mae West to face her fans and accusers during an extraordinary reenactment.
                Jefferson Market Library is proud to present scenes from "Courting Mae West: Sex, Censorship and Secrets" — –unlocking the same chamber where Mae West [1893– 1980] faced off with the magistrate in 1927 when the space was used as Jefferson Market Police Court. (The structure that escaped the wrecking ball is now Jefferson Market Library.)               
               Gripping trial scenes will be performed by a cast of professional actors led by Darlene Violette who portrays Mae West. Along with the staged drama, there will be a discussion "Mae West: Sex, Censorship, Prison, and Politics" by LindaAnn Loschiavo, a member of the Dramatists Guild of America, who was commissioned to write the cover story for the summer issue of The Dramatist.
"COURTING MAE WEST" by LindaAnn Loschiavo — — Based on true events, the stage play "Courting Mae West" explores how a vaudevillian with a dozen years of bad reviews and highly placed enemies in the media and the Mayor's Office climbed the ladder of success, wrong by wrong. This serious minded comedy has been seen in New York City at the Fresh Fruit Festival and, most recently, in Australia as part of Midsumma's Playing-in-the-Raw.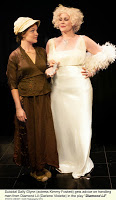 Who, What, When, Where
WHO: Actress Darlene Violette, Joanna Bonaro, Dena Tyler, Sidney Myer, Jeffrey Johns, and other actors TBA with dramatist-journalist LindaAnn Loschiavo
WHAT:     Scenes from "Courting Mae West: Sex, Censorship and Secrets" and a discussion of the era's homophobia and the political powers that lined up against Mae West and why.
WHEN:       2:00 pm, Saturday, Nov. 23, 2013
WHERE:     Jefferson Market Library, 425 Sixth Avenue, New York, NY — –in the same chamber where Mae West [1893– 1980] faced off with the magistrate in 1927
WHAT ELSE:     the popular Mae West Raffle
FEE:                
FREE
RSVP:    Jefferson Market Library, T 212-243-4334
URL:   
http://MaeWest.blogspot.com
Email:   

[email protected]


SUBWAY: West Fourth St. station via A, C, D, E, F subway
PATH: West Ninth St. station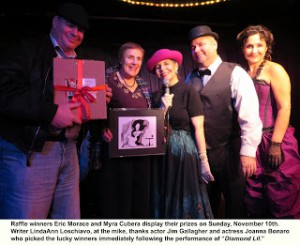 — — — — — On-going performances of "Diamond Lil" — — — — —
• • Those who prefer night life will enjoy "Diamond Lil" starring actress Darlene Violette — — and the roisterous cast who brought the Bowery denizens and Suicide Hall's ne'er-do-wells to life — — now onstage with performances at Don't Tell Mama [343 W. 46th Street] on certain Sunday evenings from October 27 until November 24, 2013.
• • Reserve seats by phone: 212-757-0788; RSVP online: 
www.donttellmamanyc.com