Interview by Tiziano Thomas Dossena
Born in Rome, Laura Caparotti has a degree in Performing Arts from the University "La Sapienza" in Rome, Italy. She also studied independently with Dario Fo (Nobel Prize for Literature 1997), Annie Girardot and Elsa Wolliaston, among others. In Italy she performed for over ten years in theater, with Giancarlo Cobelli, Mario Carotenuto, The Teatro Stabile di Torino, and many others. She is the curator of "Excerpts of a Prince named Totò", a series of events – including an exhibition – on Totò touring worldwide. 
Ms. Caparrotti continues working and touring as an actress, a voice over talent, a director, a Theater&Italian teacher, a lecturer, a consultant, doing all of that as President and Artistic Director of KIT -Kairos Italy Theater Inc with the ultimate goal of spreading the Italian Culture and to create an Italian Culture Network in order to maintain and grow the knowledge of Italy in United States.
L'Idea: Kairos Italy Theater. It seems to be your creation, your baby. How was it born? What is the idea behind its name? What is it aiming at?
Laura Caparrotti: KIT has a long story. I started a theater group in Italy, few years before moving to the States. I was looking for a name to give to a new born theater group I had with some friends and I discovered the Kairos, the Greek semi-god representing the right occasion at the right moment. Kairos has its hair on the forehead and not on the back as you can grab the right occasion when it's coming but not when it's leaving. Then, when I moved to NY and I started to do Italian theater, I thought of giving the new group the name Kairos. People thought it was an Egyptian   company, so I added Italy Theater. 16 years have been passed since the very first performance of KIT – a comic show in Italian only at the Miranda theater, then Mario Fratti's theater – and we are now the Italian theater company in NY. Sometime I look behind and I can't believe how many big steps we have been taken since 1996.
L'Idea: KIT offers different classes focused on Italian culture. Could you elaborate on that?
Laura Caparrotti: The educational programs are very important to me. It's a way to communicate Italian culture on a deeper level. All the classes have some Italian language and a lot of Italian theater. The Italian&Theater method makes the students learning Italian while creating their own script and then show. We offer these classes to children and to seniors and the results are hilarious and very professional. Then, I teach classes on basic Commedia dell'Arte and I give lectures on Italian cinema and theater. The goal is again to share my culture the way I have experienced it all my life.
L'Idea:  This year you gave birth to "In Scena", the NY Italian Theater Festival, another one of your creations. Could you tell us more about that?  

Laura Caparrotti:
Two things I have been noticed while working in theater in NY: 1. there wasn't an Italian theater festival – made in NY – celebrating our wonderful theater, 2. the Italian artists working in NY weren't collaborating with each other. I tried to combine the two things adding a third element: bringing theater in all NYC boroughs. And so, it happened! Even the Italian government liked the idea and chose In scena! as one of the very few theater official events representing Italy in 2013 the year of the Italian culture. The Festival was a success; we had sold out theaters, standing ovations, applauses. We presented three companies from Italy, four staged readings of Italian plays for the first time translated into English, a panel discussion. Mare Nostrum Elements, a theater company led by Kevin Albert and the Italian Nicola Iervasi, co-organized the Festival and produced the homage to the greatest Italian playwrights living in America, Mario Fratti. Basically: everyone loved the Festival and we had a blast!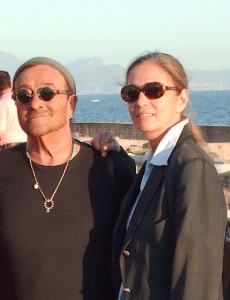 L'Idea: You are the curator of "Excerpts of a Prince named Totò". What exactly is it and what made you choose to organize it?       INSERT FOTO #2
Laura Caparrotti: I have been my whole life a fan of Toto'. To me, he's one of the greatest actors ever existed. So, when in the year 2000, I have the opportunity to curate the exhibition on Toto' on the occasion of the retrospective at Lincoln Center, I jumped on it! Since then, the exhibition grew from being of 20 pieces to be – as of now – of more than 100 pieces: posters, photos, magazines, sheet music, his own notes for theater sketches and for poems, family pictures, even the last 'bombetta' he used on stage. It's an impressive exhibition that contains every aspect of Toto' the actor and Antonio De Curtis the man. Believe it or not, it's not easy to present it. I have been trying in many communities and institutions and only a few welcomed Toto'. I really wish that the exhibition, together with the films and a documentary I have, produced in Italy, could tour the world as it deserves.
L'Idea: You have studied independently with Dario Fo and Annie Girardot and performed with Mario Carotenuto. Can you tell us about these experiences and who is the performer you worked with who has left the deeper mark on you?
Laura Caparrotti:
All of them. With Annie it was just a month-long workshop and she gave me the lead role in the same scene (same role) she debuted with. It was a great honor. She was an amazing actress, a star, in any sense. Mario Carotenuto was born on stage, from a family of actors, and he felt that stage was his home. Watching him every night on stage commanding the audience, adding lines and scenes that worked, without telling us, forced me to be very aware on stage and ready to reply. Mostly, he taught me how to be on stage, how to feel the audience, and it made me feel that the stage was a very safe place. Dario… well, I guess Dario is the one who left the deepest mark. He made me understanding theater, in its whole. His lesson will leave with me forever, as it's not just about doing theater, it's about what's theater, what's in a play, in a word, in a concept. On a stage.
L'Idea: Can you tell us of your past theatrical experiences, both as actress and director?
Laura Caparrotti: I started working in theater in about 1990. My first professional experience was with Mario Carotenuto, then came Giancarlo Cobelli and then other shows in Rome. I was only an actress back then. In 1994 I started my other work behind the stage, as an assistant director. It was at the Teatro Stabile in Turin. A great experience, we were making Timon of Athens by Shakespeare. It was very interesting to see the stage from another point of view. In 1995 I continued being an assistant director while also working as an actress. Since then, I have been doing both, mostly in comedies, the genre I prefer. Lately I have been directed and acted in the same piece, I am not crazy about being both a director and an actress, but too many times it's a necessity more than a choice.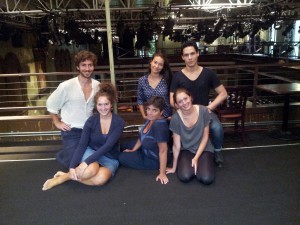 L'Idea: Are you working on other projects right now?
Laura Caparrotti: I have different projects I am focusing in right now. One is a new series of shows we'll create with the YoungKIT, KIT young company. They are all very talented and passionate about theater.  We'll present plays from very classical authors such as Boccaccio, Machiavelli, Goldoni, in a new way, faithful to the script, no props, no set, just the actors. In English and a bit of Italian. We open December 5th at Casa Italiana Zerilli-Marimò at NYU, where KIT is in residence. Then, from March 16th to the 30th 2014, Tosca e le altre due by Franca Valeri is back on stage at the Dicapo Opera, a wonderful theater on 76th street in Manhattan. A great play, interpreted by me and Marta Mondelli, in Italian with English supertitles. In June 2014, In Scena! Italian Theater Festival NY will be back. We invite L'Idea readers to check our website www.kitheater.com for news and information, and we hope to see many, if not all of them, at our events!