Free Community Live Opera Concert.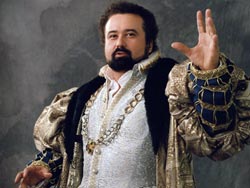 The past August 11th, at the Shalin Liu Performance Center, in Rockport, Massachusetts, a free Community Live Opera Concert titled "GI– USEPPE VERDI: HIS HEROES AND VILLAINS" was offered to a large audience, proving once more that opera is more than alive.
The Metropolitan Opera tenor Raul Melo and the New York City Opera baritone Peter Castaldi, accompanied by the maestro Michael Recchiuti at the piano, performed various heroes and villains from Verdi's operas. Mr. Melo opened with "Parmi veder le lagrime", from Rigoletto's Preludio, followed by Cortigiani, vil razza dannata", also from Rigoletto, interpreted by Mr. Castaldi. Mr. Melo, who has performed the principal tenor roles with the Hamburg State Opera, Zurich State Opera, Frankfurt Opera, Dresden State Opera, The Metropolitan Opera, Washington Opera and Dallas Opera to name a few, then sang "O tu che in seno agli angeli" from La Forza del Destino. The two performers followed with another aria from that opera: "Con sangue sol cancellassi."
Mr. Castaldi, who was born in Paris and raised in Milan, and who has sung the principal and title roles in Verdi's Rigoletto Falstaff, Macbeth, Trovatore,
Traviata and Ernani, with such organizations as the New York City Opera, Florentine Opera, Roanoke Opera, New Jersey Opera and the Los Angeles Opera Orchestra, performed in the second part
of the concert singing the aria "Pietà, rispetto, onore" from the Macbeth and "Ehi! paggio!" from Falsdtaff, joining Mr. Melo in "Desdemona rea…" from Otello. Mr. Melo also sang "Quando le sere al placido" from Luisa Miller.
Maestro Michael Recchiuti, who accompanied the singers through the concert, has been recently interview by L'Idea Magazine (see N. 4, 2013). His recordings have been awarded the Palme d'Or by Opera Magazine, and have been chosen as Best of the Year by Opera News and CD Classica magazines.