Inspired by four 19th century novels——"Pride and Prejudice" [1813], "Wuthering Heights" [1847], "Jane Eyre" [1847], and "Little Women" [1868-69]——"You on the Moors Now" by Jaclyn Backhaus sets out to examine love, courtship, anger, battles, and grief by focusing on four fictional heroines and their rejection of the men who loved them. Theater Reconstruction Ensemble's mission is "to reconstruct both classical and canonical forms of theatricality through the playful development of works over time."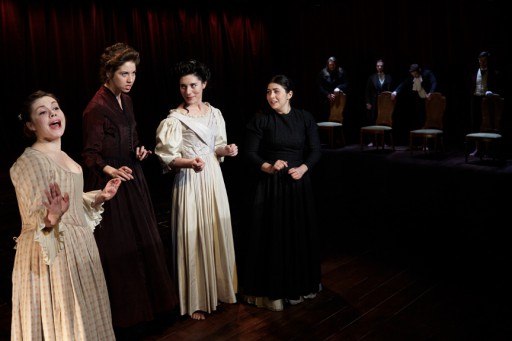 HERE's wide stage was left bare except for four tall chairs where Cathy Earnshaw, Jo March, Elizabeth Bennet, and Jane Eyre Jo are positioned in front of a brooding Heathcliff, Theodore "Laurie" Laurence, Fitzwilliam Darcy, and Edward Rochester, artfully costumed and arranged in an arresting tableau. The eight principals are portrayed by actresses Anastasia Olowin, Lauren Swan-Potras, Kelly Rogers, Sam Corbin, and actors Harlan Alford, Nathaniel Basch-Gould, Preston Martin, Jon Riddleberger.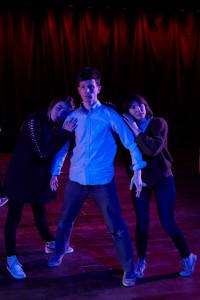 Before the play begins, it's tempting to figure out who's who. Long-haired Harlan Alford, with a beard and bare feet, is the easiest character to guess: Heathcliff paired, of course, with Cathy. Preston Martin, in a cut-away, fancy jabot, and breeches, is also identifiable as the wealthy Mr. Darcy, owner of Pemberley, whose clueless marriage proposal to Elizabeth Bennet is memorable for its arrogance: "Could you expect me to rejoice in the inferiority of your connections? To congratulate myself on the hope of relations, whose condition in life is so decidedly beneath my own?"
The drama springs to life with the four heroines rushing across the stage, each declaring how she said no, followed by the viewpoints of the four suitors. It's a vibrant opening, clever and engaging. Then a puzzlement: actors in modern attire scoot across the stage silently; one actress in jeans sticks her tongue out. The language turns coarse. "I hate weddings!" shouts Heathcliff. "Fuck weddings." The first time a heroine is called a bitch, there's a faint titter of giggles, but crude terms quickly lose impact. Vulgar dialogue is like a badly parented child, shrieking for attention——not the mark of a sure-handed scribe in command of a "grand theatrical examination" (as promised in HERE's Program notes). The eight principals go rogue. When the four females flee, their partners conspire to find them. Six uncostumed players join in the battle, speaking as Bingley, Jane Bennet, River Sister along with Amy, Meg, Beth, and Marmee March, etc. Theater Reconstruction Ensemble decided that the spectacle has to be multi-faceted to keep the audience engaged, which was all right until they veered too far from the narrative and made the play about the Women vs the Men. Quickly the haywire hits the humdrum. During the interminable final scene, Cathy Earnshaw holds the floor, describing a mock reunion at Pemberley, with punch bowls, waiting servants, and irrelevant false disclosures, for instance, that Jane Eyre went into space, Jo March won a Pulitzer, etc. When the scorned or lovelorn characters address each other, they usually say nothing more fascinating than, "Hey!" or "Hi." The letdown drags on.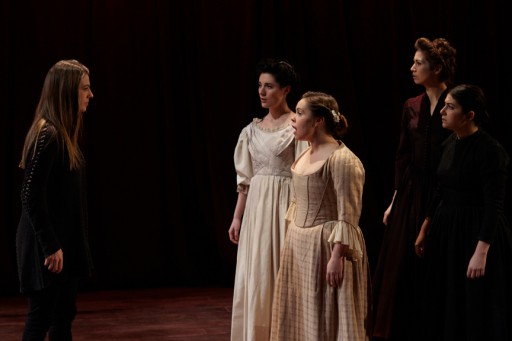 Director John Kurzynowski inspired the cast to give energetic, physical performances. But as the play runs off the rails, it leaves the interesting ideas in the novels behind. It's 105 minutes and feels longer.
Photo credits: photographer Suzi Sadler  ©2015
— — — — — — — — — — — — — — — — — — — — — — — — — — — — — — — — — — — — — — —
"You On The Moors Now" runs until February 28, 2015 in a limited engagement at HERE, located at 145 6th Avenue (Enter on Dominick, 1 block south of Spring) in New York City.
The ensemble includes Harlan Alford, Michael Barringer, Nathaniel Basch-Gould, Sam Corbin, Eben Hoffer, Lena Hudson, Emily Marro, Preston Martin, Anastasia Olowin, Jon Riddleberger, Kelly Rogers, Claire Rothrock, Patrick Scheid, and Lauren Swan-Potras.
The production team includes Joseph Wolfslau (Set and Costume Design), Marika Kent (Lighting Design), Alex Hawthorn (Sound Design) and Reed Whitney (Producer).
Performances are Wednesdays – Sundays at 8:30pm with added Saturday matinees at 4pm. There is an additional show on Monday, February 23 at 8:30pm. Tickets are $18. Purchase at http://here.org or by calling 212-352-3101. The running time is 1 hour and 45 minutes.