Minni, Topolina o Minnie, in inglese Minnie Mouse il cui nome è un diminutivo di Minerva, personaggio dei  cartoni animati e dei fumetti, creato da Walt Disney e Ub Iweks nel 1928. Il personaggio ha esordito con Mickey nel cortometraggio animato "L'aereo impazzito" (Plane Crazy) e poi  in altri cortometraggi realizzati soprattutto dagli anni trenta agli anni quaranta e in molte  storie a fumetti realizzate in vari paesi del mondo.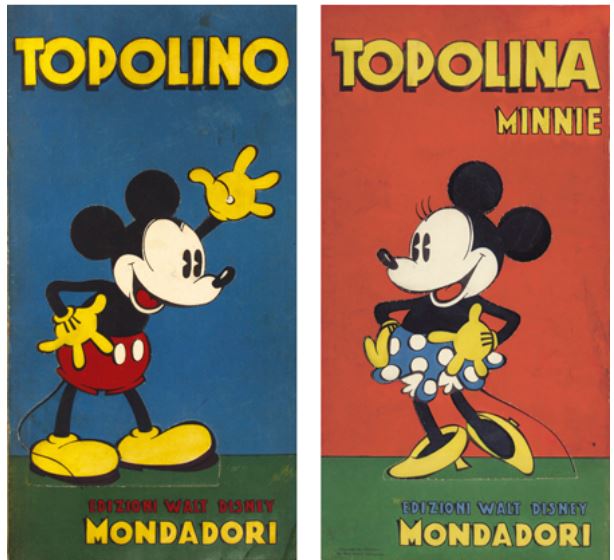 Walt Disney e Ub Iwerks affiancano a Topolino un personaggio femminile, Minnie, nel 1928;  graficamente è identica a Topolino del quale ha le stesse dimensioni e proporzioni mentre i tratti somatici sono resi femminili tramite lunghe ciglia, rossetto sulle labbra e abiti femminili con la parte superiore del corpo nuda e come unico vestito una gonna a pois.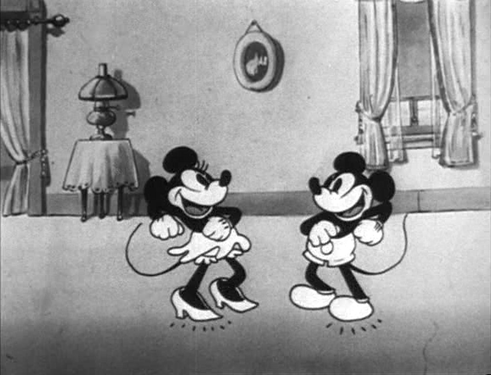 Nella storia "Topolino e il mistero delle collane" (The Gleam, 1942) realizzata da Floyd Gottfredson e Merrill De Maris,  le viene dato il nome completo di Minerva Mouse, nome comunque usato raramente; nella precedente storia a fumetti Topolino e il bel gaga'  (Mr. Slicker and the Egg Robbers, 1930) vengono introdotti i personaggi di suo padre Marcus Mouse e sua madre, del quale non venne specificato il nome, entrambi agricoltori; nella stessa storia compaiono fotografie dei suoi nonni Marshall Mouse e Matilda Mouse. Ha anche uno zio Mortimer e alcune nipoti, Millie e Melody Mouse. Da sempre fidanzata con Mickey Mouse, di professione è inizialmente casalinga ma in storie più moderne a volte fa l'impiegata; abita a Topolinia (Mouseton) in una villetta suburbana in legno.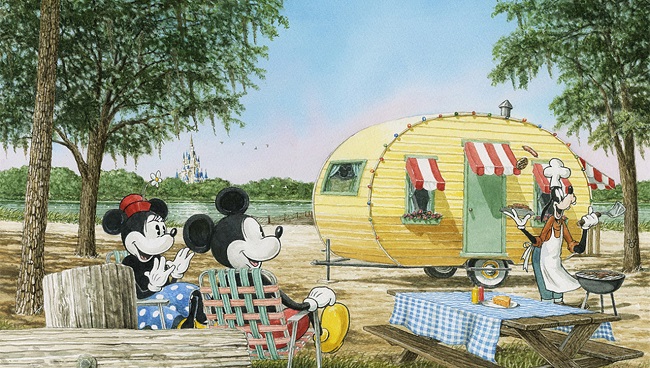 Nel cartone animato  "Topolino gaucho"  Minnie è una cameriera che balla il tango per Topolino gaucho e per Gambadilegno il fuorilegge, con entrambi che le fanno la corte; quest'ultimo intende rapirla; tutti e tre i personaggi appaiono estranei, si conoscono per la prima volta.

Nel corto "Steamboat Willie", Gambadilegno è il capitano di un battello con Topolino come mozzo e Minnie loro unica passeggera. Il corto fu un successo notevole e vennero prodotti altri dodici film con Topolino nel 1929;  il primo fu "I due cavalieri di Minnie" (The Barn Dance), con Minnie al centro delle attenzioni di Topolino e Gambadilegno; segue "The Opry House".  Minnie è una  suonatrice di flauto in "Il treno di Topolino"  (Mickey's Choo Choo) e in "Le follie di Topolino" (Mickey's Follies) corto significativo anche perché Topolino dedica a Minni una canzone che stabilisce che sono una coppia, segue  "Topolino tra le foche" (Wild Waves) dove Minni trascorre una giornata alla spiaggia con Topolino.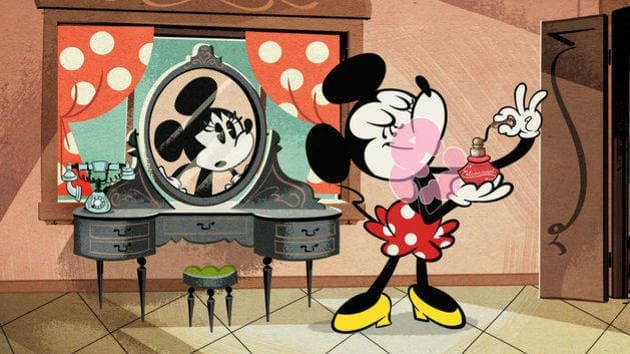 Nel 1930 compare nel corto "Topolino vince il bandito" (The Cactus Kid) film western ma è anche un remake di "Topolino gaucho" ambientato in Messico, seguono "Topolino ballerino" (The Shindig,) con Topolino, Orazio e Clarabella la quale è la protagonista. In "Topolino pompiere" (The Fire Fighters) Minni è intrappolata in un hotel che va a fuoco, c'è anche  Orazio, una mucca non nominata sullo sfondo; Minnie è anche in "Topolino e il gorilla"  con un gorilla che scappa dallo zoo e rapisce Minni; seguono altri cartoons, "The Klondike kid", "The grocery boy" (1932).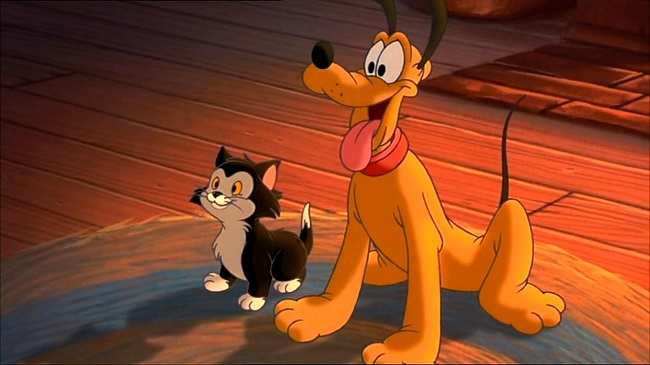 In "Il picnic"  Minni presenta al suo fidanzato il suo  cagnolino Rover, rinominato poi Pluto, che diventa il pet di Mickey ma Minnie ha anche un altro cagnolino Fifi The Peke che vediamo in "Puppy love" (1933), in "Mickey's surprise party" un cartone commerciale realizzato per la National Biscuit Company e presentato nel 1939 al New York World's Fair, e in "You, me & Fifi" nella serie televisiva Mickey Mouse. Minnie ha anche un gattino bianco e nero di nome Figaro, protagonista in "Bath day" 1946, in "Figaro and Frankie" 1947, "Pluto's sweater" 1949 e nella serie televisiva "Minnie's Bow Toons", Topolina ha partecipato anche alla settimana della moda di New York.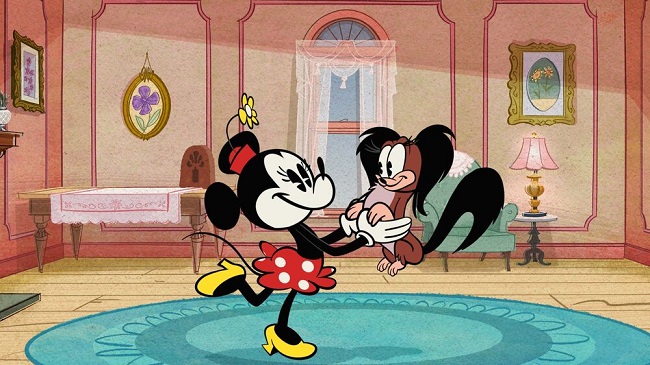 Minnie è  protagonista anche nella serie "Mickey Mouse Clubhouse", nel film "Canto di Natale di Topolino" (Mickey's Christmas Carol), del 1983, e in altri divertenti episodi  della serie televisiva Mickey Mouse: "New York weenie", "The adorable couple", "Eau de Minnie", "O sole Minnie".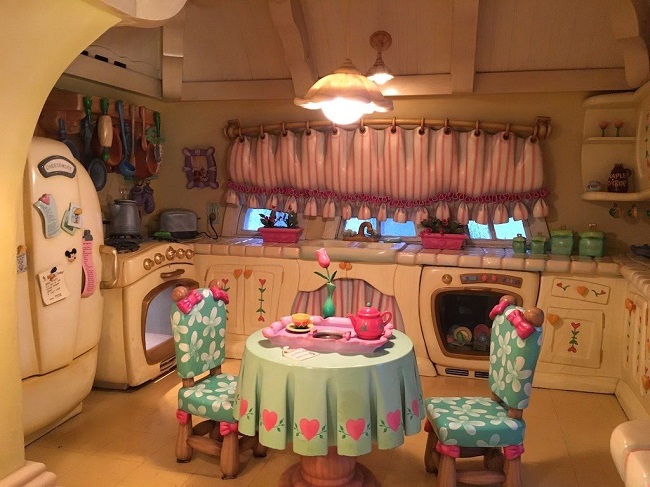 A Toontown nel Parco di Disneyland in California, Topolina ha una incantevole casetta nei colori, rosa, porpora e lavanda con intorno un giardino. Nella cucina con le tendine alle finestre, Minnie ha diversi tipi di formaggio e bevande, ci sono sedie confortevoli e un tavolo con dei biscotti e tazzine per il tè, nella camera da letto c'è un tavolo da makeup davanti allo specchio incorniciato di luci e in soggiorno un caminetto e delle poltroncine, c'è anche un computer, la radio e un telefono rosa, con delle riviste e dei libri, dato che a Topolina piace leggere.  Minnie ha anche ricevuto una stella sulla Hollywood Walk of Fame di Los Angeles.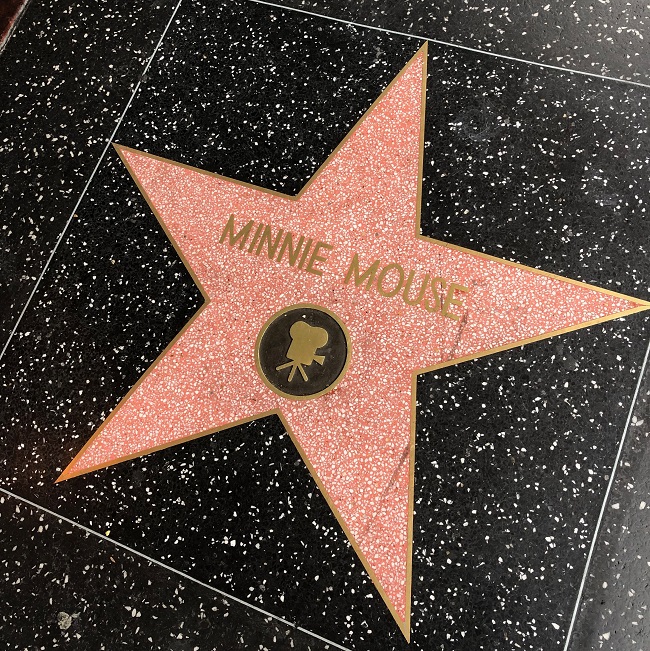 Galleria