In Stanley Tucci's romantic comedy "Big Night" [1996], guests join the two Italian restaurant owners, Primo and Secondo, to partake of an impressive feast orchestrated around a timpano, a layered baked pasta dish. On Monday evening, June 30, 2014, chef Pasquale Cozzolino of Ribalta Ristorante paid tribute to this New York Film Critics Circle Award-winner with his own dish, "Timpano di Maccheroni."
Between 7:30 – 10:30pm at 48 East 12th Street, nine courses were served, all of them inspired by a classic film, a screen star, or a director. For instance, "Mozzarella in Carrozza" was prepared as a tribute to Vittorio De Sica's "Ladri di Biciclette" and "Pizzelle Napoletane" was created as a toast to Sophia Loren. Ribalta's specialty is pizza and most of the delicacies were based on dough and macaroni and tomato sauce with an occasional flourish of bacon, meatballs, olives, or escarole. There were enough carbs on Monday to fuel the New York Marathon.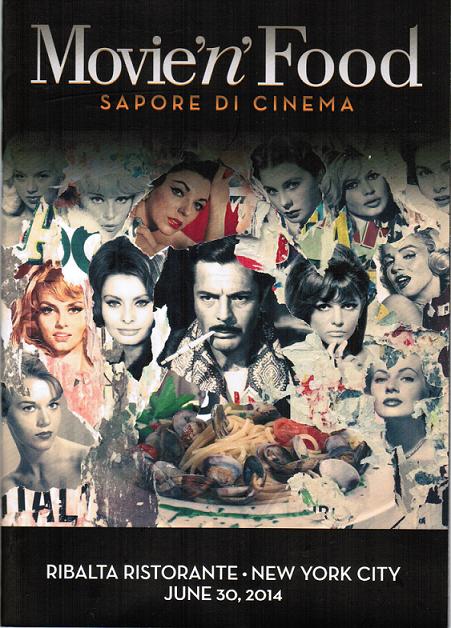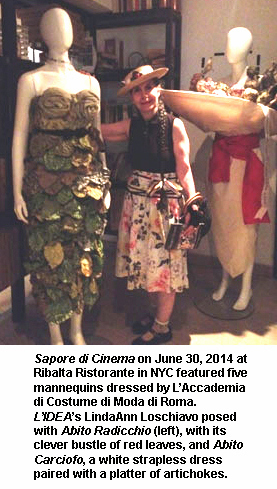 On display was an intriguing exhibition of five mannequins, whose apparel had an agricultural flair. The costumes inspired by artichokes, carrots, lettuce, radicchio, and pheasant feathers bore the credit of Accademia di Costume di Moda di Roma, courtesy of the Italian group Dress in Dreams.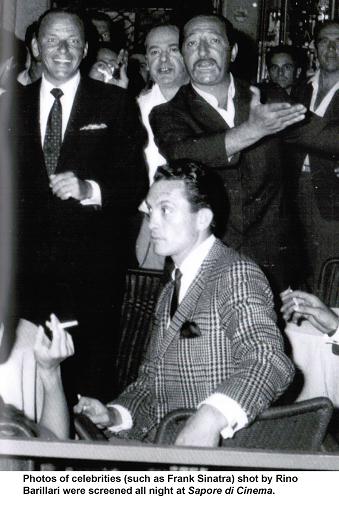 During "Sapore di Cinema" a wide screen presented a slide show of famous faces from Frank Sinatra to Sophia Loren, all captured by Rino Barillari, officially crowned "The King of Paparazzi" in 1988. Born in Italy in 1945, this tireless photographer has had a long career of snapping every famous individual (whether willing or not): Liz Taylor, Richard Burton, Ingrid Bergman, Jacqueline Kennedy, Barbra Streisand, Brigitte Bardot, Ava Gardner, Silvana Pampanini, Virna Lisi, Marcello Mastroianni, Claudia Cardinale, Marlon Brando, Vittorio Gassmann, Anna Magnani, Alberto Sordi, Aldo Fabrizi, The Beatles, Robert De Niro, Sylvester Stallone, Al Pacino, Francis Ford Coppola, Michael Jackson, Demi Moore, Angelina Jolie, Elton John, Matt Damon, Madonna, and Lady Gaga.
The gathering was an eclectic mix and included Augusto Marchini, Juliet Cruz, and Maria Woodley of the Italian Trade Commission, who coordinated this special event; impresario Laura Caparrotti; pork importer Piero Zreik, President of Eatalia Imports; travel writer Linda K. Nathan; Italian wine importer Curzio Renaioli; commercial real estate broker Conrad Bradford, Miron Properties; and a gaggle of freelance food scribes and tour operators.
Product sponsors included: Ciu Ciu Wines, Ferrarelle, Pastificio G. Di Martino, and Tamia Olive Oil.
Years ago I wrote a poem "Ciucci bellu di stu cori," a roundel inspired by the Calabrese donkey song. On June 30th I got to bray with utter satisfaction after savoring Ciu Ciu's Merlettaie Offida docg Pecorino and Gotico Rosso Piceno Superiore. I'm ready for the next event.