Stadio della Roma CEO Mark Pannes has confirmed that AS Roma's stadium plans are moving ahead according to schedule and emphasised the club's highly constructive relationship with the local authorities.
"It went really well today," stated Pannes, following a meeting with the Municipality of Rome this morning. "We have a tremendous collaboration going with the City of Rome. It's always helpful to be able to update the Comune, the mayor personally and assessor [Giovanni] Caudo. It allows us to get direct feedback from the city in real time about the project, which is a big project and very complex. They've been very helpful as we steer our way to bringing this stadium to life."
Pannes went on to reiterate that the club expects to begin construction on schedule.
"We have always had a goal to break ground in 2015 and we are on track. We will break ground in 2015 for this project," he said.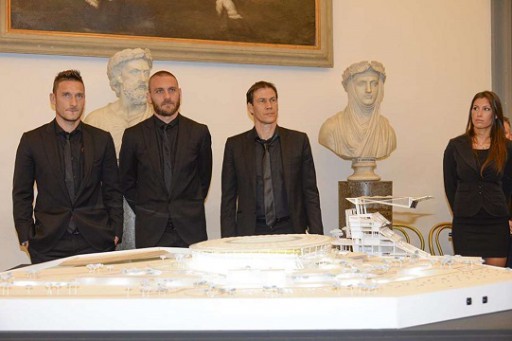 Mark Pannes, CEO of Stadio della Roma, Questions & Answers following the meeting with Comune di Roma 24 March 2015 AS ROMA
Can you gives us an update about Stadio della Roma following today's meeting with Comune di Roma?
"We had another very constructive meeting with the City Council. We have been working on the definitive dossier for a long time now and we continue to work on it as a highly complex project. Since we have started the approval process, there were a number of issues raised by various constituencies: environmental, hydro, the impact of the surrounding neighborhoods, security and so forth. We continue to take all those on board and refine the project, to respect those issues, and hope to find the best solution possible. We are still on pace to break ground in 2015 and complete the first phase of construction in 2017, that is our road. The meeting with the Municipality was excellent, as it always is, a very direct and straight-forward conversation and it is very clear that we are partners in this project".
Did you find more difficulties than expected?
"No, we expected it to be this complex. We are not building an individual building, we are talking about creating a viable ecosystem within the City of Rome and that includes the stadium, the entertainment district, the business park, infrastructure works, transportation and it must all be done in a very high standard and secure fashion so people will feel safe when they come to it, we must also respect the environmental issues. We knew that it was complex at the beginning, and we continue to work to address those complexities".
More technical problems or bureaucratic problems?
"I would not characterize it as problems. These are really complex topics and it takes time to work through them and that's what we are doing. I think if you speak with anyone who works in the trades of architecture and construction and ask them about how complex this project is and how much time it takes to deliver definitive documentation, they will tell you we are moving rapidly and so we continue to stay on course and we are on track to break ground in 2015".
Rome City Council has officially recognized Stadio della Roma as a project of public interest for the City of Rome.
Representatives of A.S. Roma SPV, LLC and Eurnova expressed their full satisfaction for this important step that recognizes the hard work done over the past two and a half years, and particularly in the recent months, in collaboration with Mayor Marino and his administration in developing this stadium project for the City of Rome, A.S. Roma and the fans.
Thanks to a dedicated team of national and international experts, a direct investment worth around 1.2 billion euro will result in a privately financed Stadio della Roma that can create a minimum of 3.000 jobs during the construction phase and at least that many (3.000) during the on-going operations of the complex.
Quick Facts
52,500 seats, expands to 60,000 for large, international events
Design inspired by the Colosseum, with ultra-modern steel and glass, wrapped in a floating stone screen
Glass and teflon-coated fabric canopy protects the seating bowl from the elements
Premium seating options include Suites, Loge Boxes, Club sections – all with luxe amenities
Anchors a 365-day-a-year entertainment destination, Roma Village, with shops, restaurants, bars, Nike SuperStore, AS Roma Hall of Fame
State-of-the-art training and wellness facility dedicated to AS Roma's first team training.
Tipping Our Hat To The Colosseum
The phrase "project of a lifetime" is one that architects often hear. I have used it a few times in my career regarding projects that I felt were, at the time, life-altering – among them: the Staples Center, Madison Sq. Garden, and a "transformer" stadium in Saitama, Japan. Over time I found that the constant challenge of a new site and the opportunity to improve on previous designs inevitably led to the next project being the most important of my career.
That was, until now.
For an architect who has spent almost his entire professional career designing stadiums, the opportunity to design a landmark building in one of the World's most beautiful and architecturally significant cities, is by itself heart stopping. To design a new home for AS Roma, a club with an 87 year history and the most passionate fans in football (in a country I love and have visited every year for the last 20 years) makes this project the most significant of my career – this is my project of a lifetime.

It is of course a myth that a project of this complexity and significance is the product of a "lone genius". This is a romantic notion typically perpetuated in effort of self-promotion. The reality is that of all the arts, architecture is inherently a product of collaboration. While it is true that the design concept for a stadium can, and often does, spring from a simple "napkin" sketch (this one did) the team it takes to turn those concepts into a working stadium quickly grows to a few dozen professionals, then hundreds. By the opening kick-off, literally thousands of designers, engineers, stone masons, carpenters, landscapers, painters, crane operators, etc., have contributed to the design of the stadium. In my case, I am very fortunate to be surrounded by an extremely talented group of designers without whom I could not have realized any of the work featured here. Unfortunately, they rarely get their due recognition when I am identified as "the Stadium Architect". I hope to change that by featuring many of them in this column as the stadium design develops.
It also must be said that great architecture is not possible without a highly passionate and committed client. The ownership of AS Roma embodies this fully. They have, from our earliest conversations, recognized that together we are designing a "home" for one of the most storied franchises in Italian Football. They have worked tirelessly to assemble a truly World-class team in effort to create one of the most sophisticated and state-of-the-art stadiums on the planet. They have also demanded a design that fans will love and opposing teams will fear. They will accept nothing less.
It takes about a year to fully design a stadium. We are well into that process and as the year unfolds I will be sharing milestones of the process here in sketches, model photos, and anecdotes. I hope you will come back often to see the progress and share your thoughts. All of us involved in this amazing project are acutely aware of the responsibility we share. This stadium does not belong to us, or to our client. It belongs to YOU, the most passionate fans in football.
While I have always loved the Eternal City, my passion for Rome and AS Roma has grown immeasurably over the last year. I now consider myself a true "Romanista" and can't wait to be there with all of you in the Curva Sud on opening day!
Forza Roma!
Dan Meis, FAIA

Recognized as one of the world's foremost designers of sports and entertainment venues, Dan Meis, FAIA, has over 30 years of experience in sports and entertainment architecture. He has designed and built projects in the U.S., Europe, Asia and the Middle East with a combined value of well over $15B, and is Founder and Managing Principal of Meis Architects.
Dan's design for Paul Brown Stadium was the first NFL facility to ever win an AIA Honor Award and his design for Los Angeles' STAPLES Center continually ranks it among the highest revenue producing buildings in North America.