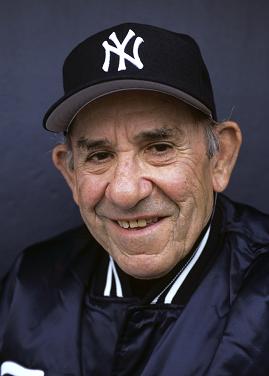 "You can observe a lot by watching". That was just one of the many "yogi-isms" you heard from Yogi Berra. Many people like myself did not get to watch Yogi play but you felt like you did with all the history and stories you hear. On September 22, 2015, at 90 years old, Yogi died in his home in Montclair, New Jersey. It was one of those moments when you heard about it that you just couldn't believe it. Yogi's legacy on and off the field will continue to live on now that he has passed, but you can't help to feel just a little sad because he is no longer with us.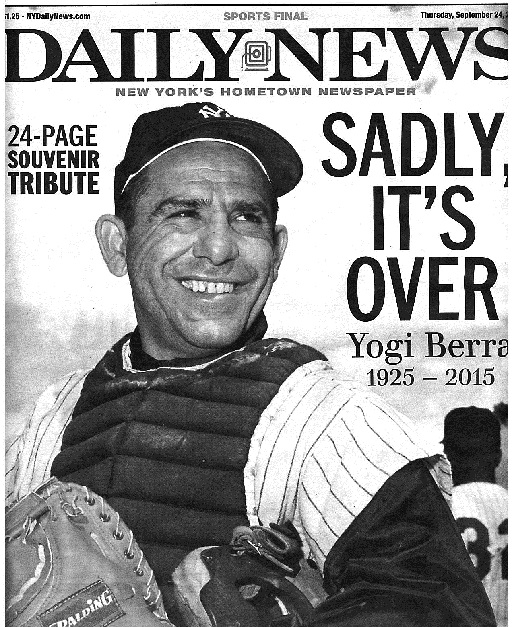 Berra, grew up in a primarily Italian neighborhood in St. Louis to immigrant parents. His father, Pietro came over from Milan in 1909 at the age of 23, his mother shortly thereafter.  He loved baseball from the moment he could remember. Living in St. Louis, he wanted to play for the St. Louis Cardinals but the Cardinals general manager Branch Ricky did not want Berra for that team. In fact, Ricky wanted to hold Berra to the side so he could sign him with the Dodgers, because Ricky knew he was leaving St. Louis.
The New York Yankees signed Berra to a $500 bonus in 1942 and sent him to double-A.  His baseball start was rather short because he enlisted in the US Navy and was a member of seamen who stormed the beaches on the D-Day invasion of France. Berra received numerous commendations for his bravery. When his time was finished he came back to continue his baseball career. Yogi was called up ironically on September 22, 1946, exactly 69 years from which he died.
Berra's career resume is truly one for the ages. He batted .285 lifetime, 358 home-runs, over 1,400 runs batted in and the most astonishing of all he played in 14 World Series and won 10, which is a current standing major league record. He also added 3 more titles as a coach, which totals him at 13 championships. Berra was an 18-time all-star and 3 time American League Most Valuable Player. Of Berra's most notable moments, the one that stands out amongst all is catching Don Larson's perfect game in the 1956 World Series in which his leap into Larson's arms in one of the greatest baseball moments captured.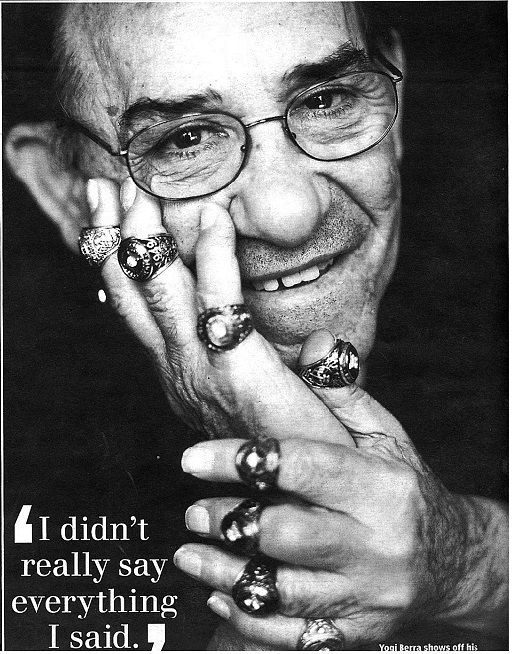 People sometimes wondered how such a small guy like Berra was so successful. He is known for also being one of the best bad ball hitters. Berra would swing at pitches well out of the strike zone and connect for hits. When asked, Berra would simply say, "If I can hit it, it's a good pitch".  He is considered one of the greatest players to play the game of baseball.
Yogi retired after the 1963 World Series and was immediately hired as new manager of the Yankees. In the 1964 season Berra led the Yankees to the World Series but lost in 7 games and was then fired because the Yankees front office felt Berra wasn't ready to manage yet. He was quickly signed by the Mets to be a coach and hung around there for 7 seasons, which included the 1969 "Miracle Mets" winning the World Series.
In 1972, he became the Mets manager after the death of Gil Hodges.  In 1973, the Mets were in last place and Berra asked by a reported if it was over and one of his famous "yogi-isms" was born when he responded, "it ain't over till it's over".  The Mets stormed all the way back and won the division and also knocked off the Cincinnati Reds who at the time were nicknamed "the big red machine" to reach the World Series.  The Mets came up short and lost in seven games. In 1975 Berra was fired by the Mets and returned to the Yankees in 1976. During his first three years back with the Yankees as a coach he added two championships to his already numerous ring collection.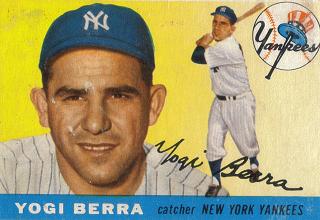 In 1985, Berra was assured he wouldn't be fired and stayed on to manage the Yankees, but George Steinbrenner, the Yankees owner, was impatient and fired Berra 16 games in without delivering the news himself and that caused the beginning of a 15-year feud in which Berra did not have any communication with the Yankees. The feud was finally mended in 1999, after the Yankee owner apologized, and Steinbrenner declared July 18th 1999 Yogi Berra day at the stadium. On that day, Don Larson threw the ceremonial first pitch to Berra to recreate the perfect game from 1956. Ironically again for Yogi, on that day Yankees pitcher David Cone pitched a perfect game.
To say the least, Yogi's career and life was filled with success and fortune. He has touched the lives of many and his numerous works through baseball, some of them well after he played, will never go unnoticed. Whenever you hear stories of Yogi there always is nothing bad ever said about him. From growing up in an Italian household to being one of the greats to play the game, we remember Yogi Berra and his legacy. There will never be another one like him. Legendary broadcaster Vin Scully worded it perfectly after his death, "anytime you talk about Yogi, you will always smile".
He now is at peace and eternal rest with his beloved wife Carmen and with all his teammates and no matter what, Yogi Berra will always be a legend and a household name for generations to come.  Rest in peace, Lawrence Peter "Yogi" Berra.