My father introduced me to Licia Albanese. I was wearing a bib and enjoying strained bananas, while he was savoring the strains of the glorious love duet from "La Boheme."
"Licia Albanese is the world's best soprano," my Dad explained to me. He nudged my mother, hovering over my highchair.  "Listen, honey, and you'll hear Toscanini humming along!"
"Yes, dear," agreed my multi-tasking Mom. "I've heard Jan Peerce sing with her before."
Eventually, I learned that this prized performance, captured in 1946, celebrated the 50th anniversary of the world premiere of Puccini's opera in Turin, led by Arturo Toscanini on February 1, 1896.
Thirteen years later, in July 1909, Felicia Albanese hit her first high C in Torre a Mare near Bari.  The 25-year-old made her unofficial debut at Teatro Lirico, replacing a soprano in Puccini's "Madama Butterfly." At that magnificent Milanese moment, did this newcomer suspect her voice would take her far, and that she would be in demand for years at Metropolitan Opera, top-billed on leading world stages, and sought after for studio albums? She rose to prominence between 1940 and 1966, appearing in a variety of operas with Jussi Bjorling, Tito Schipa, Franco Corelli, Beniamino Gigli, and Giacinto Prandelli.
Buying Met tickets or those extravagant sets of a complete opera with a libretto were beyond the budget of a municipal employee supporting a family and paying off a mortgage. But my father had two buddies who were opera buffs and bachelors, Augie and Larry. During their visits, they would regale us with the highlights of a live Met performance such as the one on February 15, 1958, when Licia Albanese reprised her role as Mimi, partnered by Carlo Bergonzi as Rodolfo, and conducted by Thomas Schippers.
Carlo Bergonzi [1924—2014] caught my attention when I learned that he had first trained as a baritone, but retrained as a tenor. By 1958, I was singing in a church choir, shamed by my miserable alto, aware that the prized solos only went to a soprano. I hoped that my weak voice could be upgraded ——like Bergonzi's ——but my parents dismissed my pleas for coaching as totally ridiculous.
Taking pity on my LP-less Dad, Augie and Larry bought him "La Boheme," reissued by RCA Victor. My father played it often, always on Sunday morning when my mother was at Mass and I was putting away my choir books and setting the table. Like Toscanini, he hummed along, especially when his prized nightingale had an aria. I heard Licia Albanese's recording enough times to memorize the score.
At 17 years old, when I got my first fulltime job, I squirreled away a $5 bill each week and bought my father his second opera set: "Madama Butterfly" starring his idol as the doomed Geisha. In the course of 40 years, Licia would sing this role about 300 times.
To keep herself fresh, despite her frequently repeated performances, Licia had her own approach. During a 2004 interview with Allan Ulrich, music critic of the San Francisco Chronicle, she said, "I always changed every performance. I was never boring, and I am against copying. What I learned from the great singers was not to copy, but that the drama is in the music."
When I moved to Greenwich Village, Licia followed me. Italian restaurants and the salumerias along Bleecker Street displayed her photo, outfitted in an elaborate kimono. Any time there was an interesting anecdote behind that autographed picture, I would share it with my father.
In 1974, the retired diva founded the Licia Albanese-Puccini Foundation to support young singers. In 1995, President Bill Clinton presented her with the National Medal of Honor for the Arts. Encouraged by my friend Elsie Cardia to cover the Puccini Foundation's aspiring singers, I did so, reporting on their annual concert for L'IDEA and others. During my first interview with this lifelong star, we had our picture taken together. When I mailed the article to my father, he was astounded. "She's still active," he marveled, "and she looks just the way I remembered."
Her activities included teaching a master class. Grateful students and other admirers often sent gifts. One day Licia phoned her longtime friend Aldo Mancuso to tell him the Venice Opera House delivered a brick. "So what do I do with a BRICK?" According to him, it was cradled in a beautiful red-velvet case, wearing a bronze tag of authenticity, and is now on display in his Caruso Museum. He also acquired some of her exotic personal memorabilia.
About ten years ago, after Licia had accompanied Mr. and Mrs. Mancuso to a remembrance Mass for Enrico Caruso at St. Patrick's Cathedral, she invited them to her apartment on East 72nd Street and Third Avenue. After trying on four different Cio-Cio-San costumes, Licia asked Aldo which was his favorite. He pointed to a gold-threaded kimono from a San Francisco Opera performance; she donated the complete ensemble (with headdress and shoes) to his Caruso Museum in Brooklyn, New York.
"Licia Albanese and I attended many events together," recalled Mancuso, "because I was her 'wheels' for more than 20 years." He explained that she didn't like anyone to try to help her into or out of a car, priding herself on her capability and independence. "Wherever we went, she was the life of the party," he recalled, "often joking, dancing, and breaking into song. She was used to late hours and I would gently remind her at 11 o'clock that my bed was calling me." The last evening they spent together was in December 2013 at a holiday party for the Gerda-Lissner Foundation when Licia was 104. "On that occasion, I whispered in her ear that surely her bed was calling her."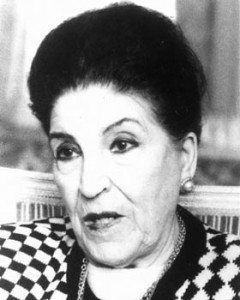 Licia Albanese died in her apartment on Friday, August 15, 2014, and her son, Joseph Gimma Jr. commented to the press, "My mom had a wonderful, wonderful life and great career." She was 105.
Alfredo Vecchio, a frequent member of the audience at her performances, gave the following tribute to the career of Licia Albanese at New York City's Columbus Club in 1986:
Like all great artists, Licia's specific ingenuity as a singer, the originality of her art, lay in the fact that technique for this artist at least was always a means to an end and never an end in itself — — for the salient features of all great art is the ability to connect technique to the emotions. Any other approach would have been for Albanese contrary to the musical sense with which she was born, contrary to musical training she acquired, and, if such exists, contrary to her musical morality. It was this, Licia's uniqueness and musical mastery which drew me, which drew us, into the world of Mimi, Cio-Cio-San, Manon, Liu, and Violetta, week after week, year after year, inviting me to a place and places I had never been before. It is for all these reasons that Virgil Thomson was able to write of Licia's first Violetta: 'She did not sing the role — — she recreated it for our times.' As we all know, Albanese's art is capable of the widest range of effects from the tragic to the comedic, from dramatic repertoire to the lyrical and even soubrette. And for anyone fortunate enough to have heard her rendition of operetta pieces, she leaves no doubt in the mind that she was born to the operetta form as well as to the rest.