REVIEW by LindaAnn Loschiavo
"It had occurred to me that all human beings are divided into those who wish to move forward and those who wish to go back. Or you could say, those who wish to keep moving and those who want to be stopped in their tracks as by the blazing sword." — —  poet Louise Gluck
Theater for the New City produced "Life Masks," three shorties by Eduardo Machado and Lorinne Vozoff with roles specifically tailored to older performers. Born in 1947, Broadway actress Sharon Ullrick is 69. Born in 1953, Cuban playwright-actor Eduardo Machado is 63. Born in 1932, acting coach-playwright-actress Lorinne Vozoff is 84. If there is a common thread woven into "Life Masks," then Louise Gluck's quote sums it up.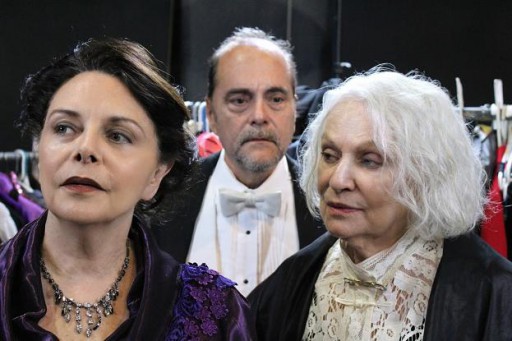 One of the two bosom buddies in "What's Mine," emotional Celia (Sharon Ullrick), who's just been dumped by her boyfriend, cannot move forward. Celia's whining irritates Fran, who meets Cupid on her own terms. Most of the dialogue between the women has to do with reminiscing about the past, former lovers, relationships that were a folie à deux, and the audience is not sure where these memories are leading. Finally, it becomes clear that Fran caused Celia's break-up. This betrayal, however, causes no changes and, curiously, does not affect the friendship. Not only is this unrealistic but it also lets the air out of the play's tires. If treachery causes no repercussions in the world of Ms. Vozoff's characters, then she is writing quite eccentrically against the norms. "What's Mine" was written and directed by Lorinne Vozoff.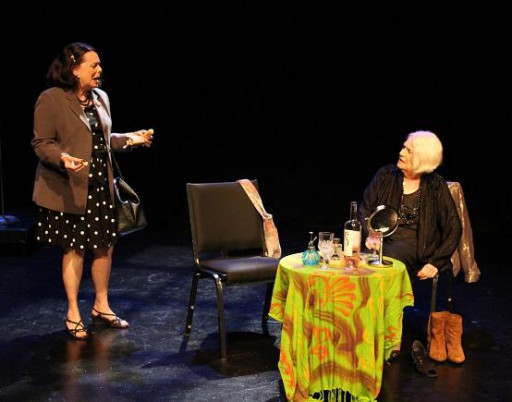 In the middle piece "Speak to Me," Sophie Beck (Lorinne Vozoff) is a lonely old lady of limited means who reminisces about the plays she used to see, especially the dramas starring matinee idol Franklin Moffet. Portraying Moffet, now retired, Machado is, at first, haughty and put upon by the chattering stranger who is stuck in the past and shabbily dressed. However, when he realizes she has been his fan, he suns himself in her memories and greedily laps it up, which is amusing but also quite predictable. At 84 years old, Ms. Vozoff brings a certain gravitas and pathos to her role, especially during her final speech, as Sophie weeps about all that time has taken away from her. But the second piece is more of a character study than a satisfying short drama. "Speak to Me" was written and directed by Lorinne Vozoff. .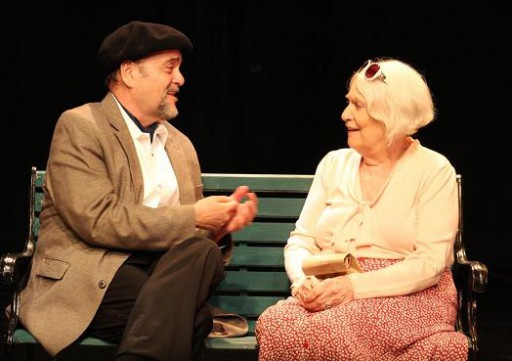 In the third and final piece "Acting," the audience is taken back to Pittsburgh in 1921 to witness an imaginary altercation between two titans of the theatre. Here is the premise.  What if the Italian actress Eleonora Duse [1858—1924] were so jealous of the French diva Sarah Bernhardt [1844—1923] that she followed her around, performing the same roles onstage in the same cities and during the same time? Although Duse was 63 years old in 1921 and Bernhardt was 77, Sharon Ullrick, age 69, plays the older actress — — and with immense vitality. This fictional rendezvous occurs when Bernhardt discovers both of them will be appearing as Marguerite Gautier in "La Dame aux Camélias" and requests a meeting with Duse [actress Lorinne Vozoff] through an intermediary named Gino [actor Eduardo Machado]. In reality, the two luminaries, unspoken rivals for many years, had different temperaments. Introverted, private, and intuitive, Duse was a method actress, notable for her total assumption of the roles she portrayed. Away from the stage, Duse informed a journalist, "I do not exist." In her opinion, Bernhardt was merely "a wonderful mechanism."  In contrast, the calculating, outgoing Bernhardt thrived on press coverage and publicity; she intensely disliked Duse.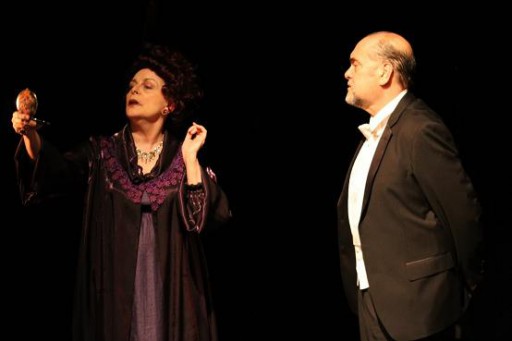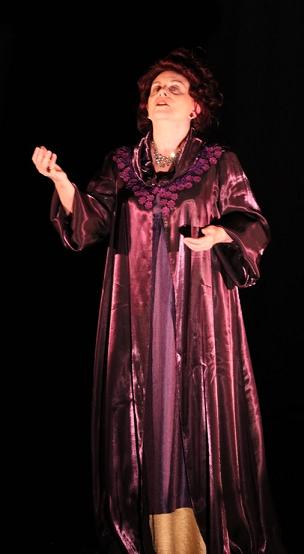 Another wedge between the women was their contentious relationship with Gabriele d'Annunzio, who had written four plays for Duse during the 1890s. When he decided to give the lead for the debut of his play "La Città Morta" [1898] to Sarah Bernhardt instead of Eleonora Duse, she was outraged and ended their affair. Despite this bad blood over Gabriele, Bernhardt clearly wishes to move forward. In contrast, Duse is still stuck on the cad, moaning his name obsessively.
"Acting" draws upon all this (and Berhardt's wooden leg) for their dramatic confrontation. Perhaps because we know something about these icons, it is the most captivating of the three one act plays. Machado is unremarkable; he does not make Gino, the go-between, into a memorable presence.  However, Sharon Ullrick is outstanding, portraying Bernhardt as a haughty ham. Ullrick also grapples with this real-life stage star, looking at the divide between what a famous woman is perceived to be and what she actually is when away from the footlights.  As the cryptic and quiet Duse, Vozoff has the far more difficult challenge of dramatizing a withdrawal into herself, a fight to be nobody except the role she will bring to life. As a result, a potentially fiery confrontation remains at low heat. "Acting" was written and directed by Eduardo Machado.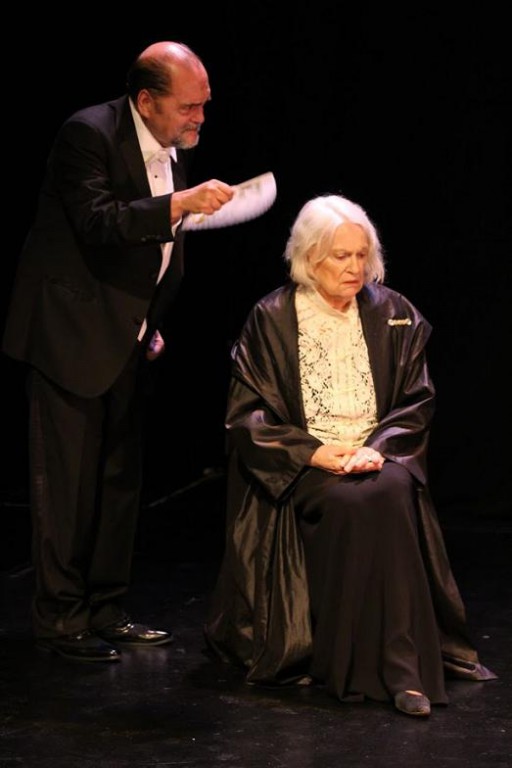 The press release announced that "Life Masks" will celebrate the notion that even though you might be the age of "fine wine and well-worn leather," you still can fight for what you believe in. Had there been more "fight" in the truth-or-consequences dynamics these short dramas tried to set up, then this trio of short plays could have been more engaging and entertaining.
---
"Life Masks" opened at Theater for the New City (155 First Avenue, NYC) on October 1, 2016.  The show has now closed.