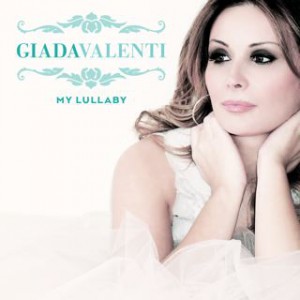 Singer and songwriter Giada Valenti is recognized for her special voice and great stage presence. With her latest CD, My Lullaby, Giada is bringing her sophisticated music and European style to music fans worldwide. 
In the USA, Giada's talent and contributions to culture has been recognized by several organizations. In October 2008 Giada was named Woman of the Year by the Organization of Italian Charities In America. In February 2010 she was honored by the Commission for Social Justice of the Order Sons of Italy in America for being a good Italian role model. In October of 2011 Giada was awarded the Merit of Honor by the Borough President of Queens, NY for her outstanding cultural contribution to the Italian community in the USA. In April 2012 she was honored by the Saint Brigid Parish for he Distinguished Service in Promulgating the Beauty and Value of Italian Culture and Heritage. In November 2012 she was honored by the Italian American Labor Council for her Work, Achievements and my Life Dedication to Music. Giada is also a seven times recipient of a Grant of the NIAF Sergio Franchi Music Foundation.
Currently Giada Valenti tours with her show Tribute To Love she performed in the years after that in theaters and perfroming arts centers all over the American East Coast. In this show she takes her audience on a romantic journey performing her own renditions of hits of the 60s, 70s, 80s as well as some recent contemporary songs.
With her strong personality the Italian singer has become a brand that stands for Romantic Music, Spectacular Shows, Glamour, Elegance and La Dolce Vita. 
L'Idea: Giada, you started in the entertaining world at a very early age. Could you tell us more about that?
Giada Valenti: I started to sing very young, inspired by my grandmother Maria who had the most beautiful soprano voice. As long as I can recall singing and music was my favorite thing to do. It was actually my grandmother that noticed talent and my passion for music, and suggested to my parents to make me join the Conservatory Santa Cecilia in Venice for music theory and classical piano. I could write music and notes even before I could write letters.
I started then to do vocal competitions as a child and to sing with local musicians. At theage of 13 I was touring Italy with a popular folk band and singing in a very popular piano bar. I loved it. I always say that I have never made the decision to become a singer, I just was singing all the time and that become my job. I think it was destiny!!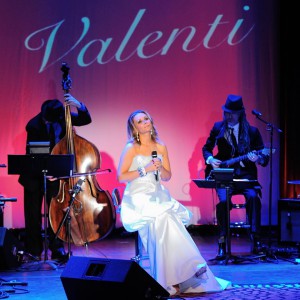 L'Idea: How would you describe your singing style? Was Jazz a major influence in your singing?
Giada Valenti: I started as a classical trained singer, as my grandmother loved opera. It was a great way to learn the basic of singing and the breathing techniques. But I was a free spirit even when I was a child, and I loved to improvise and to create. That's not done in the classical world. So I started to take lessons for jazz music. I loved it. Later I discovered also rock music; Pat Benatar and songwriters like Joni Mitchell. I also loved since I was a child Edith Piaff, she has been one of my inspirations. But I adore the voice of Barbra Streisand and Michael Bolton. I've been listening to so many different genres of music. I love the Italian 'cantautori', songwriters: Claudio Baglioni, Gino Paoli, Riccardo Cocciante, Renato Zero; and of course Italian singers, like Mina, Ornella Vanoni, Fiorella Mannoia. I will say that my major influence has been my curiosity for music in general. In my concerts I sing songs that I love, and those go from the Carpenters, to the Beatles and the Doors. From Etta James, Roberta Flack to Bruno Mars. I sing in Italian, English, French and Spanish. I speak five languages and I have learned them for love or for music.  I'm a passionate spirit and I love well-written songs. It doesn't matter who sang them and what genre they are. If I love them, I make them mine.
Great Grammy Award winning producer Gregg Field sent me a few months ago a precious note after attending one of my Concerts. He said "I knew almost all the songs, but I heard them tonight for the first time". That is such a great compliment for me, especially coming from a man who has played with Ella Filtzerald and worked with the best artists in the world, from Bocelli to Barbra Streisand.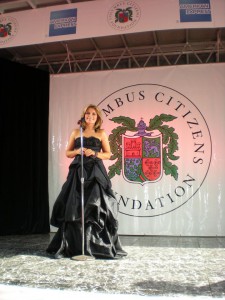 L'Idea: Do you feel being Italian had any influence on your singing career? Do you believe your nationality had an impact on your singing style and on the high emotional level of the singing, for which you are known?
Giada Valenti: For sure. Being Italian has for sure made me a hopelessly romantic, a sensitive person, a person who loves emotions and that likes to show them on and off stage. I'm passionate about life, family, love, friends, music, fashion, art. I open my heart to my audience and what I get back from them is magic. There is a connection with my audience every time I perform…..they love me and I adore them. I'm so grateful for their love and support. I call them my Angels. They are the wind behind my wings. All I do in my life is moved by emotions, love and passion… I sing with my heart. I give it my all. I think that's for sure an Italian thing; or at least a thing I have inherited it from my Italian family.
L'Idea: You have won several important music awards and competitions, such as the Festival di Castrocaro. Could you name them for our readers? Which one you feel gave you the biggest psychological boost and why?
Giada Valenti: There are so many to mention them all. I can say that the one that changed the course of my life has been "San Remo Giovani Talenti nel Mondo". It was a European competition for Italian artists living abroad. I participate in the category singer-songwriters with my own song "Solo Con Te," representing The Netherlands, as I had just moved there. To win that has opened the door for me to a major record deal with BMG in The Netherlands. I recorded my fist CD, a collection of my own written songs, and started my career in Europe.  After that I started to write also in England. I moved to London where I signed a publishing deal, and via England I landed to NYC, where decided to stay. I will say that winning that Festival was a very special moment that shaped my life.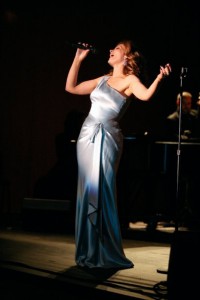 L'Idea: You wore born in Venice and grew up there, but you also lived for a while in The Netherlands. What  brought there and how was your life in that period?
Giada Valenti: Well the Netherlands is a country that I love. I moved there to follow my heart!! That was the first country to believe in my music, to give me a chance. They love Italian music there. My first single, LIBERA, was on high rotation on two major national radio stations for 6 months. The Netherlands was also the first country that believed in the talent of Andrea Bocelli. Living in Amsterdam was a great enrichment after living in Venice. They are a very liberal country. They respect diversity and they embrace other cultures. At the time, I was singing and traveling quiet a lot, doing radio and television interviews; I learned Dutch for that. I think that if you want to understand a country and their traditions you need to learn their language and communicate like they do. Music, like love, doesn't need words to communicate emotions, but to connect with people you need to communicate in their own language. That is at least my experience.
L'Idea: How did you end up moving to USA?
Giada Valenti: While I was living in London, I was sent by my publisher to write songs in Denmark. There I started to write with several great songwriters, and with two of them I became very good friend. They loved my voice and they suggested writing something for myself. We wrote Italian Signorina, I'm a Woman and But beautiful. My manager sent them around the world, to several major record companies. The songs got the attention of the team of Clive Davis here in NYC. We came here to meet them. They thought I had a unique sound and an enchanting voice. I loved NYC instantly and I decided to take this chance and start my career all over in this country. Here I am, nine years later, still in love with NYC and still singing.
L'Idea: You had a role in the Broadway musical "Be My Love," which is based on the life of Italian American tenor Mario Lanza. Could you tell us about the role, how you got there and how rewarding was the experience?
Giada Valenti: That was a unique experience. Movie producer Sonny Grosso and the musical director, legendary and fourteen times Grammy Award winner producer Phil Ramone offered me the role. In the musical I had the role of Italian Actress Marisa Allasio, who played in the movie "The Seven Hills of Rome" with Mario Lanza. My role was a funny role I enjoyed to play. Mario Lanza was a man who loved women. The only one he didn't care much was Marisa Allasio. He thought he was going to Rome to film a movie with Brigitte Bardot. He had not understood that he was doing the movie with the "Italian Brigitte Bardot". So in my role I was all the time frustrated trying to charm Mario Lanza. I had to speak with a very think Italian accent. That was also funny that the director asked me to speak more like an Italian!! That was cute!! It was an unbelievable experience to share the stage with some incredible actors and to work with two legends like Phil Ramone and Sonny Grosso. They both ended up becoming dear friends and supporters of my talent.
L'Idea: Your version of the song "Caruso," a song that you also sang at many Columbus Day parades through the years, was chosen by iTunes as one of the 50 best songs in the Italian language. It is a great honor, since that song was also recorded by Luciano Pavarotti and Andrea Bocelli! Is "Caruso" almost a theme song for you? Did you have the chance to meet or talk to the composer Lucio Dalla?
Giada Valenti: I love that song. I gave the song a different sound. I sing it like I feel it. It is more intimate and with a soft jazz vibe. It was actually also the first song I sang for Phil Ramone for my role in the BE MY LOVE Musical. I will never forget it. I was so nervous. After all, Phil was a dear friend of Maestro Luciano Pavarotti and had produced all the Pavarotti and Friends with him. But I will never forget Phil coming to me and saying that I had touched his heart. That was a magic moment I will never forget. I met briefly Lucio Dalla in The Netherlands, but I really did not get to talk a lot with him. I loved him. He was an incredible human being and musician. Like all the great artists, I think you need to have great heart to be able to make people fall in love for your work. My grandmother always used to say to me "People will love your music but they will fall in love with your heart". I think she was right.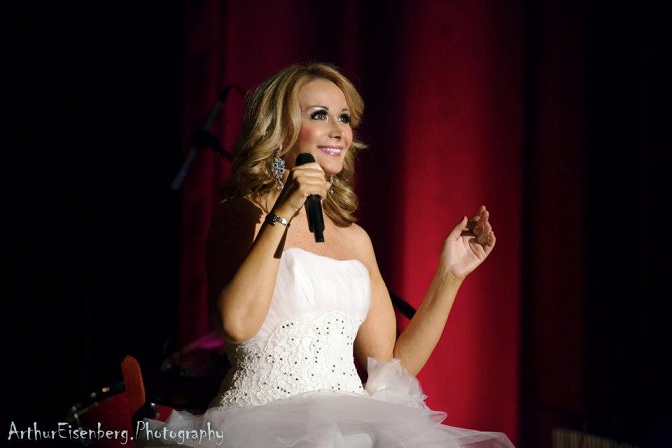 L'Idea: Italian TV channels have offered various one hour programs on your achievements, real life documentaries that reflect the deep admiration they have for you in your "terra madre." Do you have any programs to appear again on Italian TV soon? How did you feel about seeing you portrayed as a great star in your own country? Do you have any plans to participate to the Festival of Sanremo?

Giada Valenti: It is always very special to be guest of radio and television program in my own Italy. The thing I love the most is that I can inspire young people from my country to follow their dreams, to go where the opportunities are or where they think they can realize their dreams; it is scary and it isn't easy, but if you don't take a risk nothing will ever happen, and as far as we know we live only one life, so let's go for it and live it at the fullest. Hard work, sacrifice and passion: that's what I always try to communicate to young people. Those are the key of a happy life in my experience!! I love a quote of John Lennon that basically has always being my way of seeing life "When I was five years old, my mother always told me that happiness was the key to life. When I went to school, they asked me what I wanted to be when I grew up. I wrote down 'happy'. They told me I didn't understand the assignment, and I told them they didn't understand life." And my parents told me the same….that has being a blessing for me. About the Festival of  San Remo, I would love to sing on that stage for sure, one day.
L'Idea: In your biography, the list of honors never seems to end. Could you tell us about a few of them and what they really meant to you?
Giada Valenti: I got indeed so many of them is such a short time of career here in the USA. I'm so honored and grateful for each and every one of them; they are all so very special, from the big ones to the small ones. I keep them in my studio, on top of my piano, and some on the wall and I often look at them as an inspiration.  They are often also a boost of confidence in the difficult days, in the nostalgic days when I miss my family back in Italy or when I wonder if I'm doing things right. Often I look at them and I wonder if I really already deserve all of them, as I'm only in the beginning, as far as I'm concerned.…but as I always say when they give me an award…"I humbly accept it as an incentive to strive to be even better; to be even a better role model for the young people, a better promoter of great music and of the Italian heritage".
They make me proud of my work and they inspire me to be better, to work even harder.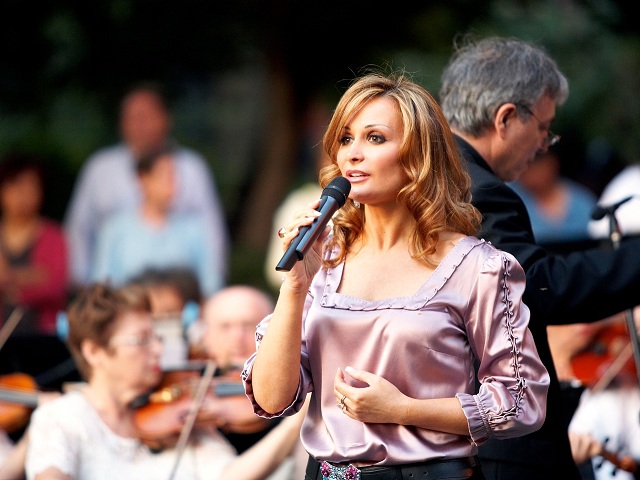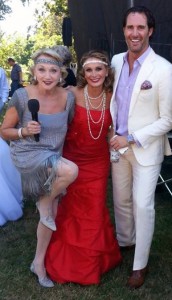 L'Idea: You have been seven times the recipient of a grant by the NIAF Sergio Franchi Music Foundation. What were the grants for?
Giada Valenti: The grant was for keeping developing my craft. This year I will be receiving the scholarship of NIAF Sergio Franchi Music Foundation for the 8th time on August 23, during the 20th Sergio Franchi Memorial Concert. It is an honor to be part of this event for eight years in a row and share the stage and the scholarship with some incredible talents, from the USA and the rest of the world. Mrs. Eva Franchi, who organizes this event, is a precious friend, a woman that I admire and love dearly, and to be recognized every year by her and get her support it's a great honor; I feel blessed.
L'Idea: What are your next engagements?
Giada Valenti: I've been walking around for a while with the dream to film a television special for PBS. I had to take a break two year ago from my dream, after I was very sick and almost lost my life due to a very rare illness. Now that I have my health back and a second chance in life, it looks like things are finally happening for me: we will be filming my television special "From Venice With Love". The concert will be filmed here in the USA and part of special will be also filmed in my own Venice. This will be a dream coming true I have worked so hard for. It will allow me to bring my music to a broader audience in the USA and then the rest of the world. I'm just working on finalizing all the deals and the details. It will be a major project with so much to to do, but it will be spectacular; I will bring my own Venice to the world with my music.
And of course I'm so looking forward to my next Concert of my show "From Venice with Love" on June 25th, at 7PM at the famous club in Manhattan "54 Below". It is always magic to perform in NYC. For all the details of my schedule and news, people can join my mailing list on my official page www.giadavalenti.com. So they can stay in contact with me and know all my musical news.
L'Idea: I believe you stand for Romantic music, elegance, Italian beauty and spectacular shows, but where do you see yourself ten years from now?
Giada Valenti: I see myself still so happy and healthy, doing what I love so much now, performing and traveling the world. Singing in bigger stages for millions of people. Making them happy and sharing with them magic moments with me and with the people they love. I want to promote with my music love and peace, inspire young people to follow their dreams and not to be afraid of taking risks. I want to be a role model for women all around the world. It is wonderful to be a woman, to be romantic and to believe in dreams and in love. It is a man's world, but without women there will be nothing!! I see myself also sharing my life with young people, maybe with a book. I'm asked often to be guest speaker of special events and share my life story. I love to do even more of that!! Oh yes and I want to buy a penthouse in Manhattan with a view on the Empire State Building. I love that!! And I want my parents to move to NYC with me.I miss them and love them so much.