New York, NY, May 2, 2022—Michéal Castaldo, an award-winning classical crossover singer, producer and songwriter, will be the featured performer with his La Dolce Vita Band, kickstarting the Totowa Summer Concert Series, Wednesday, June 22, 2022 at 7 p.m. The festival takes place at the Municipality Front Lawn, 537 Totowa Rd, Totowa New Jersey, from 7 p.m. to 9 p.m. Attendees are asked to bring a lawn chair or blanket. Rain date is June 23.
The Summer Concert Series is organized each year by the Board of Recreation, the Mayor and Council of Totowa. The Summer Concert Series estimates a total attendance of 2,500–6,000 people from throughout the tri-state area throughout the summer.
Totowa Mayor, John Coiro of Totowa states, "I heard Michéal Castaldo perform on several occasions last year and he just wowed the audience with his music and incredible voice. We are honored to have Mr. Castaldo and his La Dolce Vita Band perform live and kick off our annual Totowa Summer Concert Series on June 22. A great time will be had by all. I guarantee it."
"Micheal Castaldo is awesome, we can't wait to have him bring the community alive," Mark Monteyne, Totowa Borough Recreation Director.
"Michéal Castaldo's voice is beyond captivating… beyond riveting… his renditions of classic American hit songs, sung in Italian, fill me with tears of happiness…," Joe Franklin (Bloomberg Radio)
"A great performer…," Joe Piscopo (WNYM Radio)
"An amazing Italian tenor…," Maria Bartiromo (FBN TV)
Michéal Castaldo is the living embodiment of authentic Italian culture. A native of Calabria in the "tip of the toe" of Italy, he is an accomplished pop-classical crossover singer of his native songs. He sings a variety of familiar Italian classics as well as pop hits, such as "Hotel California," "Notte di Luci (Nights in White Satin)," "Senza Catene (Unchained Melody)," "Io Stavo Con Lei (I Started a Joke)," and "Senti A Musica (Listen To The Music)," in Italian. Castaldo is a graduate of the Berklee College of Music in Boston, has performed at Carnegie Hall and Shea Stadium, and was featured live on ABC TV for his performance on the red carpet during the 2012 Columbus Day Parade.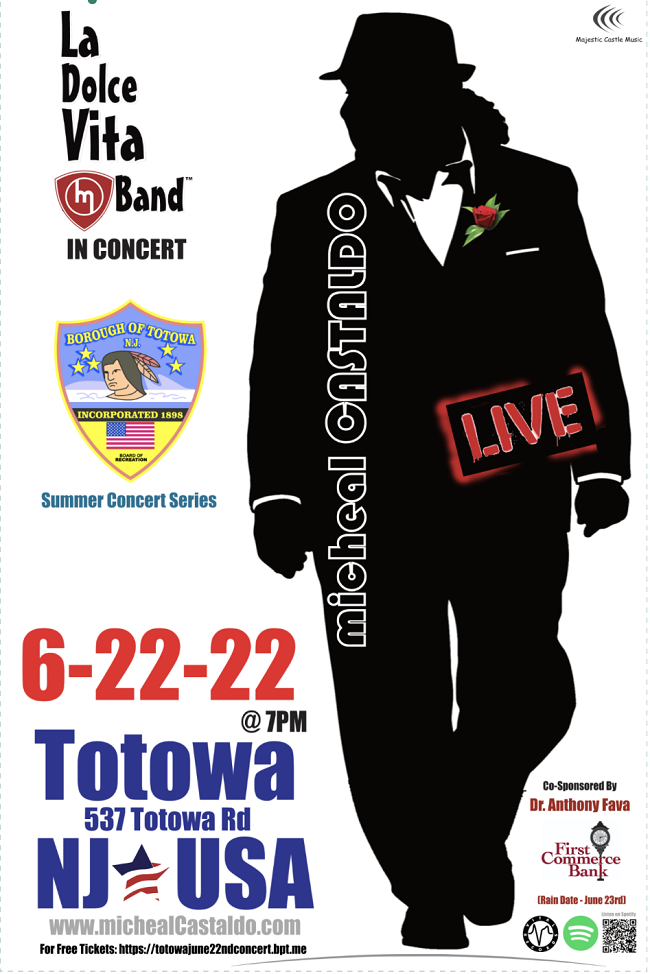 For more information about Michéal, visit www.michealCASTALDO.com or contact Majestic Castle Music Productions toll-free at 877-642-7271 or e-mail [email protected].
To follow and listen to Michéal Castaldo's most recent digi remix single of Eagles Hotel California go to https://tinyurl.com/SpotifyCastaldo
Michéal Castaldo and his La Dolce Vita Band's performance is made possible by the generous co-sponsorship of Dr. Anthony Fava of Totowa, NJ, and First Commerce Bank of Fairfield, NJ.
To obtain free e-tickets, visit https://www.brownpapertickets.com/event/5440202
For general information about the summer concert series and other events in Totowa, NJ, visit the Totowa, NJ Board of Recreation Facebook page (Fb.me/totowarec)