Marie Caruso (Artistic Director of Angelica) is a native New Yorker, who lives in Hastings. She teaches music and art history at St. Vincent Ferrer High School, an all-girls school in NYC, where she also directs the choir and two handbell choirs. Marie has performed with many vocal groups, including Amor Artis, the Columbia University Chapel Choir, Collegium Musicum with director Russell Oberlin, the New Calliope Singers, and the New York University Collegium with director Alex Blachly. Marie has a Doctorate in Music Education from Teachers College, Columbia University and continues to do archival research on women composers from 18th-century Italy. Her article, Ten Fugues Shed Light on an Old Debate, will appear in the September issue of Il Saggiatore Musicale.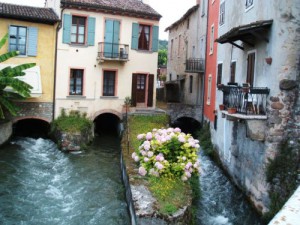 Angelica, a women's chamber choir directed by Marie Caruso will be performing in the Verona Garda Estate Choral Festival in Italy this summer. The choral festival "Verona Garda Estate" takes place at the Lake of Garda.  The purpose of the Festival is to experience music from different cultures and countries and to create international friendships. The participating choirs prepare two different kinds of programs, one sacred and one profane. Founded in 2007, the festival has already had more than 80 participating choirs coming from all over the world.  The festival is maintaining a high level with performances of superior quality. The variety of the presented programs and the locations of the events make the festival an interesting and highly sought meeting point for wide audiences. The festival is organized by the association "Pro Musica Cantate Domino" in cooperation with the municipalities of Lake Garda and the provinces of Verona, Brescia, Mantua and Vicenza.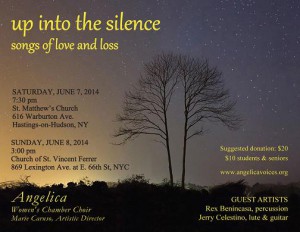 Our readers may have a chance to listen to them in the New York area, since the choir will present "Up Into the Silence: Songs of Love and Loss" in New York City and Westchester this June. The program will feature various medieval works, including "Bache, bene venies" from Carmina Burana and Landini's "Ecco la primavera"; renaissance works by Janequin and Passereau; folk songs featuring Irish, Newfoundland, Breton, Russian, Sephardic, and American Shaker music; and modern works composed for Angelica by Julie Dolphin, Victor Caruso (world premier) and Craig Fryer (world premier). Joining Angelica will be guest artists Rex Benincasa on percussion, Jerry Celestino on lute and guitar, and Troy Messenger on krumhorn and recorder.
Please join Angelica, a group hailed for its "perfect blend" and "beautiful, transcendent sound," at this upcoming concert:
• Saturday, June 7th, 7:30 pm
St. Matthew's Church, 616 Warburton Ave., Hastings-on-Hudson, NY
• Sunday, June 8th, 3:00 pm
Church of St. Vincent Ferrer, 869 Lexington Ave. at E. 66th St., NYC
NOTE: This concert will be repeated on Saturday, June 21, 2014, 7:30 pm at St. John's Lutheran Church, 122 Fenimore Road, Mamaroneck, NY.
For more information, visit www.angelicavoices.org
About Angelica
Angelica is a Hastings-based women's chamber choir founded in 1996. The group has developed a rich repertory of music ranging from early anonymous music to contemporary compositions. Angelica also performs a unique variety of music, including chant, Sephardic, Balkan, American folk, and jazz, and sometimes incorporates instrumental accompaniment. The group performs concerts throughout the year in both Manhattan and Westchester. Eugene Sirotkine, former Assistant Conductor of the Metropolitan Opera, and director of the NY Metamorphoses Orchestra, describes Angelica as having "a gorgeous sound, rich sonorities, and transparent harmonies." Others have described their music as "transcendent" and "angelic."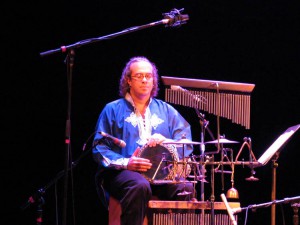 About Rex Benincasa
Rex Benincasa has been a freelancing drummer and world music percussion specialist in New York City for over 20 years. Along with hundreds of television/radio soundtracks and commercial recordings, he has performed with the Pittsburgh Symphony Orchestra, the New Music Consort, Flamenco Latino, Carlota Santana Spanish Dance, Zorongo Flamenco Dance, Andrea DelConte Danza Espana, Pilar Rioja and the Grammy Orchestra, Amanecer Flamenco Progressivo, the Pittsburgh Ballet, the Sacramento Ballet, the Washington Ballet and the Merce Cunningham Dance Company.
About Julie Dolphin (composer)
Julie Dolphin's love of Spanish was first kindled by years of travel throughout México and Central America, most of it by thumb. Her graduate studies in Ethnomusicology, at Columbia University, included detailed musical and textual analysis of Nahuatl wedding music, and the uses of music as barter in highland Central American communities.   Ms. Dolphin, who is an Adjunct Professor at Manhattanville College,  has set poetry by, among others, Federico García Lorca, Jorge Guillén, and Jose Ramón Samper Bernad, for voice and piano. Her original compositions have been premiered at Carnegie Hall, Saint Patrick's Cathedral, and Merkin Concert Hall.