A review by Karen La Rosa
What informs the eye of a photographer? What makes it able to take an ordinary scene and turn it into something that communicates emotion to its viewer? The camera, initially enabled us to see images of real life, of our president and the horrors of war. It changed the world. Today, the Cloud is filled with billions of photos of pizza and the wine that went with it, an extension of the arm of the populace. What separates artist from shutterbug is certainly skill and a studied eye, but more than that, it's thought, heart, and soul, all of which Joe Zarba possesses, and is on view until March 24th at the Garibaldi Meucci Museum. Joe's story has informed his photography.
He grew up in a typical immigrant family. In 1921 his father left his beloved family in Leonforte, Sicily, and came to America in search of work. Every week he sent money home, but he himself never returned. He passed on when Joe was 13, and the loss left an indelible mark on adolescent Joe. In 1988, with an old address and phone number in hand, Joe met two of his aunts in Nissoria, Sicily, where they were living at the time. Shortly thereafter, he set out to see other parts of Sicily. Enamored by what he saw and experienced, he returned again and again, finally buying a place to live nearby his ancestral town. What ensued was years of exploring Sicily through the lens, looking to celebrate life and find himself.
15 years-worth of photographs is a lot to sort through, but Joe has exhibited before and is no stranger to the impossible selection task. Staten Island's Garibaldi Meucci museum is gracious host to Joe's exhibit entitled La MIA Sicilia…per Voi, and the small room, centered amidst Garibaldi artifacts and history, is in some ways a very appropriate place to display the resilience and beauty of Sicily and the Sicilians.
Joe is comfortable photographing in both black and white and color. It would be a shame to view the island without its magnificent colors, yet seeing his monochromes reminds us of the contrasts and extremes in Sicily. They are evocative and capture not only reality, but something much deeper; history, sacrifice, and intimacy. They are rich. Joe could easily have filled the room with portraits of Sicilian men and women, posed or spontaneous. He has an exceptional talent for capturing the story buried deep in the eyes of his subjects. From a searing far away stare to a piercing look of resignation, Joe has an ability to put his subjects at ease and enable their true selves to emerge. One photo of a couple at the door, about to head inside for pranzo, is a moment in time of perfect routine happiness. The neighbor, with his sunglasses perched atop his head and crucifix dangling, almost out of the frame as he leans forward on his balcony, conveys another moment in daily life, no doubt repeated often, but in that moment remarkable in its ease. Joe enables us to be in the moment.
I have photographed at Joe's side and know that he has no fear of the close up. That fearlessness is a path on which he can walk straight into the soul. Among the dreamy Sicilian landscapes on display, is a wedding shot. Never going anywhere without his camera, and often in shorts and a t-shirt, Joe memorialized the exuberance at a couple's wedding. He's captured fishermen and the owner of a coffee shop, someone's father, and many playful children. Lover's on the lava rocks, and a once important home lonely on a stark hill, he's given his viewers moments and relationships, the essence of life with all its complexity.
Joe returns to Sicily each year and gifts his subjects copies of the prints he's made or a wedding book or a wonderful image to display at someone's funeral.  He is a warm and generous person who connects easily to his community, and with a deep-rooted passion for his Sicily. Perhaps in all of the eyes he photographs Joe is searching for those of his father, wanting to understand him and his inner strength as no 13-year old could have. In doing so he takes us along on a magnificent tour, offering a panorama of Sicily filtered through a very personal lens, a lens made of heart and soul.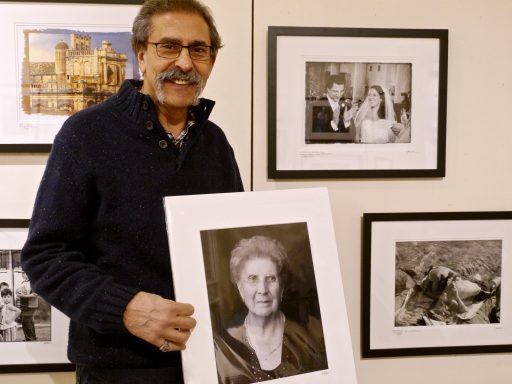 This exhibit is on view at the Garibaldi Meucci Museum: 420 Tompkins Avenue, Staten Island, on Wednesdays – Saturdays, 1 – 5 PM until March 24th , 2018 [email protected]
You can learn more about Joe Zarba by visiting www.viewbug.com/member/joezarba or on social media sites Instagram: joe_zarba  or Facebook: joe zarba
Karen La Rosa is the owner of La RosaWorks Sicily Tours and Travel. She arranges custom tours to Sicily for individuals and small groups. You can read more at http://larosaworks.com/