Swedish playwright August Strindberg [1849—1912], who wrote "Miss Julie" in 1888, set the drama on a nobleman's estate on Midsummer's Eve. While the (unseen) servants are off celebrating at a barn dance, and the Baron is occupied in town, his daughter Julie stays behind to fraternize with the help including John, her father's valet. It's quite possible that this story idea was inspired by the marriage of Strindberg, the son of a maidservant, to an aristocrat; he had pursued Siri von Essen when she was still wed to a baron. Class and status must have mattered to him because, in 1886, Strindberg published the first part of his poignant autobiographical novel The Son of a Servant.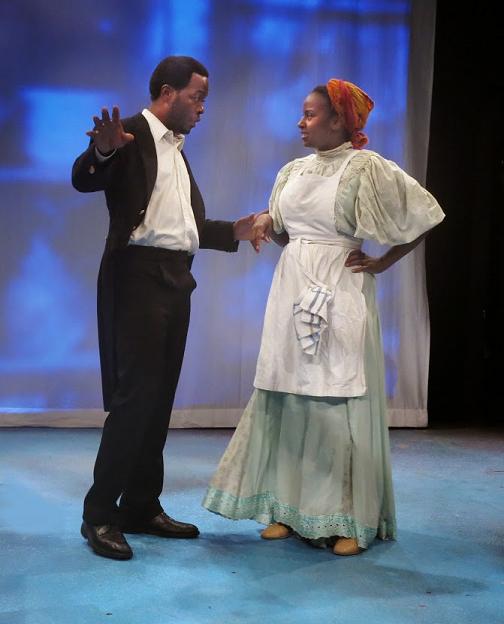 Though the play has been staged around the world in different time periods, recently the New York City-based August Strindberg Repertory gave it a Southern accent. They transported "Miss Julie" to an antebellum Louisiana plantation during Mardi Gras in 1888, thanks to a new interpretation conceived by Artistic Director Robert Greer and adapted by Edgar Chisholm from a translation by Greer. Their production also included a ballet sequence, which Strindberg specified in the original manuscript, though the dance segment is rarely performed.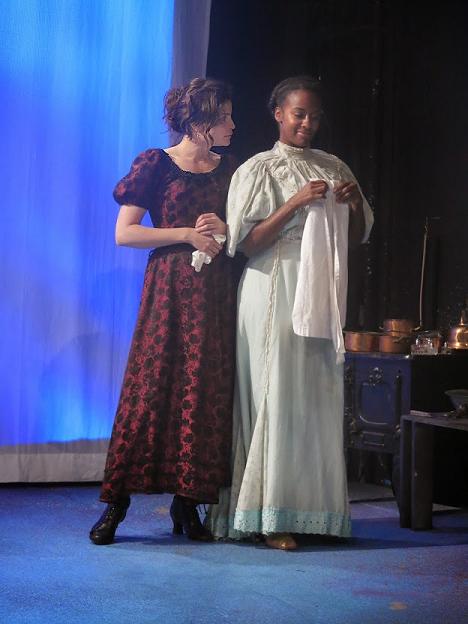 Unlike the Norwegian playwright Henrik Ibsen, whose 1879 drama "A Doll's House" featured a sympathetic heroine, Nora Helmer, who leaves a domineering husband, Strindberg takes a certain glee in dramatizing a doomed sexual encounter that crosses the barrier of social class and race and ends with Julie poised for suicide.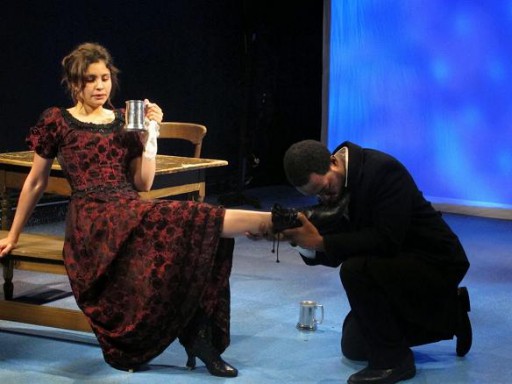 Strindberg's rank misogyny in "Miss Julie" is jolting, especially for a female theatre goer, and some of the iconic moments — — such as Julie's command that the butler kiss her shoes — — are disturbing. Greer handled much of this imaginatively, making the play memorable and reinforcing the spirit of Mardi Gras as a lusty interval ruled by the Lords of Misrule.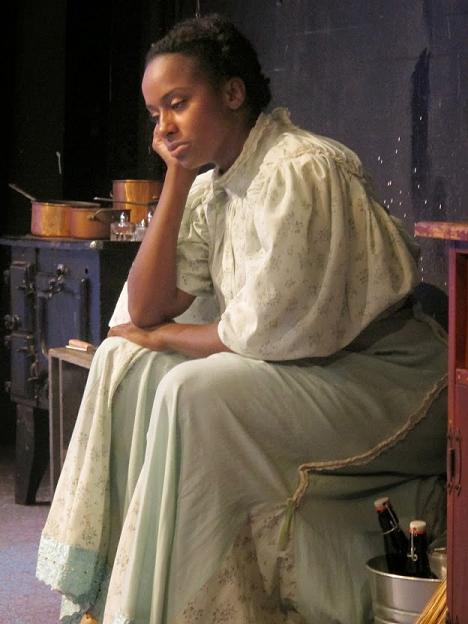 With a few pieces of wooden furniture, production designer Lance Harkins created a rustic 19th century kitchen, a hotbed of sustenance, violence, romantic intrigue, and betrayal. Though projections on a large screen change the mood from a predictable pantry to sunlit fields or a country church's spire, nevertheless, the basement's claustrophobia is intentional. Attired in a stately period costume with fitted bodice and elaborate sleeves, the black cook Christine (Eboni Flowers) often fans herself, indicating the sultry atmosphere might tempt a person to unbutton or remove some clothing.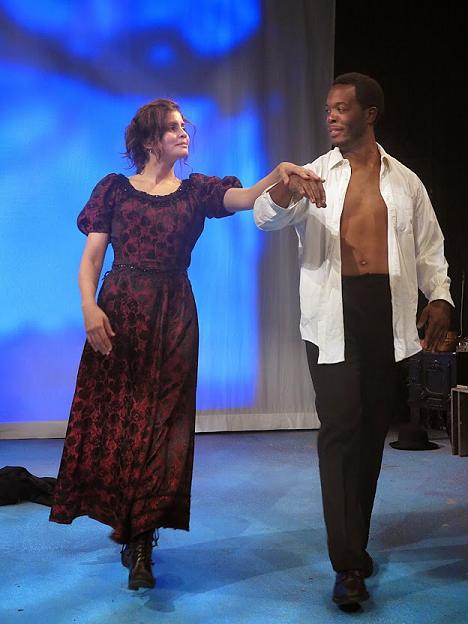 Julie is socially privileged, emotionally needy, neurotically inconsistent. Having just broken off her engagement (to a fiancé John spotted her whipping with a riding crop), Julie is more vulnerable, so starved for attention and validation that she fails to consider the consequences of sex with the butler. Costume designer Marisa Ferrara puts Julie in a provocative burgundy gown, positioned between the upright church-going Christine, all in white, and the Alpha-male John, mostly in black. These color distinctions resonate throughout the play itself, defining the social standing of the characters and the opposing psychologies of the opposite sexes. The red theme is also picked up in the wine, drunk so carelessly, and the canary's blood, spilt so needlessly.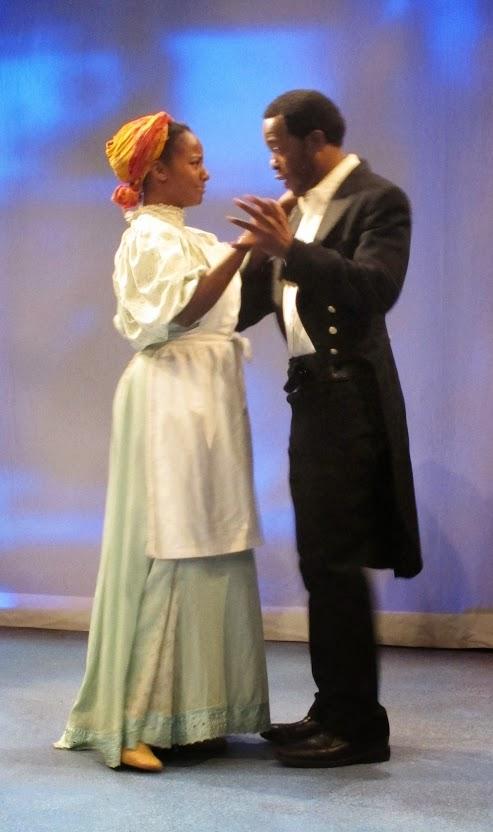 After complaining about Julie's transgressive behavior at the barn dance, the handsome, upwardly mobile, self-assured, smooth-talking valet John (Reginald L. Wilson) confesses, perhaps deceitfully, his romantic yearnings since childhood for his master's daughter Julie (Ivette Dumeng). All the while, her father's coat and impressive leather boots stand watch.

Strindberg's taut drama is a tug-of-war of opposing forces. Julie is aroused by the forbidden sexuality John exudes. John is impressed by the upper-class authority of Julie and her father, his master. However, sometimes it is that authority Dumeng underplays. Though she has moments of haughtiness and sadism, her vulnerability and confusion are emphasized. Too often her Julie seems brittle, dependent, and childlike — — not to the manor born. And sometimes John seems to have no direction, especially right after the sexual encounter when Julie hurls insults at him and he simply stands there, not reacting.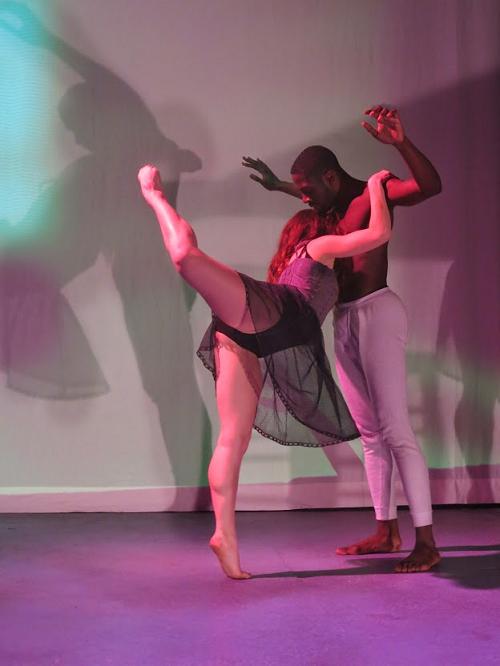 The ballet, choreographed in a modern mood by Ja' Malik, clashes with the 19th century setting. Though different productions have had a motley crew of peasants invade the kitchen, Malik envisioned this musical interlude as a sexual battle whose climax is a crudely simulated copulation on the dining table. The dancers reflect the racial divide; Alison MacDonald is white and Brian Binion is black. The sequence is too literal, thus more awkward than compelling.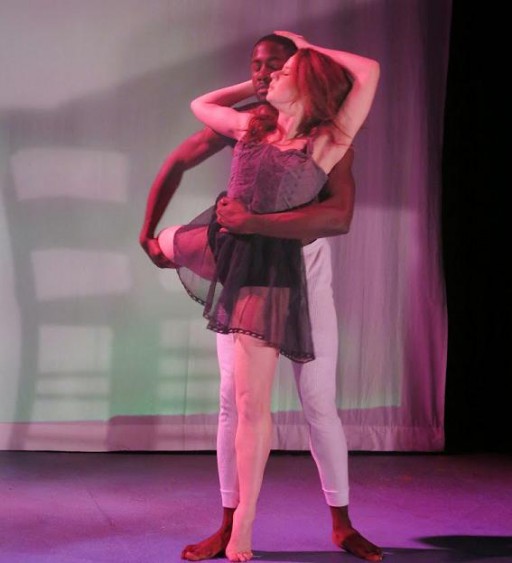 One superb prop is the bird cage, fussily cloaked in a sweeping white fabric, not unlike a bridal gown. Julie is wearing a traveling costume, as if she's a bride leaving for a honeymoon. When John slits the canary's throat, the blood on the white towel symbolizes the broken hymen, except the couple's intimacy has cruelly ended. It's a superb visual, effectively embodying Strindberg's Darwinian convictions about survival of the fittest.

"Miss Julie" ended its run on November 8, 2014 at the Gene Frankel Theatre, 24 Bond Street, New York City.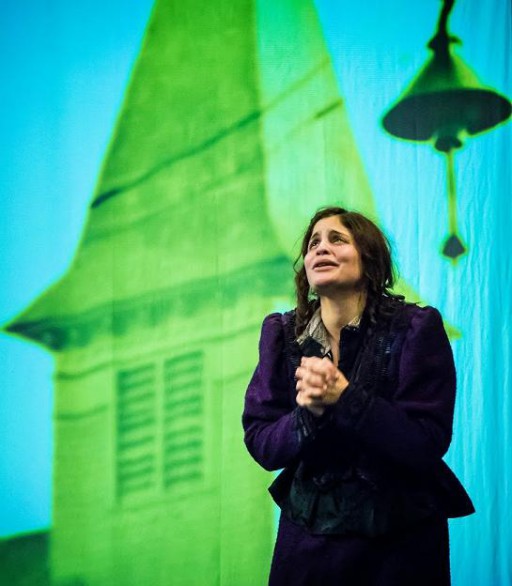 Photos by Jonathan Slaff