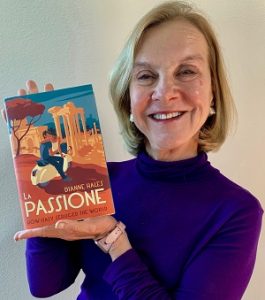 Interview by Tiziano Thomas Dossena
Dianne Hales is the author of La Passione: How Italy Seduced the World; La Bella Lingua, a New York Times best-seller; Mona Lisa: A Life Discovered, an Amazon best book of the year, translated into six languages; and more than forty trade and textbooks. Her other books (listed below) include "Just Like a Woman," "Caring for the Mind," and thirty editions of a leading college health textbook, "An Invitation to Health."
Following publication of the New York Times-bestselling La Bella Lingua, the President of Italy awarded Dianne the highest recognition the government can bestow on a foreigner: honorary knighthood, with the title of 'Cavaliere dell'Ordine della Stella della Solidarietà Italiana"(Knight of the Order of the Star of Italian Solidarity), for her contributions to promoting the Italian language.
L'Idea Magazine: Hello Dianne. You state on your website that although you have "written a thousand articles for national publications and authored more than forty trade and textbooks…the books inspired by Italy remain closest to"…(your) heart. Why is it so?
Dianne Hales  In my long career,  I've written on many subjects that interested me—from women's health to psychology to fitness. But my books on Italy are true labors of love, written from the heart. I began studying Italian years before I ever thought of writing a book on Italy.  La Bella Lingua was born of a true and enduring passion for the language.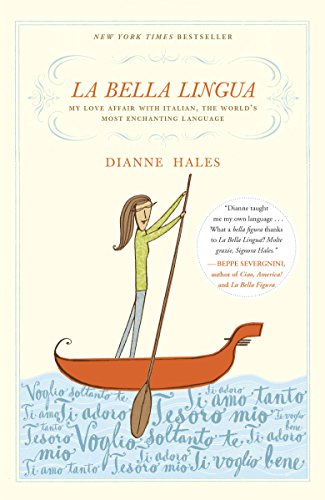 L'Idea Magazine: So. You are not Italian but fell in love with the Italian language…When did that start?
Dianne Hales: I unexpectedly found myself in Italy in 1983, and I knew only one sentence in Italian: "Mi dispiace ma non parlo italiano."  I used it constantly, and people replied with such warmth and enthusiasm that I yearned to communicate with them. Even when I couldn't understand exactly what they were saying, I loved the emotions they conveyed and the beauty of the sounds.
I came back to the U.S. determined to study Italian. Every time I returned to Italy, speaking Italian—very slowly at first — helped me forge new connections and friendships. Beyond conversations, I reveled in Italian's playfulness and musicality, and nuances.  To this day I find myself smiling when I come across certain words or expressions as I read an Italian article or book.
L'Idea Magazine: Do you also cook Italian style? Do you believe your love affair with Italy and its language made you a better person? How else has it influenced your life?
Dianne Hales: There are foods, like olives, that I never even ate before I spent time in Italy. Now I can't imagine a day without them—or without espresso. I don't consider myself a great cook, but eating in Italy increased my awareness of flavors and high-quality ingredients. California, where I live, has wonderful fresh produce, but—alas—I've never found cheeses or prosciutto (even when imported) that rival the ones in Italian markets.
As for being a better person: Chissa?  We should become better, kinder, wiser, more loving and forgiving and compassionate, as we get older.  I feel that I evolved into my truest self in Italy and developed in ways I might not have otherwise.
L'Idea Magazine: Is "La Bella Lingua: My Love Affair with Italian, the World's Most Enchanting Language" your first book about Italy and the Italian language? What prompted you to write it? 
Dianne Hales:  I had been studying Italian for several years when my agent Joy Harris and I were talking about my next book project. "You should write about Italy—you light up when you talk about it," she said.
"I can't," I replied. "Everything that can be written about Italy has been written."
"What about Italian?" she asked. "Does it have a story worth telling?"
I immediately started researching the history of Italian and discovered its rich, colorful, zesty, fascinating evolution—from the street language of ancient Rome to the Sicilian poets to San Francesco to Dante, Boccaccio, Petrarch, La Crusca…and on and on. I found it irresistible. As a journalist, I know a good story when I see it, and so I took on what turned out to be a daunting challenge: the biography of a language other than my own.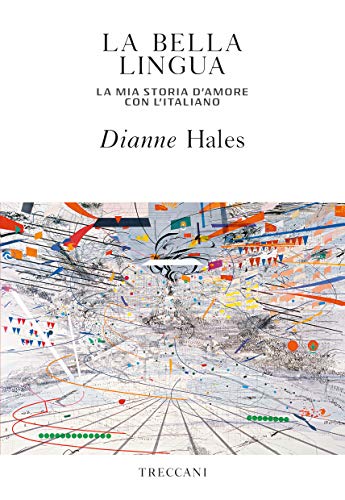 L'Idea Magazine: "La Bella Lingua" was also translated into Italian…
Dianne Hales: Outsiders always have a different perspective on a culture.  For example, a scholar in Florence told me that he was shocked to read that I had an initial dislike for Dante. "That's unthinkable for an Italian," he explained. Dante eventually won me over, but I've found that Italians are intrigued to discover how a foreigner reacts to their mother tongue.
Because Italian is my second language,  I notice and pick up on things native speakers take for granted. Italian often tell me that they appreciate their language more after reading  La Bella Lingua and feel more committed to preserving it and not using "Englishisms" like "weekend" and "coffee break."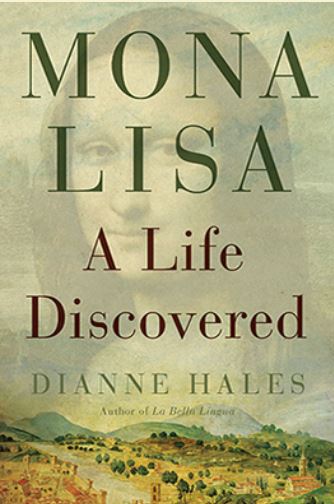 L'Idea Magazine: After that, you published "Mona Lisa: A Life discovered". What were the stimuli that brought you to write this book? 
Dianne Hales: While I was researching La Bella Lingua, an art curator and professor—Ludovica Sebregondi—in Florence invited me to dinner. When I admired the palazzo where she lived, she casually remarked that the mother of La Gioconda grew up in this very place. I had never thought of Mona Lisa as a real woman—let alone as a daughter and a citizen of Florence.
With the help of local archivists, I traced the life of Lisa Gheradini—from the street where she was born to the houses where she lived as a child to the route she took to her husband's home on her wedding day. I knelt in the chapel where her family prayed and visited the convent where her daughter took vows as a nun and where Mona Lisa chose to spend her final years and be buried. As I retraced her steps, Renaissance Florence—the city of Leonardo and Michelangelo — came alive to me. It was magical.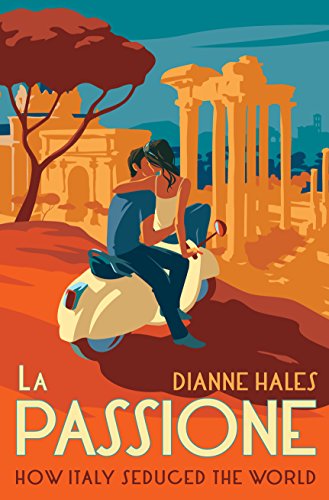 L'Idea Magazine: La Passione Italiana, an interesting topic for your next book about Italy, "La Passione: How Italy Seduced the World". Could you tell us more about that?
Dianne Hales: After decades of visiting Italy, I began to see a common theme in Italians: a passion that inspired them to pour their time and energy into something they valued. To me,  la passione italiana is a primal force that stems from an insatiable hunger to discover and create.
During my quest for Italian passion,  I shadowed artisanal makers of chocolate and cheese, joined in Sicily's Holy Week traditions, celebrated a neighborhood Carnevale in Venice, and explored vineyards, silk mills, movie sets, ceramics studios, movie sets, race tracks, and fashion salons. I wanted to introduce readers to unforgettable personalities brimming with the greatest of Italian passions—for life itself.
L'Idea Magazine: You also published an ebook titled "A is for Amore" (download it here for free). Obviously, the topic is 'love', but what is your approach to it?
Dianne Hales: Early in the pandemic in 2020, Italy inspired the world with its expressions of courage and compassion. Like so many, I was deeply touched. I wanted to respond with my own tribute to Italians. The first word that came to mind was amore, and then I decided to take readers on a whimsical letter-by-letter journey through the Italian ABCs– to savor Italians' favorite dishes, delve into the worlds of fashion and wine, meet Dante, Leonardo, and the irresistible Italian man and gain a new appreciation of the Italian "H" (acca) and "Z" (zeta).
From the beginning, I wanted this to be a gift, so I published it as an e-book that can be downloaded for free on my website [www.diannehales.com].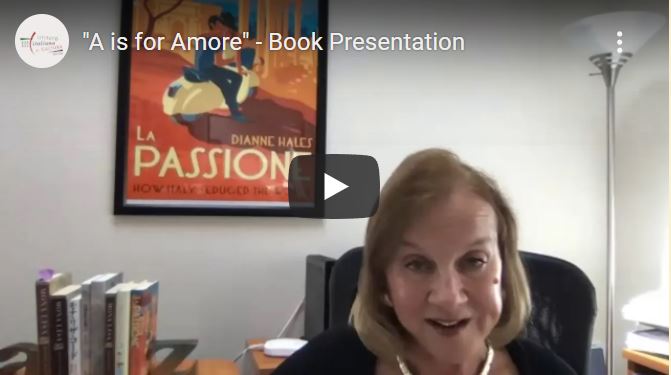 L'Idea Magazine: What is the aim of your blog "A Passion for Italy"?
Dianne Hales: In 2009 I began writing language-themed blogs that I published as "Becoming Italian Word by Word." Much to my delight, the readership grew and grew.  I heard from readers around the world—from South Africa to Argentina to China. As I discovered, a love for Italy and Italian is truly universal.
With the publication of La Passione, I decided to include more aspects of Italian life.  I changed the title to cover more diverse topics, and I've been happy to publish guest posts by authors of cookbooks, memoirs, and other Italy-based stories.
Tiziano, I don't think I will be continuing the blog and newsletter much longer.  I'll probably make an announcement early in 2022.
L'Idea Magazine: I am very sorry to hear about that…I am sure the visitors will miss you. You don't only write about Italy, though. You are the author of 30 editions of a leading college health textbook, "An Invitation to Health". What prompted you to write this textbook?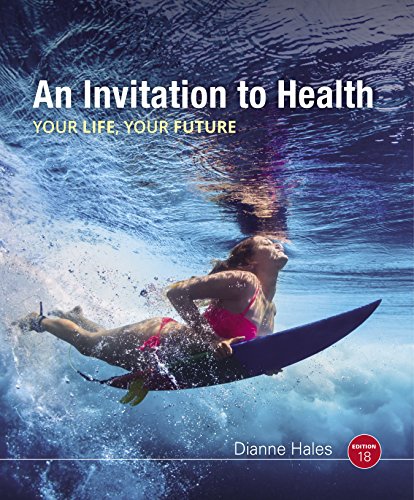 Dianne Hales: As a journalist, I specialized in writing about health and fitness, so when a publisher approached me to write a textbook for college students, I was delighted.  I believe that young people need clear, factual, relevant information about their minds and bodies, the importance of nutrition and exercise, the need for prevention of diseases, and other related topics. I ended up writing thirty editions of Invitation to Health before retiring from the project in 2020.
L'Idea Magazine: Are you working on any special projects at this time? A new book, maybe?
Dianne Hales: Since I was unable to return to Italy, I began exploring the place I call home: the coast of northern California. Rather than interviewing linguists and historians, I am talking with marine scientists, naturalists, fishermen, geologists, oceanographers, ecologists, and environmentalists. Instead of Armani jackets and Ferragamo heels, I wear waders and carry binoculars and spend my days hiking, monitoring seal moms, counting migrating raptors (birds of prey), and shadowing scientists researching climate change.  I'm not sure if this will become a book or a blog or something else entirely, but I'm relishing the adventures.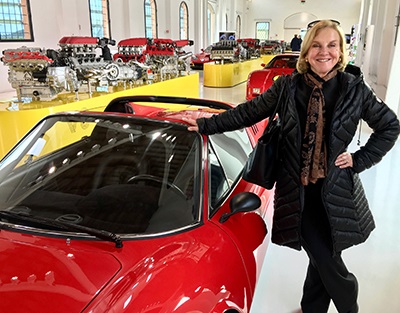 L'Idea Magazine: If you had the opportunity to meet and speak to any individual of your choice, past or present, who would that person be and what would you like to ask?
Dianne Hales: I became so fascinated with Leonardo when I was researching my book on Mona Lisa that I'd love to meet him. His mind was constantly churning with ideas and observations so rather than specific questions, I'd prefer to accompany him on a walk to observe waves or birds of other things that fascinated him. Then I'd say, "Tell me what you see."
L'Idea Magazine: If you could define yourself with three adjectives, what would they be?
Dianne Hales: Joyful, curious,  passionate—and Italy has contributed to all three.
I inherited what my family calls "the joy gene" from my Dad, but Italians deepened my appreciation for living each day to its fullest and savoring happiness whenever we find it.  Curiosity led me into a career as a journalist and author—and to study Italian and immerse myself in Italian culture. And my passion for new discoveries and ideas led me to kindred spirits in Italy and inspired me to write La Passione.
L'Idea Magazine: Any secret dreams you'd like to share with us??
Dianne Hales:  I would wish to be as eternally fascinating as Rome, as romantic as Venice, as intense as Sicily, as elegant as Milan, as inspiring as Florence. At the moment, though, my secret dream is simply to return to Italy, to bask in its sunshine, to swim in its seas, to revel in its beauty and, above all, to share food, wine, and laughter with friends I dearly miss.
L'Idea Magazine: A message for our readers?
Dianne Hales: Thank you for sharing your homeland, your mother tongue, and your fascinating history and culture with so many foreigners like myself.  We can never be true Italians but your generosity of spirit makes us feel welcome.  Mi sento a mio agio in Italia—grazie a voi!