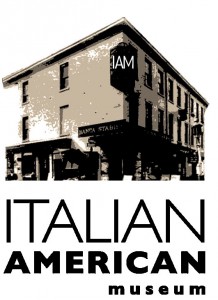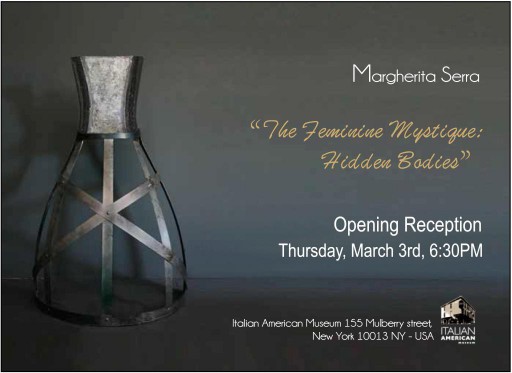 'THE FEMININE MYSTIQUE: HIDDEN BODIES'
Exhibit to feature sculptor Margherita Serra's marble corsets
The Italian American Museum (155 Mulberry St., 212-965-9000) will celebrate Women's History Month (March) with "The Feminine Mystique: Hidden Bodies," an exhibition by Italian sculptor Margherita Serra which features reliefs of marble corsets inspired by Matera's sassi, the world-famous ancient limestone cave dwellings in the southern region of Basilicata. The exhibit runs from March 1 to April 3.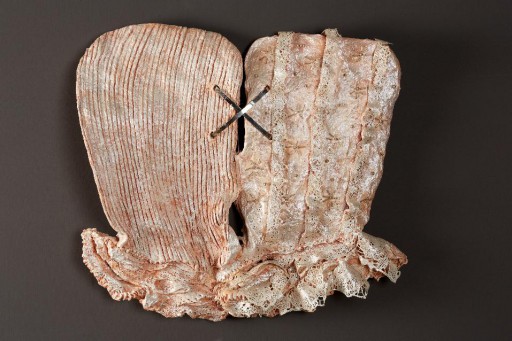 The Museum, located at the corner of Mulberry and Grand Streets, is open to the public on Fridays, Saturdays and Sundays from noon to 6 PM. Suggested donation is $10. (An RSVP is required for Ms. Serra's artist's presentation on Thursday, March 17 at 6:30 PM). Suggested Museum donation is $10.
"My sculptures try to give life a sort of imaginary archetype of femininity," said Ms. Serra. "They are pending assemblages between representation and abstraction, between presence and absence like a Dadaist play where the corsets appear disposed to accommodate the female body.
"In the past the corset was a tool of compulsion because it squeezed the bust with laces making women suffer in body and spirit, creating an absence of freedom. I am rebelling [against] these compulsions with open forms where the woman's body is elevated, imagined but [no longer] castigated."
The corsets make up the bulk of Ms. Serra's exhibition, which also includes a pair of self-standing sculptures and what the artist refers to as "jewel sculptures" such as bracelets and earrings done in brass, silver and bronze.
Although she resides in the northern Italian city of Brescia, Ms. Serra retains strong ties to Basilicata, the birthplace of her parents. She attended the Academy of Fine Arts in Carrara and graduated from Milan Polytechnic with a degree in architecture. She is the recipient of numerous international artistic awards and is a member of the Sculptors Guild of New York.