Di/by Anna & Maria Sciacca
In the tropical forests, orchids are found in a variety of shapes, colors and perfumes. Some orchids attract with their scent, other orchids represent the source of food of the pollinator (sweet fruit, flower nectar), while others with the shape of their flowers attract insects to pollinate them. The moment and the characteristics of the perfume are connected with the kind of pollinator that the orchid tries to seduce: bees, butterflies, moths, hummingbirds. Some orchids smell in the sunlight, others at night, it depends on the pollinator they try to attract.  Hummingbird and Bee-pollinated orchids are usually very fragrant during the day, especially in the morning. These orchids usually have bright colors: red, orange, yellow, pink. The orchids that are pollinated by bats and moths are very scented at night and many of them are usually white or light green. We can find orchids smell better in the morning when some pollinators are in activity, other orchids reach their fragrance intensity in the afternoon when the air is warm and humid, while others release their perfume in the evening. The scent also depends on the type of orchid, some fragrances are light, and others are intoxicating. There are many factors that contribute to the type of perfume. Orchids also tend to be more fragrant in areas of high humidity in the sunny days than on cloudy or rainy days.  Orchids have scents that vary from floral, sweet, and citrus to musty.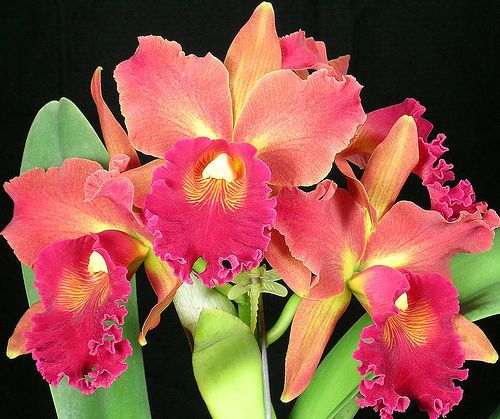 The orchid (Brassavola nodosa) known as "Lady of the night" starts to exudate its fragrance in the evening when its nocturnal pollinator, the moths, comes out. This orchid has beautiful scented white flowers.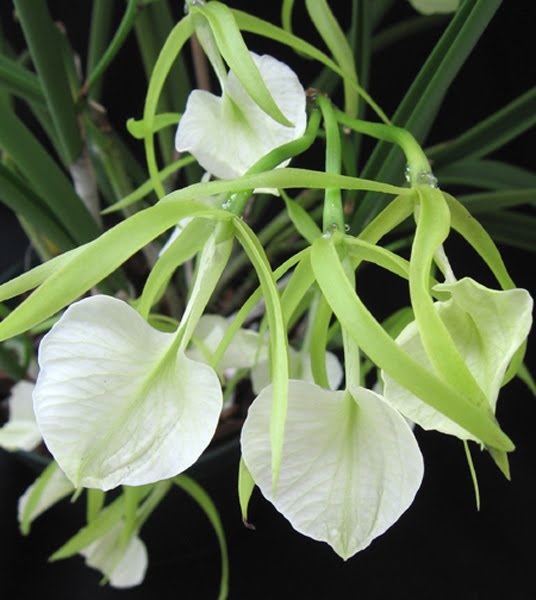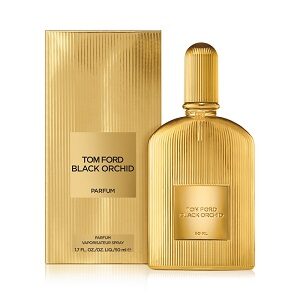 Cymbidium Golden Elf produces yellow flowers with a cytrus scent. Maxilaria tenuiflora known as "Coconut Pie Orchid" has a coconut scent. Thunia marshalliana has an orange fragrance; the flowers of Miltoniopsis and the Phalaenopsis Caribbean Sunset give a perfume of rose. The amazon Cochleantes has a sweet spicy smell. Dendrobium orchids are characterized by intense and fresh perfumes. Oncidium busy bee has a fresh lemon smell. Oncidium twinkle also called "Dancing Lady" orchid emit a vanilla scent. Cattleya and Laelocattleya orchids smell of floral, sweet, citrus.

Orchids' fragrances are recreated in elegant perfumes. In the perfumery industry is not possible to naturally extract the orchid fragrance because it would take many flowers, usually its perfume is recreated combining natural and synthetic materials with other flowers, such as rose, lily of the valley, gardenia, plumeria, and lavender or aromas, such as bergamot, peach, musk, patchouli, and vanilla. These notes combined and harmonized together create the accord of a perfume giving it its unique fragrance.  On the base of percentage of concentration of natural elements, perfumes are classified as eau de toilette, eau de parfum, elixir or extract of perfume which has strong fragrance and durability. Eau de cologne and eau de toilette are fresh and light essences, while eau de parfum has a major percentage of oils, the extracts of perfume or elixir have a major percentage of natural materials, and they result more oily with a more intense scent; valuable in price and content are usually sold in smaller bottles.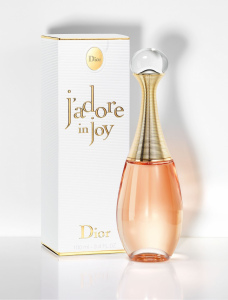 The sophisticated and exotic elegance of orchids is found in some perfumes: in the floral essences of "J'adore" by Dior, in the fresh and fruity fragrance of "Euphoria" by Calvin Klein, in the floral perfume of the "Cattleya peach color" by the Maison Shiseido, and in the "Red Cattleya" by Olympic Orchids Artisan Perfumes,  in the perfume "Amor Amor Sunshine" by Cacharel, in  Bi-Es "Blossom orchid" eau de parfum, in the floral vanilla fragrance of "L'Aimant Caresse d'Orchidee Coty" and in "Vanilla Planifolia" by Chloè, in "Night orchid" by Shandara, in the sensual notes of "Black Orchid Perfume" Tom Ford, in the exotic and  intense perfume of "Wild orchid luxury Perfumes", in the "orchid fragrance mist" Liu Jo and in the seductive floral fragrance of "Orchidee" and "Nuit d'Orchidee by Yves Rocher.
---
Il PROFUMO ESOTICO DELLE ORCHIDEE
Nelle foreste tropicali si trovano specie di orchidee in una varietà di forme, colori e profumi. Alcune orchidee attraggono con il loro profumo altre orchidee rappresentano la fonte di cibo dell'impollinatore (frutta dolce, nettare di fiori) altre con la forma dei loro fiori attirano alcuni insetti per l'impollinazione.  Il momento e le caratteristiche del profumo sono collegate al tipo di impollinatore che l'orchidea tenta di sedurre, api, farfalle, falene, colibrì.  Alcune orchidee profumano di giorno altre profumano di notte dipende dall'impollinatore che tentano di attrarre. Le orchidee impollinate dalle api e dai colibrì  sono di solito molto profumate di giorno, specialmente di mattina. Queste orchidee di solito hanno anche colori brillanti: rosso, arancione, giallo, rosa. Le orchidee impollinate da pipistrelli e falene sono molto profumate di notte e molte di loro di solito sono bianche o di colore verde chiaro.  Possiamo trovare orchidee che profumano  meglio nelle ore del mattino quando la luce è chiara e alcuni  impollinatori sono in attività, altre orchidee raggiungono la loro intensità di fragranza nel pomeriggio quando l'aria è calda e umida, altre  profumano  di sera. Il profumo dipende anche dal tipo di orchidea, alcune fragranze sono leggere mentre altre sono intossicanti. Ci sono molti fattori che concorrono nel tipo di fragranza. Le orchidee tendono anche ad essere più fragranti in aree di alta umidità, nelle giornate soleggiate che in quelle nuvolose o piovose. Le orchidee hanno  profumi che variano da quelli floreali, dolci, agrumati o dal sentore di muffa.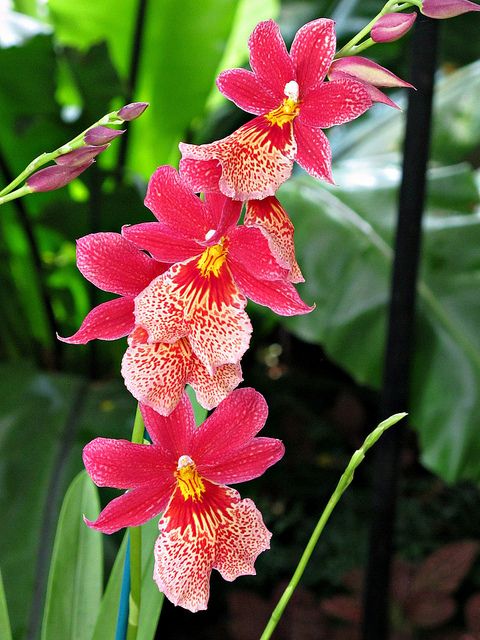 L'orchidea Brassavola nodosa, conosciuta come "Lady of the night" (La Signora della notte), inizia a essudare la sua fragranza di sera quando i suoi impollinatori, le falene notturne escono.  Questa orchidea ha  fiori bianchi belli e profumati.  Il Cymbidium Golden Elf produce fiori gialli ed ha un profumo limone. La Maxillaria tenuifolia conosciuta come "Coconut Pie Orchid" ha un profumo di cocco. Thunia marshalliana ha una fragranza di arancia,  i fiori della Miltoniopsis e della Phalaenopsis Caribbean Sunset emanano un profumo di rosa.  La Cochleanthes amazzonica ha un profumo dolce speziato. Le Dendrobium si caratterizzano per profumi freschi e intensi. L'orchidea Oncidium busy bee ha un fresco profumo di limone, l' Oncidium twinkle detta anche "Orchidea ballerina" ha un profumo di vaniglia. La Cattleya e Laeliocattleya profumano di floreale, dolce, e agrumi.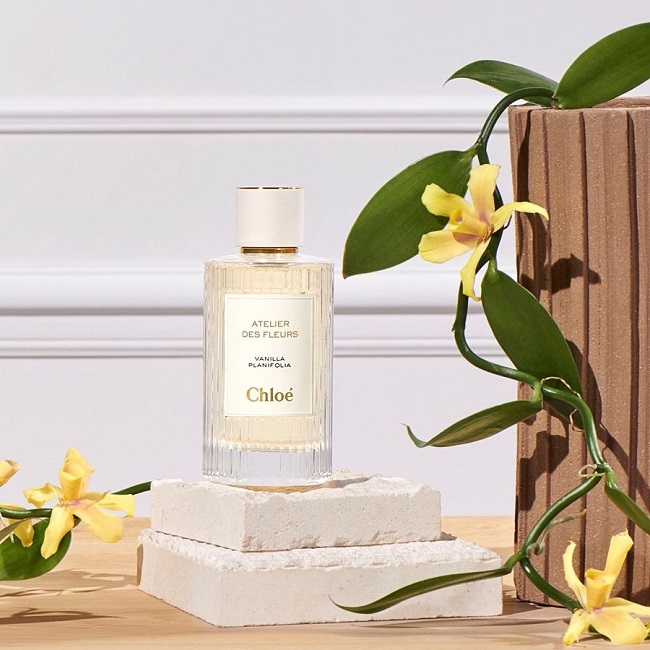 Le fragranze delle orchidee sono ricreate in eleganti profumi. Nell'industria della profumeria non è possibile  estrarre naturalmente la fragranza dell'orchidea perché ci vorrebbero tanti fiori, di solito il suo profumo viene ricreato combinando elementi naturali e sintetici con altri tipi di fiori: rosa, giglio, gardenia, plumeria, lavanda,  aromi: bergamotto, pesca, muschio, patchouli, vaniglia. Queste note combinate e armonizzate insieme creano l'accordo di un profumo dandogli un'unica fragranza. In base alla percentuale di  concentrazione di elementi naturali, i profumi sono classificati in eau de toilette, eau de parfum,  elixir o estratto di profumo che ha la più forte fragranza e durata. Le eau de cologne e eau de toilette sono essenze fresche e leggere mentre le eau de parfum hanno una percentuale più grande di oli mentre gli estratti di profumo o elixir hanno una maggiore percentuale di materie prime e risultano più oleosi con un profumo più intenso, preziosi nel contenuto e nel prezzo di solito sono venduti in bottiglie più piccole.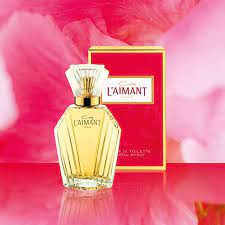 La  sofisticata ed esotica eleganza delle orchidee si trova in alcuni profumi: nelle essenze  floreali  di "J'adore" Dior, nella fragranza fresca e fruttuata di "Euphoria" di Calvin Klein, nel profumo floreale della "cattleya colore pesca" della maison Shiseido, e nel profumo della "Red Cattleya" creata da Olympic Orchids Artisan Perfumes, nel profumo "Amor Amor Sunshine" di Cacharel, nell' eau de parfum "Bi-es Blossom orchid", nel profumo floreale vanigliato di "L'Aimant Caresse d'Orchidee Coty" e nella "Vanilla Planifolia" di Chloe',   in "Night orchid" di Shandara, nelle note sensuali  di "Black Orchid Parfum"  Tom Ford, nel profumo esotico ed intenso di "Wild orchid Luxury Perfumes" nella "orchid fragrance mist" Liu Jo, e nella seducente e floreale fragranza di Orchidee e Nuit d'Orchidee di Yves Rocher.