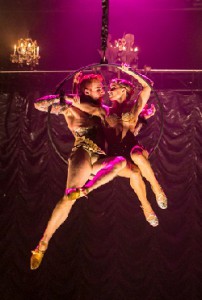 In "Cinderella" [1697] by Charles Perrault, the hard-working orphan is rewarded by the Fairy Godmother with a gown, glass slippers, and an all-access pass to the Prince's fancy ball. In Austin McCormick's edgy production of "Cinderella," a dance pastiche inspired by circus, ballet, burlesque, vaudeville, and music hall traditions, everyone works just as hard as the beleaguered heroine and even the males must strut their stuff in 3-inch heels and corsets.
Though it is Cinderella's name in the title, this really is an ensemble effort with a dozen performers working tirelessly to caper, cancan, and camp it up. Alcoholic drinks are available during showtime. And the ensemble needs all this strength, encouraging tipsy applause, and razzmatazz because Cinderella (Allison Ulrich) is presented more as a passive figure here, trapped by her dilemma and reacting silently to what happens around her. Oddly enough, McCormick cheats her out of a song number, any sympathy, and a good deal more.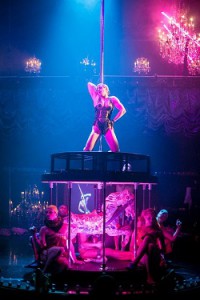 A little background first. In the Italian variant of the tale, La Cenerentola is an ash-child, a girl preoccupied by both mourning her mother and fending off her lecherous widowed father. Weeping at her mother's grave causes a tree to grow and its fruits become objects she needs — — such as a clean dress to attract a husband. Walt Disney, perhaps horrified by the sexual overtones, sadness, and solitude, instead chose the fancier French rendition, "Cendrillon, ou la petite pantoufle de verre," featuring a girlish household and introducing the motif of female competitiveness and envy. It's noteworthy that Walt Disney turned the grief-stricken Ceneretola into Cinderella, a dirty girl whose beauty can't shine under cinders and ragged garments and McCormick draws on this interpretation to some extent.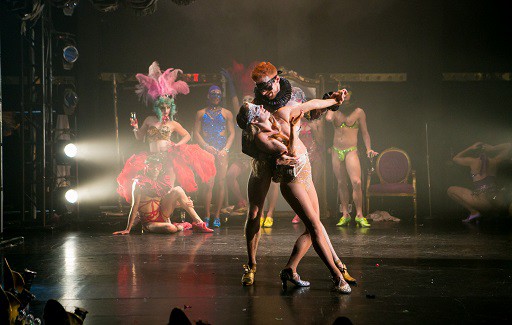 Panels narrow the width and depth of the proscenium and a few bits of furniture are pushed to one side where, occasionally, we see the actors primping. However, this lack of depth mirrors the piece itself, which does not move beyond its own forced style. Zane Pihistrom, the set and costume designer, gives the cast an assortment of items to play with, such as masks, wings, fake boobs, and bondage equipment. However, this visual stimulation is not enough to retain an emotional connection to the source material. Additionally, the campiness flattens the narrative further, denaturing both the darker elements of abuse and isolation as well as the lighter enchanting elements of magic, wish-fulfillment, and romance.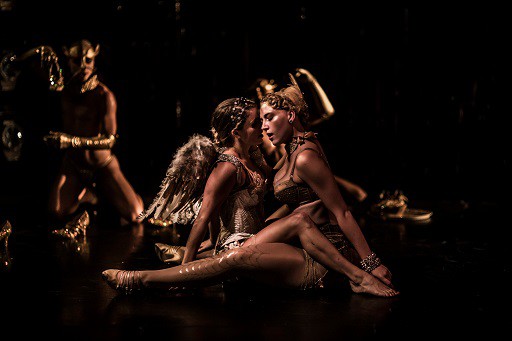 After the Prince (Steven Trumon Gray) matches the missing glass slipper to her tiny foot, their connection is symbolized by an aerial pas de deux on a circular trapeze. Though it's a brilliant physical performance, the exertions left Cinderella quite audibly panting.
There is no question that Austin McCormick's eccentric, bombastic style has attracted a large following. Many ticket-buyers are drawn to his shows for the gender-bending, nudity, eclecticism, and daring acrobatic feats. His current stylized bio-musical includes two entr'actes that provide additional entertainment. (In American vaudeville, this portion of the program was called the olio.) It's almost as if each production recycles its own checklist: cancan (got it), pole dancing (got it), men in drag (got it), aerial act (got it), song lyrics in German (got it), etc.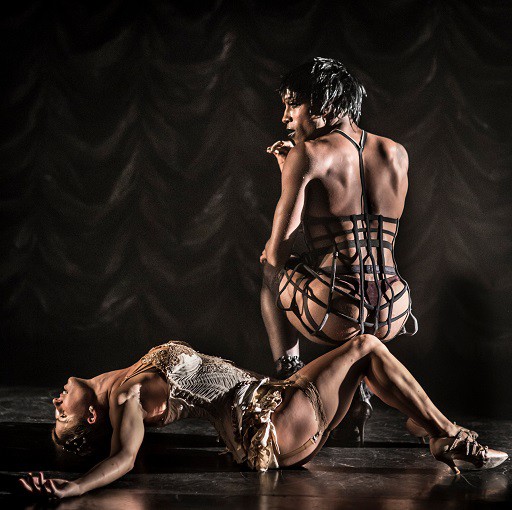 But what are the German numbers doing in a French fable? Why are the Prince's courtiers used only during the missing shoe expedition but not choreographed to exalt his choice of a partner? Why isn't Cinderella given the satisfaction of having her haughty stepmother (Davon Rainey) and her stepsisters (Marcy Richardson and Brett Umlauf) bow and curtsy to her? Instead of seeming triumphant or joyful at the end, Cinderella (still catching her breath) looks mystified, as if this was all a dream.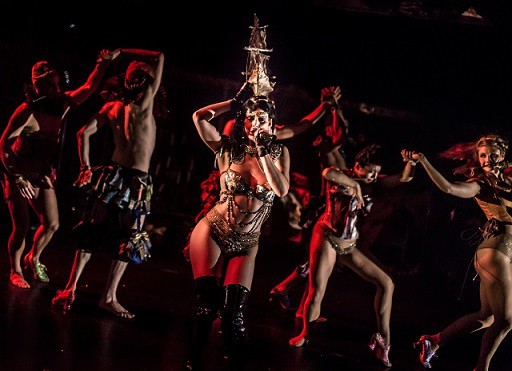 When the finale shows a lack of dramatic imagination, when the surface story has been preserved but not its soul, the very reason why we go to the theatre is lost. Over two hours of exuberant spectacle is insufficient when the heart of this folktale is brittle as glass.
As much as I respect Company XIV for the zest and theatricality they bring to life, in "Cinderella" the sum of its parts did not add up to a rousing whole.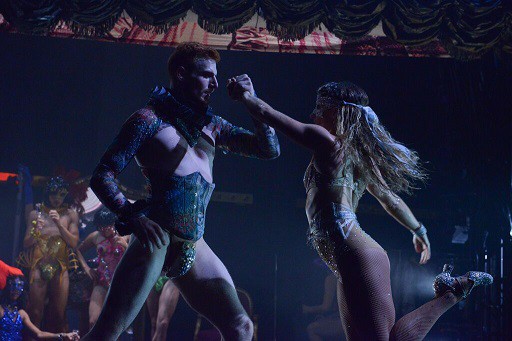 — — — — — — — — — — — — — — — — — — — — — — — — — — — — — — — — — — — — — — — — — — — — — —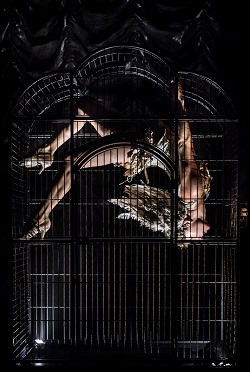 Company XIV's adult only world premiere of "Cinderella" was conceived, directed and choreographed by Drama Desk Award nominee Austin McCormick. Performances take place Off-Broadway at the Minetta Lane Theatre (18 Minetta Lane) in NYC, running until November 15, 2015. The production contains partial nudity – 16 & over admitted. Runtime: approximately 2 & ½ hours, which includes three acts and two cocktail breaks. Web site: http://CompanyXIV.com
The cast for Cinderella includes Hilly Bodin, Katrina Cunningham, Lea Helle, Jakob Karr, Nicholas Katen, Malik Kitchen, Mark Osmundsen, Davon Rainey, Marcy Richardson, Steven Trumon Gray, Allison Ulrich and Brett Umlauf.
The design team for Cinderella includes Zane Pihlstrom (Costume & Set Design), Jeanette Yew (Lighting Design), Austin McCormick (Sound Design) and Sarah Cimino (Makeup Design). The production team includes Nataliya Vasilyeva (Production Stage Manager), Michael DiFonzo (General Manager), Mitchell Strong (Company Manager), Audrey Nauman (Wardrobe Supervisor) and John Starmer (Technical Director). Company XIV is sponsored by MAC Cosmetics.