Interview by Tiziano Thomas Dossena
Actress, singer, dancer, teacher… Simona Rodano is an amazing performer who has found an unusual niche in the edutainment business by creating a production company aimed at teaching Italian to the American public-at-large through musicals. She did not stop there, though, since she writes her own material… and here is the birth of The Italian Fairy, so popular among the little children, Settemondi, and most recently the musical Sempreverde: Evergreen, which will be performed in the Borough of Queens, in the city of New York. Let's discover some more about this wonderful entertainer…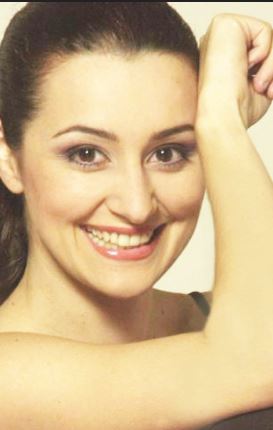 L'Idea: As I understand, you come from a family of musicians and started early in your career…  
Simona Rodano:  Indeed, I believe my mom's family passed on her passion for music to me. My cousin Felice Reggio is a famous jazz musician. I started singing when I was 6 years old by performing at amateur singing contests, at school, at the Church or at birthday parties. I did my first gigs when I was 16 and became a professional singer at the age of 28.
L'Idea: However, you did not let the career get in the way of education… 
Simona Rodano: I have always loved both science and music since I was a little kid. For this reason, I was awarded a Bachelor's degree in biology, yet I also studied music and have always sung. I also learned how to play the piano and guitar. After my graduation, I decided to come to the USA to start my Ph.D. at the Valhalla Medical Center, but I also was offered to work for the Italian National network RAI a few months after. "Science or music?" That was the question. I ended up choosing music; hence I came back to Italy to work at the RAI studios in Milan.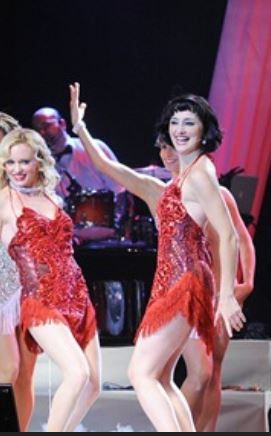 L'Idea: You worked for over ten years on the Italian National network RAI television in the popular variety show "Ci vediamo in TV." Could you tell our readers a little bit about that experience?
Simona Rodano: Working on TV gave me the chance to grow both personally and professionally as an artist. It has been an experience that totally changed my life. "Ci vediamo in TV" (See you on TV) lasted ten years. It was broadcasted on weekdays and during the afternoon. I started as a backup vocalist and a few years later I became one of the lead singers of the show. Paolo Limiti, a great art director and TV host, gave me the opportunity to live my life while doing what I loved the most: to sing.
I worked every morning from Monday to Friday for seven years, with the same enthusiasm and joy which arose from having the opportunity of working with music at professional levels. I could sing with a live orchestra, I could study the most famous Italian songs from the 30s till today, every day. I could meet famous Italian singers and actors, such as Nino Manfredi, Johnny Dorelli, Jula De Palma, Milva, Massimo Ranieri, as well as international artists such as Gina Lollobrigida, Dee Dee Bridgewater, and Woopy Goldberg. All of this had an enormous positive impact on my artistic life; moreover, it encouraged me to keep working in the music world.
Link to a performance in "Ci Vediamo in TV"
L'Idea: You performed in "Pinocchio, il grande musical" with the famous Italian band I Pooh.  Could you tell us how did this come about and how was it to work alongside such a famed pop band? What is the musical about?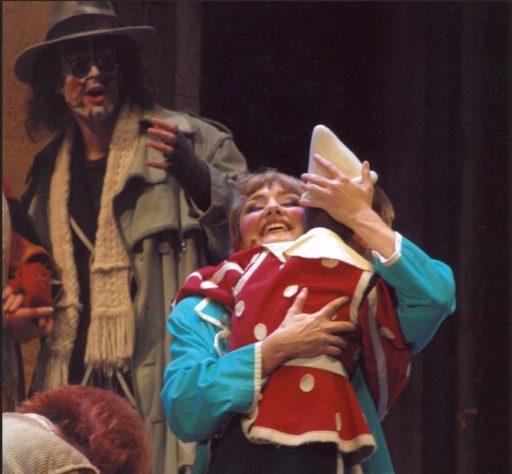 Simona Rodano: I was first working on TV and then I started with the theatre. There is a huge difference between these two, they are two completely different worlds, yet what they have in common is the performance itself, whether it's on the screen or on the stage. When I was told I was chosen to play the co-star role of Angela (Geppetto's closest friend and later on, partner),  in the musical written by I Pooh, I just couldn't believe it. Back then I was in Milan and I was still working on TV. Going from working on TV to performing on a real stage was like discovering a whole new world after ten years. I had new colleagues and I performed in so many theatres all over Italy and abroad. Moreover, working alongside The Pooh has been an incredible honor and a growing experience. Roby, Stefano, Dodi, and Red are great artists who shaped the world of Italian pop music. They have truly loved this musical they wrote, believing in all the performers who took part in and touching the lives of over five hundred thousand people who came to see the show. "Pinocchio Il Grande Musical" has been and will always be the number one Italian musical that resembles Broadway the most.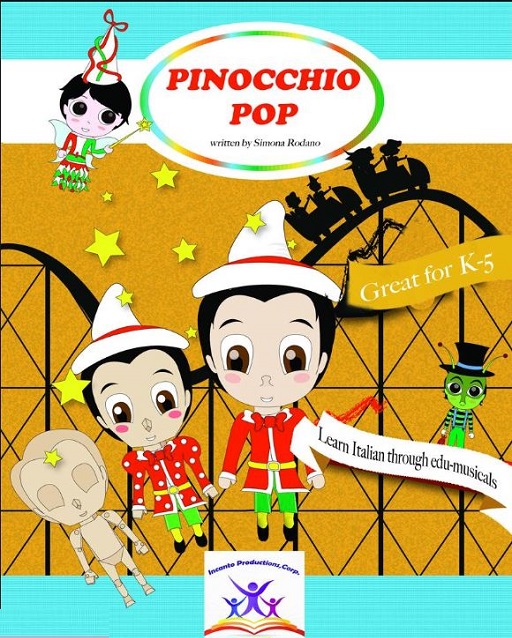 L'Idea: You also have performed in various theatrical productions…
Simona Rodano: Indeed, I have performed in other Italian theatrical productions, such as "The Sound of Music" (Tutti Insieme Appassionatamente) playing the role of Elsa Shroeder. In the USA, I have performed at the Queens Theatre in The Park ( New York) in all the schools and families productions I wrote:  "Pinocchio Pop" and "Italian, The Magical World of The Italian Fairy", "Sempreverde: Evergreen", "Sette Mondi" and "Caccia Al Tesoro" for middle and high students. Once I went back to the USA, in 2006, I could grow professionally even more as I started to write songs and scripts of the bilingual shows we were performing. I finally came to know a part of me that had been hidden for a long time, as I was very busy with playing roles or singing songs that were produced by amazing masters, such as I Pooh. I have to say that they inspired me in the production of my own songs and shows.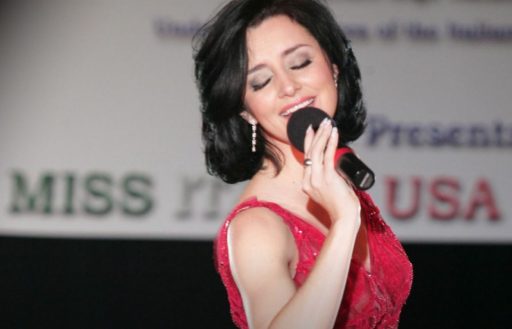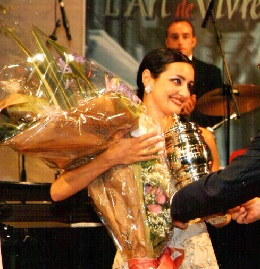 L'Idea: Simona, many awards have been bestowed upon your person. What were they for? Which one was the most significant for you and why?
Simona Rodano: One of the most significant awards was the one conferred by the Association of Italian American Educators (AIAE) – Singing Sensation. Art and culture are two messengers of peace and unity among people. If there were more art and culture (rather than politics) we would live in a better world.
L'Idea: You are the creator of "La Fata Italiana/The Italian Fairy". What is this program about?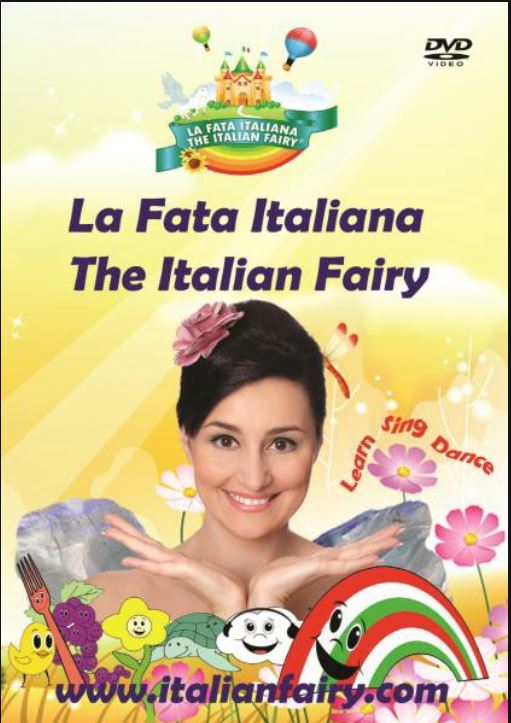 Simona Rodano:  La Fata Italiana, The Italian Fairy is an educational and entertainment program (edu-tainment) that introduces kids and families to the beauty of Italian language and Italian culture with the final target of letting the audience fall in love with Italy and the Italian language. It is a learning-through music and movement program which combines music and dance with the theatre. From 2006, La Fata Italiana, The Italian Fairy has been performed for over 70,000 people.
Link to the Italian Fairy website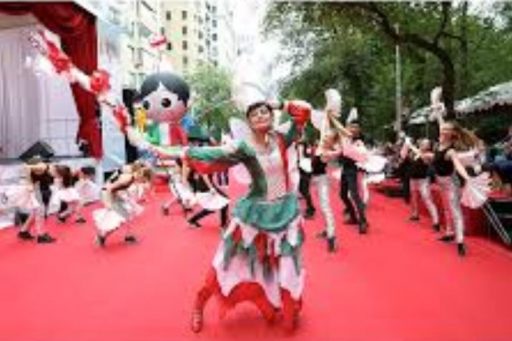 L'Idea: You also toured with your one-woman show titled "Italiana." What is this show about?
Simona Rodano:  Italiana is my personal story told through music at the theatre. I wrote myself some of the songs, such as "Radici e Ali" (Roots and Wings), while many others are songs that have had a strong influence on my life. This is a show that combines comedy, as there are some funny moments, with deep thoughts and deep feelings. "Italiana" is not only my story, yet it is also the story of all those people who, just like me, have crossed the ocean and have been traveling all over the world, without ever forgetting their roots.
Link to the official website of Simona Rodano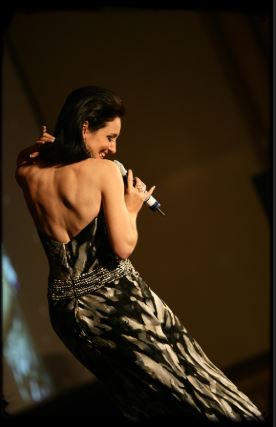 L'Idea: Incanto, a Queens-based production company specialized in bilingual (Italian/English) theatrical and TV shows for children and families, is your creation. When and why did you start to think of this concept? 
Simona Rodano: I have founded my company called Incanto Productions, Corp. in 2008, with the intent to create something that I could not find in NYC: theatre performances whose songs were specifically written with the idea of helping the audience know and fall in love with the Italian language and culture. Everything started after I co-produced and performed "Pinocchio Il Grande Musical" in New York in 2010.
Link to the official web site of Incanto Productions
L'Idea: The first go-green multilanguage language and multicultural edu-musical "Sempreverde: Evergreen" one of your many creations, will re-open in New York City on March 31, April 1-2-3 2020 at the Queens Theatre in The Park, Queens. Could you tell us something about this wonderful musical for children and families?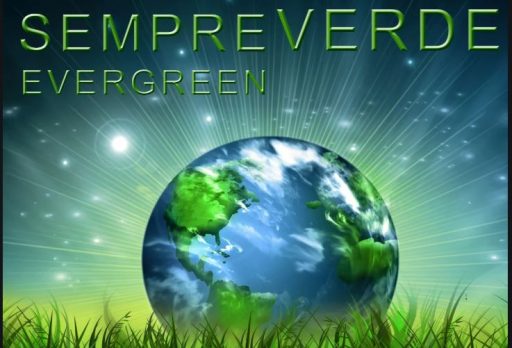 Simona Rodano: I wrote "Sempreverde: Evergreen" Edu-musical in 2012. I wanted to create something that could combine the Italian language with a global issue, such as respect for the environment. I contacted some of my friends and colleagues from Turin (my hometown) who I have been working with for a long time and we started to write songs together. I was mainly working on the lyrics and the melody, while they were working on the arrangements. Subsequently, I came up with the story, characters, scenography, special effects as well as the costumes and objects that could be used within the choreography. "Sempreverde" has exceeded my expectations, I truly love it. I and my team are always working hard to improve it, with the dream that one day we will be able to perform it all over the world.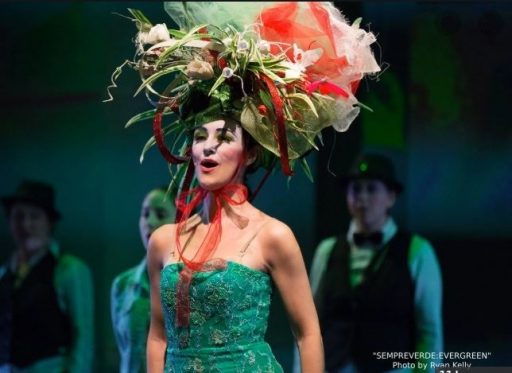 The story of this musical can truly teach you something, it makes you think and it can involve everybody. From the youngest to the oldest, this musical is made for everyone.
Trailer of "SEMPREVERDE: EVERGREEN"
L'Idea: A message for our readers? 
Simona Rodano:  If you are not too far away from the Queens Theatre in NYC, come to see our performance at the theatre. Come to see "Sempreverde: Evergreen" Edu-musical! Make it a group meet-up, a family affair or a special bonding outing. You will leave refreshed and with a renewed love for Italy, its language and culture!
Link to the website to get more information and tickets for "SEMPREVERDE:EVERGREEN"