The initiative at the Italian Embassy in Washington until 12 Dec. 2014. The Italian Space Agency and the National Institute for Nuclear Physics are among the organizers
Washington (DC), Embassy of Italy 3000 Whitehaven Street, NW
October 9 th, 2014 | December 12 th, 2014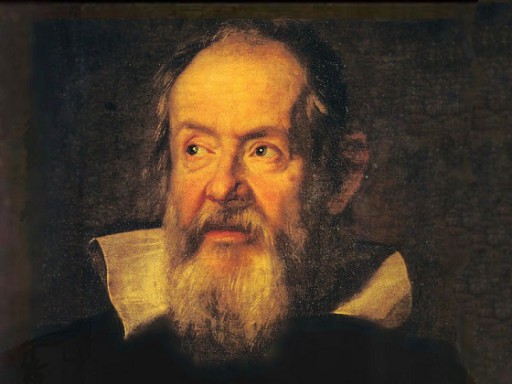 The Embassy of Italy in Washington is now hosting some cultural proposals to celebrate the 450th anniversary of the birth of Galileo Galilei.
An exhibition and a series of lectures characterize the celebration, which is organized by the Italian Space Agency and the National Institute for Nuclear Physics with the support of Finmeccanica-Selex ES and the cooperation of the Italian Embassy and the Georgetown University Italian Research Institute.
The exhibition "Galileo turns 450: the Exploration of the Universe", open to the public from 9 October 2014, has been realized with items from the Galileo Museum in Florence, the National Gallery of Art and the Library of Congress in Washington as well as original documents coming from the Domus Galileiana in Pisa.
During the Exhibition opening there was a conference whose speakers were Fernando Ferroni (INFN President), Antonio Masiero (INFN Vice-President), Gino Segrè (University of Pensylvania) and, as ASI Representative, the astronaut Roberto Vittori. Roberto Battiston (ASI President) is expected to take part in the closing conference, which will be held on 12 December 2014.
Carlo Rubbia (Nobel Prize for Physics 1984) and Adam Riess (Nobel Prize for Physics 2011) are among the most influential lecturers.
"The occasion has various significance: on the one hand the initiative celebrates the anniversary of the birth of Galileo, the pioneer of the scientific method, on the other hand all the events are organized during the Semester of the Italian Presidency of the European Union Council", says Stefano Lami, Scientific Attaché of the Italian Embassy in Washington "Galileo, who trusted in a free and effective opinions exchange, may be considered without any doubts as one of earlier European scientists".
"Furthermore, next December we are going to celebrate the 50th anniversary of the launch of San Marco satellite. The launch took place in Wallops Island, not far away from here. We honour this event as the birth of Space Science in Italy", comments Lami. (Source: Agenzia Spaziale Italiana)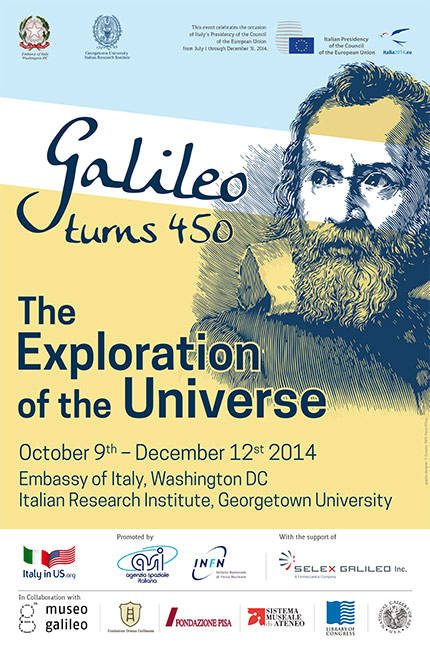 Events at Embassy of Italy
Auditorium, 3000 Whitehaven St. NW, Washington DC 20008.
October, 9th 6:30pm – Conference and Exhibition Opening
Speakers:
Gino Segrè (Univ. of Pennsylvania): 350 years of Physics in Florence: from Galileo to Cosmic Rays,
Fernando Ferroni (INFN, National Institute of Nuclear Physics, President): Particle Physics after the "Unreasonable' Success of Standard Model,
Antonio Masiero (INFN Vice President): On Galileo's Sequel: the Micro – Macro Cosmos Exploration Today.
November, 3rd 10am – Open Workshop
Speakers:
Franco Cervelli (INFN/Univ. of Pisa): By Seeking and Blundering we Learn: Celebrating the Contribution of Galileo to the Scientific Method,
Giuseppe Bianco (ASI, Italian Space Agency): Another 50 Year Space Anniversary: from the First Laser Ranging to Modern ILRS,
Simone Dell'Agnello (INFN): Laser Ranging to Galileo, the European GPS.
November, 18th 6:30pm – Galileo's Torch
A play by James Reston about Galileo's trial by the Inquisition.
December, 10th 6:45 p.m. – Conference
Speaker:
Adriano Fontana (INAF, National Institute of Astrophysics): From Galileo to Giant Telescopes, a Journey through Space and Time.
December, 12th 9:30am – Conference and Exhibition Closing
Speaker:
Roberto Battiston (ASI, President): The Contribution of Space Activities to the Development of Society: the Case of Italy.
Events at Georgetown University Italian Research Institute
Intercultural Center Auditorium, 37th and O Street NW, Washington DC.
October 16th, 5:00pm
Speaker:
Carlo Rubbia (1984 Nobel Laureate in Physics): Philosophiae Naturalis Principia and Galileo: the Development of Natural Philosophy.
December 2nd, 5:30pm – Conference
Speakers:
Adam Riess (Johns Hopkins University, 2011 Nobel Laureate in Physics): Using Telescopes to See Dark Energy,
Massimo Stiavelli (Space Telescope Science Institute, Baltimore): Then and Now: the Evolution of Astronomy since the Time of Galileo.
Organizational Details
Point of contact:
Stefano Lami: [email protected]
Sara Hager: [email protected]