Article by TIZIANO THOMAS DOSSENA
It's funny how time is relative to people and moments in their life (I know that's not what Einstein meant, but this is possibly a variant of his theory of relativity, or maybe not). When one is young, time is apparently slow and summers never seem to end, but then, the older you get the faster time seems to run by you, and summers tend to come to a conclusion before you even noticed their arrival. Well, at least until you get to the sixties; I can't vouch for later years, but I would assume it's probably following the same pattern. Regardless, time flies, or appears to do so when you get a bit older. That seems to go against logic, but it is an absolute truth (or at least that's how it is to me, and since no one is in the room at the moment to contradict me, I guess it sounds about right: a perfectly acceptable scientific method!). The exceptions to the above are when you are waiting to be served at some restaurant or you are at an association's award ceremony, where the speaker forgot the rule that when people start to fall asleep it's time to stop speaking, or maybe you are in the back of the room at some  lectures, if you know what I mean…
Exceptions excluded, and I am sure there are many more, time tends to catch up with you, and you find yourself in the inconvenient position to have to say: "What? Already forty years?" Or even worse: "What? Already seventy years?" For the readers who are wondering what my digressions about time are aiming at, I am referring to Alumni Homecoming. If you are not aware of what that is, it's the day chosen by a college for alumni to return and celebrate their Alma Mater and their own accomplishments, which are supposed to be tied to their previous attendance to that college.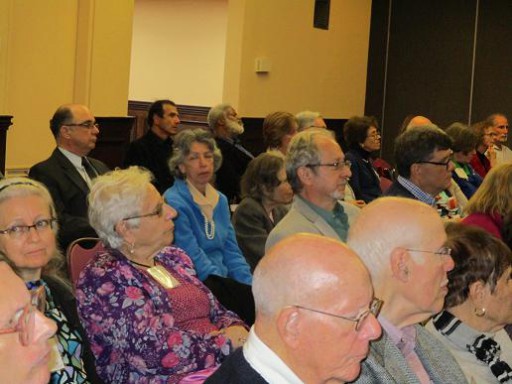 In that spirit, on Saturday October 22 I was invited and attended Homecoming 2016 at Queens College with my wife Nicoletta (Class 1977) and a friend, Fiorella Kelley (Class 1972); it was a blast. Upon registration we were introduced to a thoughtfully-brief award ceremony, followed by a marvelous show by students and alumni of the Aaron Copland School of Music of Queens College. The heavenly voice of Candace Lynn Matthews, who is also a graduate of Purchase College, another one of my Alma Maters, and who therefore earned extra points in my perspective, was matched by the manly baritone voice of Sean Moonsammy. They performed a well-chosen medley of Broadway songs that touched everyone's heart. Their voices, whether singing solos or duets, brought much joy and a few tears to the audience. The pianist, Professor Youn Ju Namkoong, made it also happen with her perfectly balanced accompaniment.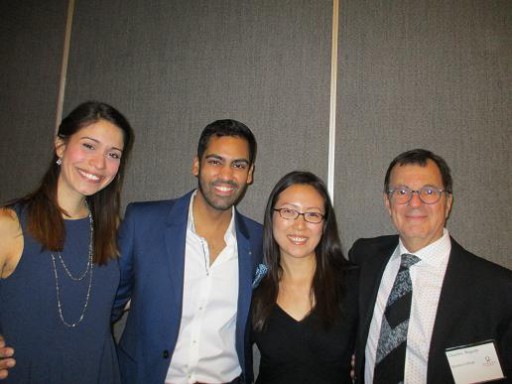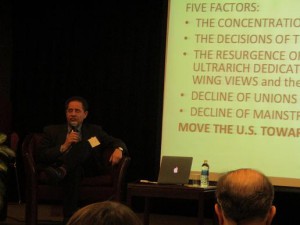 After such a splendid performance, I believed that the ensuing political Science Panel Discussion would be out of place, but I found myself mistaken. After a brief intermission and an appealing presentation by the college President, Félix Matos Rodriguez, the Panel Discussion took place with the utmost attention payed by all the alumni, s consistent number of whom shamed my 40th year's anniversary with their 50th, 60th and even 65th year's anniversaries (hard to believe, but it's absolutely true: there was an alumnus from 1951 graduation year!).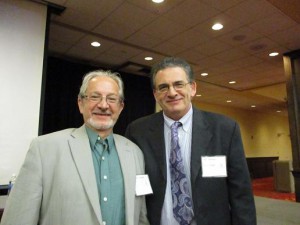 Professors Carl Bonomo's and Michael Krasner's The Perfect Storm, A Discussion of Our Political System & Elections brought the audience together on many topics, but mostly on the need to vote. It reminded me of when I used to be all ears during the lectures by Prof. Russell on Dante's Inferno or discussed Pirandello's work with Professor Pacifici (ah, those far away days, how much they are missed…)
A wonderful dinner concluded the Homecoming; the whole process was well organized and it allowed alumni to feel at home once again.
To conclude the experience, I also attended a Reunion Brunch at the Presidential residence in Douglaston on Sunday, October 23rd. This was much more of an intimate experience, with 64 attendees from the 1946 (Clara Capozzoli-Woll was the sole gracious representative of her Class), 1956, 1966 and 1976 Classes.  This was also a blast for me, but of a different kind. Mingling among my classmates from 1976 and those who had opened the doors to our studies in the previous decades, I could not help noticing how well-poised, intelligent and alert everyone who was present seemed to be. Considering that I was one of the youngest alumni  present (got to believe it, friends, for once I was not the oldest one in the group!) everyone appeared sharp, cordial and most of all at ease. Mr. Félix Matos Rodriguez was a delight to listen to and a wonderful listener.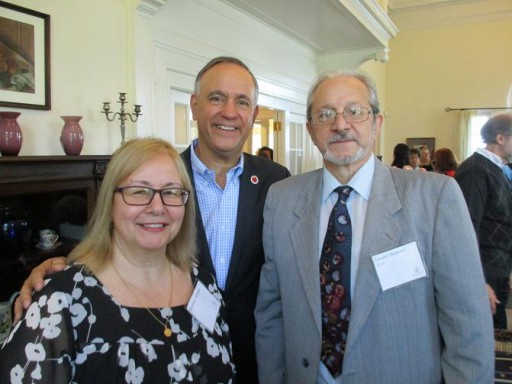 The alumni shared anecdotes about Queens College (Mrs. Clara Capozzoli-Woll had one about meeting Eleanor Roosevelt at the college), all of them interesting and bringing a fresh view of 'our' college and of the students' experiences within it and in the after years.
Noticeable absentee was the comedian Jerry Seinfeld, Class of 1976, who I vaguely remember meeting at a Student Government  gathering of some sort (but then again, forty years have gone by and I am not that great with faces or names or places or… whatever, he was just another student at the time and not a friend of mine in particular, so…)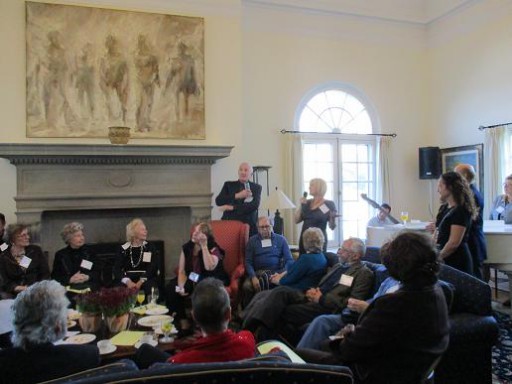 Yes, time is relative, especially when you meet people who proudly act as if time has not really gone by, or at least not that much, since all the memories are in them, vivid as if it was just yesterday. After all, it was just forty years ago when I graduated…