Il quotidiano The New York Post ha saggiato l'opinione dei propri lettori a proposito della serie televisiva comica (sitcom) che più ha rappresentato accuratamente la Big Apple, ed ecco i risultati:
Con 23% dei voti ha vinto "Seinfeld", la serie dei "Soup Nazi" e del qualunquismo aggravato, seguita a distanza (con 14% dei voti) da "Friends", la serie che ha portato alla fama Jennifer Anniston e tanti altri, e da "Sex and the City" (con 11%), che ha continuato con due film di successo. Nessun'altra serie ha ottenuto più del 9%.
Interessanti le scelte, e tutte molto appropriate, con scene Newyorchesi indimenticabili, dal quartiere di Queens a Brooklyn, dal Bronx a Manhattan, tutte con vere e proprie situazioni tipiche di questa città.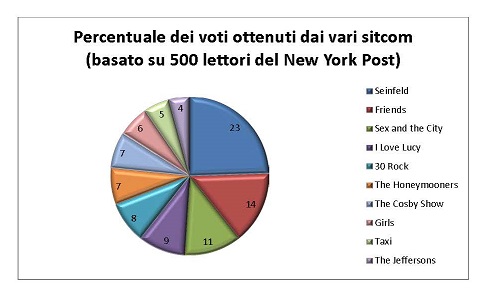 Ecco l'elenco delle prime dieci: