By Rayan Bacaloni
As trade regulations change, as business relations between diverse nations take on diverse routes and diverse strategies, one must remember that throughout changes there are also constants, and from our perspective, the constant is the ever-present link between the "Bel Paese" and the future-oriented land of dreams. As new generations of Americans in search of their roots, seek out century-old traditions in the "Penisola", even newer generations of Italian natives, seek out experience in the limitless land of possibilities and innovation.
As an intrepid global studies aficionado and student at UCLA, and as an Italian-American, I found myself interested in the subject matter of the link or bridge very much present between, not only the two cultures but the two economies.
The socio-cultural link between the Bel Paese and the USA has been well affirmed, but one mustn't forget history, especially while society and trade relations go through adversity and change. Some forget that starting from the 1880s Italian immigration into the US became a very real phenomenon, by 1900, nearly 2 million Italians were present in the country – and as per natural consequence of such occurrence, such numbers, of Italian presence between the states has been on the rise. Because of the emigration that occurred from Italy back in the 1880s and 1900s, today nearly 15.7 million people in the US recognize themselves as Italian–American. By having nearly 16 million people identify as Italian-Americans, out of 325 million people living in the US, Italian Americans make up over 4% of the general US population today.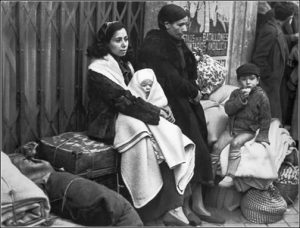 Italian immigration into the US, from the 1880s to today, brought along commercial movement also, as in, fellow Italian natives, found themselves feeling nostalgic of authentic "Italian food", so some individuals started to bring along their food products and other items from Italy. Some brought back products from Italy merely for nostalgic reasons, while others, more spirited entrepreneurial minds, seeing as the American general public seemed to react well to Italian food products, and in fact seemed to seek out Italian food specifically – at first – explored the opportunity strategically, understood the local demand and the potential and tested the market, but turning their concept into a business. Today there are many Italian or Italophile companies established in the US, but one mustn't forget the story of how it all started, for example, let's think back to one the first Italians to turn their idea into a business in Chicago, Mr. Vincenzo Formusa, who opened in 1890 Vincenzo Forumsa
Importing Co, examples such as this one, served as inspiration and true leaders in the Italophile community.
Today, many realities have changed, but one thing that has not changed is the spirit of Italians and Italian-Americans alike, in maintaining the connection between the countries alive – as if one culture, could no longer live without the essence of the other – as if the Italian entrepreneurial spirit takes on – even today – in America a whole new meaning and as if American seeking out their roots, couldn't live without the soulful traditions of the "Bel Paese".
The connection that was at first only considered to be social and cultural, has solidified itself in terms of commercial agreements between the two countries. Highly regulated, strategically sought out business pacts have linked the two cultures and the economies. As of 2018, the US is still one of Italy's most important trading partners, and vice versa.
Recently I spoke with a fellow researcher and expert in international trade and commerce, Ms. Chiara Paolinelli, from the University Nicolo Cusano of Rome, who reminded me, that in 2017, alone, the total amount of bilateral trade in terms of value of goods exchanged between the two countries was of nearly 69 billion dollars – showcasing the grand solidified interdependence economies. Ms. Paolinelli, as an Italian, who has lived in diverse countries, and considers herself a citizen of a world, notices the interconnects between economies and has focused her life's work, so far on supporting and studying strategic business development plans for a diversity of companies, as well as on a grander scale on an academic and informative perspective also. Ms. Paolinelli, also reminded us during our recent conversation about Italian exports and trade relations with the US that, "Italy may be known for food exports and what not, but the reality is that the grandest chunk of exports, meaning 18% of the total exports are made up of precision machinery and other mechanical products from Italy to the US– so Italy may be known for the pasta, but its excellence is actually also in the delivery of high-end technology, boundary testing innovative robotics, and much much more…". Chiara also adds, that "Italian-Italophile and Italian American innovators are truly able to test diverse markets, create added value in diverse economies and are building bridges daily, commercially and culturally. An Italian example of building innovative bridges is Mr. Angori– whom I proudly support in his mission – of Pininfarina Italia, timeless Italian car design & engineering firm, who married innovation and design a long time ago and is now promoting it worldwide."
Recently I also found myself interacting with a diverse group of Italians and Italophiles, at an Italian Professional Networking event in LA, the people I met, coming from different parts of the country and of the world, also spoke to me directly about the grand interconnection between the two countries and the strategic aspect that is that of taking advantage of the bridge, of the two cultures, utilizing Italian creativity and standards for tradition, while testing the exciting US scene. Specifically I was speaking with Mr. Galli, an Italian businessman, who is an expert in fashion, has worked closely with some of the most well-known fashion labels and knows all about strategic business development for a diversity brands – and he stated that: "In Italy one learns traditions and centuries-old craftsmanship, and in the US such craftsmanship really takes flight and can be sold to interested parties, who seek out Italian made wear – and vice-versa one must build a bridge with Italy from the American side – as there is interest in Italian craftsmanship from the US."
Let us also not forget the role recently played also, by fellow Italians in the US, like Roberto Crea, breaking grounds scientifically in the genetics field – a scientist coming from a traditional country who strategically tested his idea in the right market and has changed the genetics research field today.
Whether it is food imports from Italy, design or fashion or even biotech and genetics, there is a commercial and socio-cultural bridge between Italy and the US.
Today, in this day and age, global business requires a global mindset, such as that which Mr. Angori, Mr. Galli and Ms. Paolinelli have – understanding different cultures, markets and diversities are all key aspects in success in sustaining the vital interconnection between diverse economies and there is much more to building a bridge than merely acquiring knowledge about the business and social cultures of the destination market – it takes the right people, people who are open minded, open to taking risks and testing boundaries and have the qualified skills to do so to make it – that is Italians and American alike – people who are open on diverse levels and able to promote commercial connections strategically and using a certain vision that is truly global, to succeed in building a cross-economic and socio-cultural bridges.
As economic policies change, as trade agreements are amended, as we move from state to state to country to country, it is vital not only for us students, but for the general public alike, to remain interested and informed on the ever-present and unbreakable interdepended between diverse markets – and specifically on the bridge that is between Italy and the US.
---
Ponti economici e socioculturali tra l'Italia e gli Stati Uniti
Con il cambiamento delle normative commerciali, mentre i rapporti commerciali tra i diversi paesi assumono rotte diverse e strategie diverse, è necessario ricordarlo e cambia dal "Bel Paese" la terra del sogno orientata al futuro. Come nuove generazioni di americani alla ricerca delle radici, anche di nuove generazioni di nativi italiani, cercano esperienza nella terra senza limiti di possibilità e innovazione.
Il legame socio-culturale tra il Bel Paese e gli Stati Uniti è stato ben affermato, ma non bisogna dimenticare la storia, specialmente mentre la società e le relazioni commerciali attraversano avversità e cambiamenti. Alcuni degli italiani erano nel paese – e come conseguenza naturale di tale evento, tale numero di presenza italiana tra gli stati era in aumento. A causa dell'emigrazione avvenuta in Italia negli anni tra il 1880 e il 1900, oggi quasi 15,7 milioni di persone negli Stati Uniti si riconoscono come italoamericani. Con 16.000 persone si identificano come italoamericani, su 325 milioni di persone che vivono negli Stati Uniti, gli italoamericani rappresentano oggi oltre il 4% della popolazione generale degli Stati Uniti.
L'immigrazione italiana negli Stati Uniti, dagli anni 1880 ad oggi, portò avanti anche il movimento commerciale, come in altri nativi italiani, si sentirono nostalgici dell'autentico "cibo italiano", così alcuni individui iniziarono a portare con sé i loro prodotti alimentari e altri Italia. Alcuni riportarono prodotti dall'Italia solo per motivi nostalgici, mentre altri, più spiriti imprenditoriali, visto che il pubblico americano sembrava reagire bene ai prodotti alimentari italiani, e in effetti sembrava cercare specificamente il cibo italiano – inizialmente – esplorò il opportunità strategicamente, ha compreso la domanda locale e il potenziale e testato il mercato, ma trasformando il loro concetto in un business. Oggi ci sono molte società italiane o italofile stabilite negli Stati Uniti, ma non bisogna dimenticare la storia di come tutto è iniziato, per esempio ripensiamo a uno dei primi italiani a trasformare la loro idea in un'attività a Chicago, il signor Vincenzo Formusa, che ha aperto nel 1890 Vincenzo Forumsa Importing Co, esempi come questo, è stato fonte d'ispirazione e di veri leader nella comunità italofila.
Oggi molte realtà sono cambiate, ma una cosa che non è cambiata è lo spirito degli italiani e degli italo-americani allo stesso modo, nel mantenere vivo il legame tra i paesi – come se una cultura, non potesse più vivere senza l'essenza dell'altro – come se lo spirito imprenditoriale italiano assuma – anche oggi – in America un significato del tutto nuovo e come se l'americano cercasse le proprie radici, non potesse vivere senza le profonde tradizioni del "Bel Paese".
La connessione che inizialmente era considerata solo sociale e culturale si è consolidata in termini di accordi commerciali tra i due paesi. Patti commerciali altamente regolamentati e ricercati hanno collegato le due culture e le economie.
A partire dal 2018, gli Stati Uniti sono ancora uno dei partner commerciali più importanti d'Italia e viceversa. Recentemente ho parlato con un collega ricercatore ed esperto di commercio e commercio internazionale, la signora Chiara Paolinelli, dell'Università Nicolò Cusano di Roma, che mi ha ricordato che nel 2017, da solo, l'ammontare totale degli scambi bilaterali in termini di valore delle merci lo scambio tra i due paesi è stato di quasi 69 miliardi di dollari – mettendo in mostra le grandi economie solidali di interdipendenza. La signora Paolinelli, come italiana, che ha vissuto in paesi diversi, e si considera cittadina di un mondo, nota le interconnessioni tra le economie e ha concentrato il lavoro della sua vita, fino a ora supportando e studiando piani strategici di sviluppo del business per una varietà di aziende, oltre che su scala più ampia anche in un'ottica accademica e informativa. La signora Paolinelli, inoltre, ci ha ricordato durante la nostra recente conversazione sull'export italiano e le relazioni commerciali con gli Stati Uniti: "L'Italia può essere conosciuta per le esportazioni alimentari e cosa no, ma la realtà è che la fetta più grande delle esportazioni, che significa il 18% del totale le esportazioni totali sono composte da macchinari di precisione e altri prodotti meccanici dall'Italia agli Stati Uniti – quindi l'Italia può essere conosciuta per la pasta, ma l'eccellenza è in realtà anche nella consegna di tecnologie di fascia alta, test di confine innovativi in robotica e molto altro ancora …". Chiara aggiunge inoltre che "gli innovatori italo-italofilo e italoamericani sono veramente in grado di testare diversi mercati, creare valore aggiunto in diverse economie e stanno costruendo ponti ogni giorno, commercialmente e culturalmente. Un esempio italiano di costruzione di ponti innovativi è il signor Angori – che sostengo con orgoglio nella sua missione – di Pininfarina Italia, intramontabile società italiana di design e ingegneria automobilistica, che ha sposato l'innovazione e il design molto tempo fa e ora la sta promuovendo in tutto il mondo. "
Recentemente mi sono anche trovato a interagire con un gruppo eterogeneo di italiani e italofili, in un evento di Networking professionale italiano a Los Angeles, le persone che ho incontrato, provenienti da diverse parti del paese e del mondo, mi hanno parlato direttamente della grande interconnessione tra i due paesi e l'aspetto strategico che è quello di sfruttare il ponte, delle due culture, utilizzando la creatività e gli standard italiani per la tradizione, mentre si prova l'emozionante scena americana. In particolare, stavo parlando con il signor Galli, un uomo d'affari italiano, esperto di moda, che ha lavorato a stretto contatto con alcune delle più famose etichette di moda e che conosce tutto lo sviluppo del business strategico per un marchio diversificato e ha dichiarato che: " In Italia si impara le tradizioni e l'artigianalità secolare, e negli Stati Uniti tale artigianato prende davvero il volo e può essere venduto alle parti interessate, che cercano l'abbigliamento made in Italy – e viceversa si deve costruire un ponte con l'Italia dal lato americano – perché c'è interesse per l'artigianato italiano dagli Stati Uniti. "Non dimentichiamoci anche del ruolo svolto recentemente anche da colleghi italiani negli Stati Uniti, come Roberto Crea, che fonda scientificamente nel campo della genetica – uno scienziato proveniente da un paese tradizionale che ha testato strategicamente la sua idea nel giusto mercato e ha cambiato il campo di ricerca genetica oggi. Che si tratti di importazioni alimentari dall'Italia, di design o di moda o addirittura di biotecnologia e genetica, esiste un ponte commerciale e socio-culturale tra l'Italia e gli Stati Uniti.
Oggi, al giorno d'oggi, il business globale richiede una mentalità globale, come quella che hanno Angori, Galli e Paolinelli: comprendere culture, mercati e diversità diverse sono tutti aspetti chiave del successo nel sostenere l'interconnessione vitale tra le diverse economie e c'è molto di più per costruire un ponte che semplicemente acquisire conoscenze sulle culture aziendali e sociali del mercato di destinazione – ci vogliono le persone giuste, le persone che sono di mentalità aperta, aperte a correre rischi e superare i limiti e avere i qualificati capacità di farlo per farlo – che è italiano e americano allo stesso modo – persone che sono aperte su diversi livelli e in grado di promuovere connessioni commerciali strategicamente e utilizzando una visione che è veramente globale, per riuscire a costruire un cross-economico e socio-culturale ponti. Man mano che le politiche economiche cambiano, e gli accordi commerciali vengono emendati, mentre passiamo da uno stato all'altro in un paese, è vitale non solo per noi studenti, ma anche per il pubblico in generale, rimanere interessati e informati sul sempre presente e indistruttibile interdetto tra diversi mercati – e in particolare sul ponte che è tra l'Italia e gli Stati Uniti.