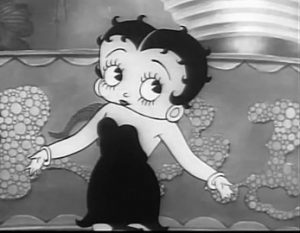 Betty Boop is an animated cartoon character created by Max Fleischer, with animators including Grim Natwick. She originally appeared in the Talkartoon and Betty Boop film series, which were produced by  Fleischer Studios and released by Paramount Pictures. Betty Boop made her first appearance in 1930 in the cartoon "Dizzy dishes" with a dog called Bimbo.
Betty Boop was originally created as a French poodle singing at a nightclub, then she became an attractive woman with a childish and sophisticated look, a doll-like face with pouty lips, big eyes, and a very small body, wearing tight and short dresses, and high heels.  While much credit has been given to Grim Natwick for her creation, her transformation into the cute cartoon girl was due to the work of Berny Wolf, Otto Feuer, Seymour Kneitel, "Doc" Crandall, Willard Bowsky, and James "Shamus" Culhane.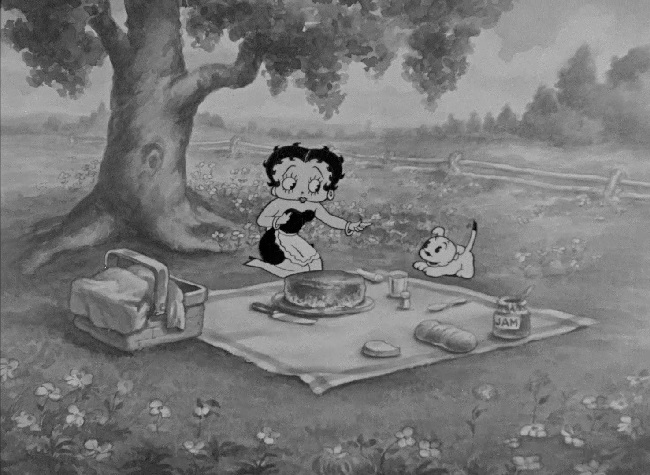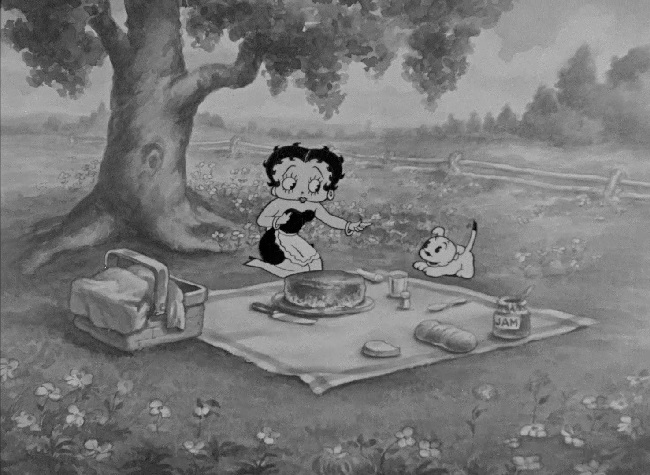 Dancing and singing in a squeaky voice, Betty Boop mixes innocence and sensuality.  There is a combination of girlishness and maturity in her character. From her debut Betty Boop winking, shaking her hips, hiking up her skirt, she is made to appeal to adult audiences but then she changes her look, due to the Hayes code who established some restrictions on movies and cartoons, so the Fleischers changed her decolletage and thigh bearing dresses for more modest wardrobe and Betty Boop became a housewife, a career girl, teacher of a dancing school, a saleswoman at a department store, a receptionist,  a clerk in the city.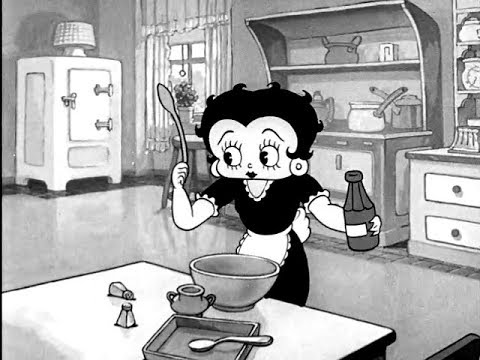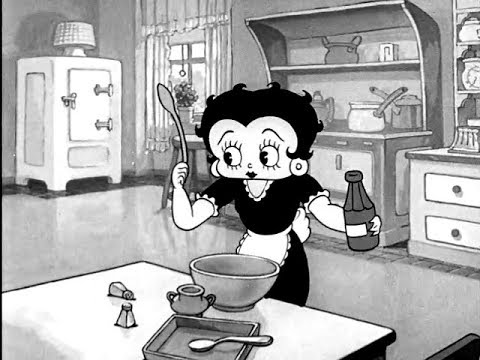 Her first films are: "Minnie the moocher",  "Betty Boop's Bamboo Isle", "Romantic melodies", "Swat the fly" in which Betty Boop is in the kitchen, baking a cake. Betty Boop is also called "Nancy Lee", "Nan McGrew", "Baby Boop".  In 1934 she appeared in the first color classic cartoon "Poor Cinderella", in the film she is with red hair as opposed to her typical black hair.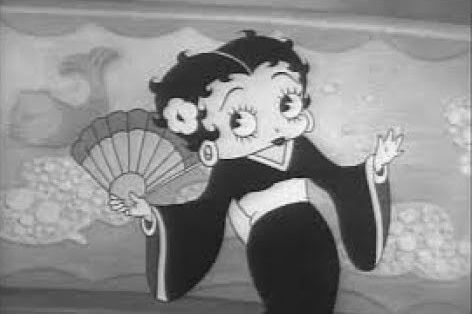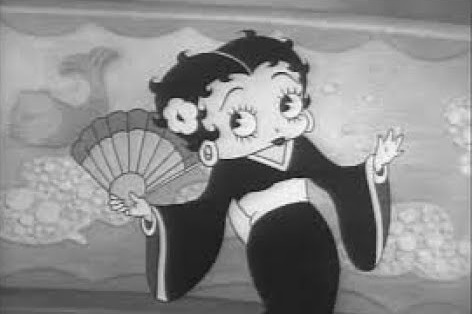 Betty Boop has also a nice little dog called Pudgy the Pup.  We can see Betty Boop and Pudgy at a picnic in  "Betty Boop's Little Pal",  playing with a kitten in "Taking the blame", and in other cartoons as "A little soap and water", in this episode, Pudgy takes a bath, "Making friends", Pudgy finds some friends as a turtle, a rabbit, a little bear, a squirrel, "Happy you and merry me" in which Betty Boop and Pudgy meet a stray kitten called Myron, "Pudgy takes a bow-wow" in this episode while Betty performs her stage show, Pudgy and a kitten are in her dressing room,  then they got on stage, in "Riding the rails"  Pudgy follows Betty Boop while she goes downtown in the subway. Betty Boop also buys a baby monkey in "My friend the monkey". Other animals in Betty Boop's comics and films are Bessie Beaver, Brownie Bear, Daisy Cow, Dora Duck, and Harry Horse.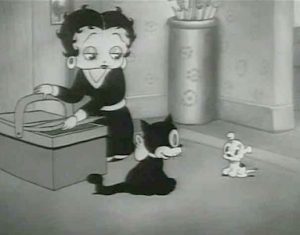 Betty Boop became one of the best-known and popular cartoon characters in the world, she was also famous for her phrase "Boop-Oop-a-Doop" a style of jazz singing called scat in which singers improvise sounds or nonsense words. Using this technique, singers use their voices as if they were just another instrument in the band. Scat singing was very dependent on the talent of performers to convey their intentions indirectly. Scat singing also allowed singers to express things that in a more conservative period, would have been considered an inappropriate subject matter for popular music. In the cartoon "Boop-Oop-a-Doop" the phrase is used with a sexual allusion.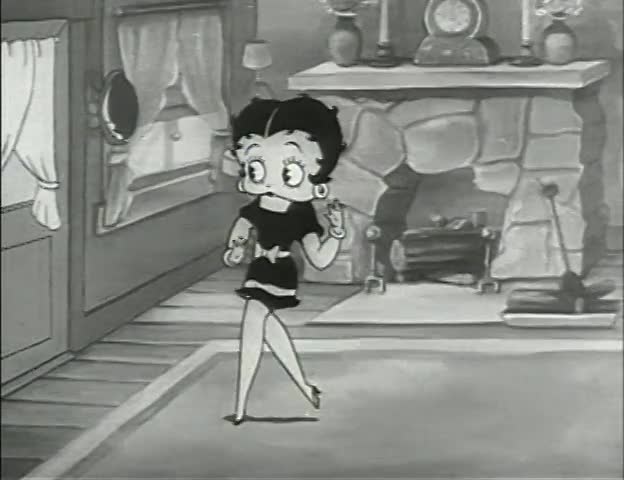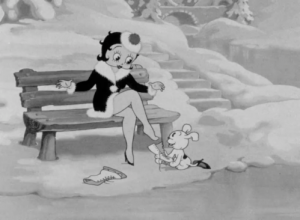 So while the phrase "Boop-Oop-a-Doop" is usually followed by a bop, in scat singing, that Betty Boop performs in a high-pitched squeak voice, itself doesn't mean anything specific, it conveys the glamour and energy of jazz music associated with America in the twenties and thirties years. There are some screen songs cartoons that featured Betty Boop.  In 1935 in the episode "A language all my own" Betty wears a kimono and she sings the title song. In 1974 Betty Boop makes a film revival "The Betty Boop Scandals", in 1985 "The romance of Betty Boop", tells a  story set in New York where Betty dreaming of moving in high society, she sells shoes by day and performs at Club Bubbles by night. In 1989 "Betty Boop's Hollywood mystery" Betty Boop works as a waitress at a diner in Los Angeles, she also entertains clients, singing while hoping to be a Hollywood star. In 1995 Betty Boop's classic cartoons and other Fleischer shorts are included in "Betty Boop confidential" and in a video collection in 1998,  in the film  "The "Project runway all stars" 2018, Betty Boop appears in a chic Hollywood dress.
Betty's voice was performed by Margie Hines, Harriet Lee and was later performed by several different voice actresses as Bonnie Poe, Katie Wright,  Ann L. Rothschild, and most notably, Mae Questel, who voiced in many of Betty Boop's cartoons and continued with the role until 1938, returning in the 1988 Disney cartoon "Who Framed Roger Rabbit". Today, Betty is voiced by Tress MacNeille Sandy Fox, and Cindy Robinson. Betty Boop has also been featured in the comic strips, "Betty Boop and Felix" a gag strip that dealt with Betty's daily life with the cat Felix.  Betty Boop is also the protagonist in the television and magazine advertisings: she is in vintage beverage ads for Coca Cola.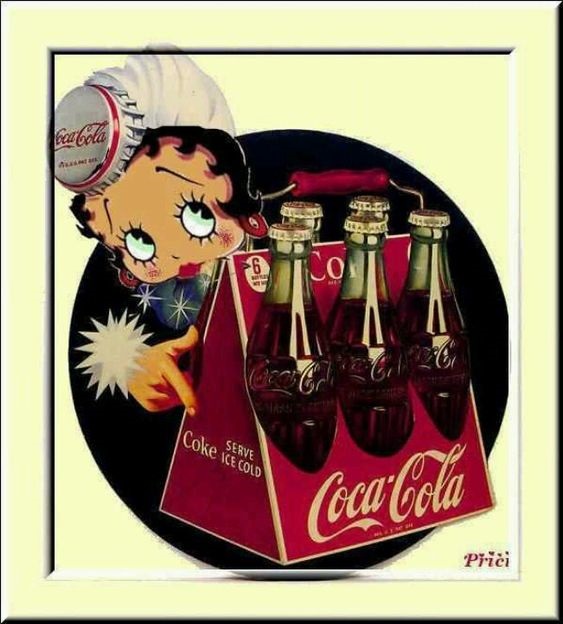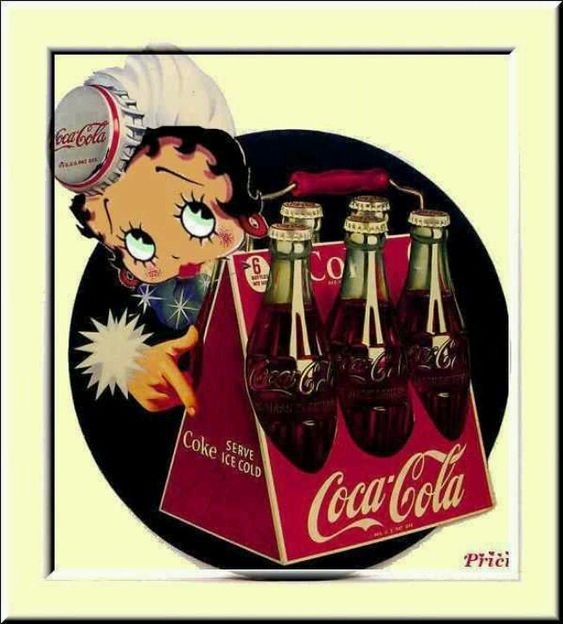 In 1960 Betty Boop is featured in the "409 cleaner" a washing product commercial, in 1986 Betty Boop wears an indigo dress in a tv spot for the milk and she also performs in Hershey's chocolate commercial. In 2012 a scintillant,  Betty Boop starred in a commercial for the makeup and perfume  Lancome, in 2017 for the red lipstick Mac Cosmetics. Betty Boop's glamorous, classic style has also become very popular in the fashion world. Betty Boop is always seen as the representation of the female character, but above all, she is free, she works, she has fun, she is herself.
Betty Boop performs on stage the song "I have to have you" in her debut cartoon "Dizzy dishes". The song introduces the playful, seductive Betty Boop.
I HAVE TO HAVE YOU
Lovin', I have to have lovin',
But when I'm having my lovin',
I have to have boop-boop-a-doop
Lovin', oh, I must have my lovin',
But when I'm having my lovin',
I have to have you!
I'm so blue, waiting for you
To take me,
Oh, I can't go on like this,
Give me a kiss, huh?
And make me
Boop-boop-a-doop!
Whoopee, I want to make whoopee,
And if I want to make whoopee,
I have to have boop-boop-a-doop-a-doop, boop-boop-a-doop!
Whoopee!
Music & Lyrics by Leo Robin and Richard Whiting