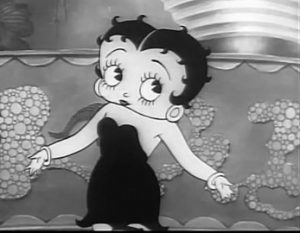 Betty Boop, sensuale, esuberante, è una ragazza americana  degli anni trenta ideata dall'animatore Grim Natwick nel 1930 e realizzata nel 1932 dai  Fleischer Studios.
Betty porta i capelli corti e arricciati, indossa un vestitino aderente che lascia scoperte le spalle e la giarrettiera,  grandi orecchini, sex appeal e una  buona dose di auto-ironia, sono alcune  sue caratteristiche.
Betty esordisce sul grande schermo come barboncina cantante jazz in un ristorante di lusso con Bimbo nel cartone del 1930 in bianco e nero "Dizzy  Dishes".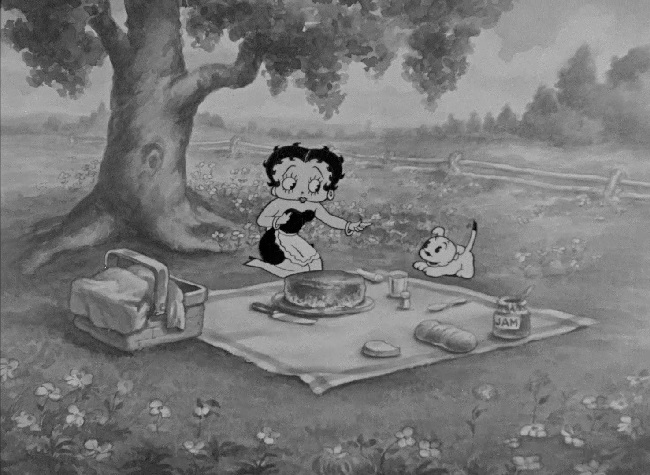 Nel 1932 compare per la prima volta come donna nel cortometraggio "Bamboo Isle", un personaggio ispirato alla  cantante molto popolare negli anni venti  Helen Kane.  Betty Boop ha anche un grazioso cagnolino Pudgy the Pup.  Vediamo Betty Boop e Pudgy  nel picnic in "Betty Boop's little pal", giocare insieme  ad un gattino in "Taking the blame", e in altri episodi "A little soap and water" e "Making friends". Nell'episodio "Pudgy takes a bow-wow" mentre Betty Boop si esibisce sul palco, Pudgy e un micetto si incontrano nel suo camerino e arrivano poi in palcoscenico davanti al pubblico.  Betty Boop compra anche una simpatica scimmietta in "My friend the monkey". Betty Boop è un mix di innocenza e sensualità, nelle sue allusioni erotiche riesce a coinvolgere un pubblico adulto.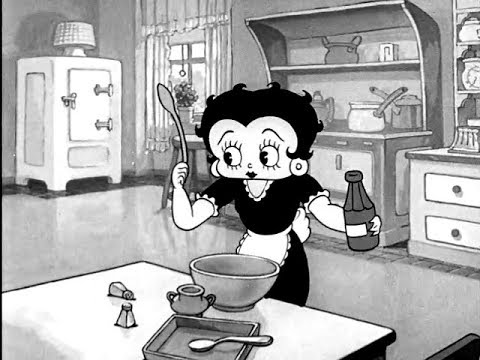 Nel 1934 le proteste del pubblico conservatore e l'applicazione del Codice Hays costrinsero gli autori a modificarne le caratteristiche facendola divenire una casalinga, una ragazza in carriera, insegnante in una scuola di ballo, commessa in un magazzino, receptionist in un hotel, impiegata in città,  modificandone anche le caratteristiche, dai vestiti corti e decolté, Betty Boop ha un guardaroba più modesto. Nel 1935 nell'episodio "A language all my own" Betty Boop indossa un kimono e canta in inglese e giapponese. Altre divertenti avventure con Betty Boop in "Swat the fly",  in cucina mentre prepara  una torta, in "House cleaning blues" dopo un party selvaggio, Betty vuole mettere la casa in ordine , seguono altri filmati:  "Service with the smile",  del 1937 "Thrills and chills" del 1938, "Riding the rails" in questo episodio Pudgy segue Betty Boop in metropolitana.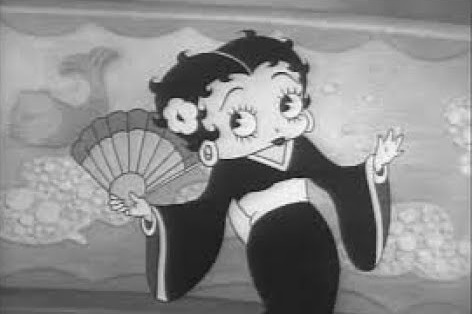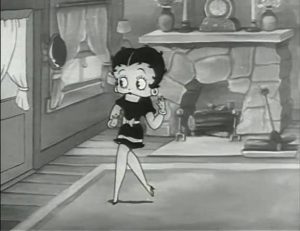 I suoi esordi come cantante jazz Betty Boop è  famosa anche per la frase "Boop-Oop-a-Doop", che non significa niente di specifico, è un genere di sillabe create su una melodia della musica vocale scat,  uno stile jazz  che esprime l'energia e il glamour in voga nell'America degli anni venti e trenta. Nel genere scat i cantanti improvvisano suoni e parole senza senso. Con questa tecnica i cantanti usano la propria voce come se fosse un altro strumento nella band. Cantare nello stile scat dipendeva molto dal talento di un artista nel trasmettere indirettamente le proprie intenzioni, tuttavia cantare nello stile scat permetteva  ai cantanti di esprimere cose che in un periodo conservativo, sarebbe stato considerato argomento inappropriato nella musica popolare.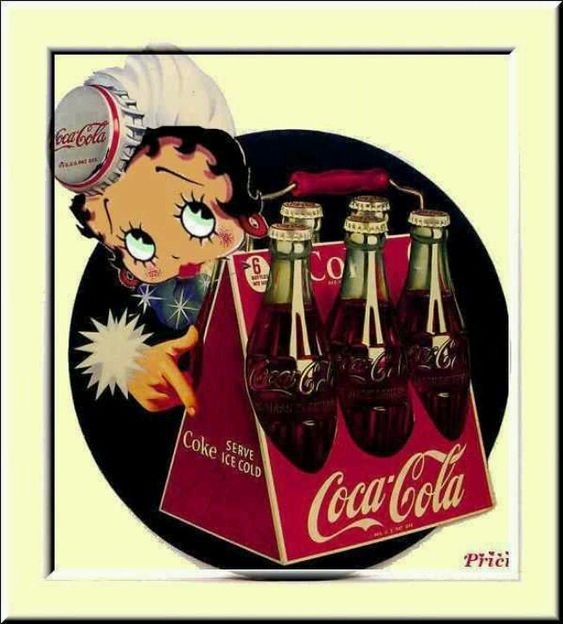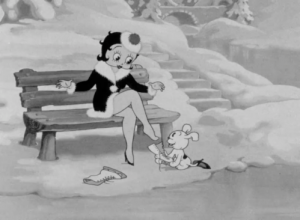 Nel 1985 è stato trasmesso uno speciale televisivo intitolato "The Romance of Betty Boop", prodotto da Bill Melendez e Lee Mendelson, gli stessi creativi che si sono occupati degli speciali dedicati ai Peanuts. La storia del film è ambientata a New York dove Betty Boop di giorno vende scarpe in un negozio e alla sera si esibisce in un locale il Club Bubbles, sognando di arrivare nell'alta società.  Nel 1989, è stato realizzato "The Betty Boop's Hollywood Mystery" in questo film Betty Boop lavora come cameriera in un locale a Los Angeles e intrattiene i clienti cantando, sognando di diventare un star di Hollywood. Nel 1995 è realizzata una raccolta di classici e nel 1998 una collezione di video "Betty Boop confidential", nel 2018 "Project runway all stars" Betty Boop  indossa un abitino nello stile Hollywood glam.  Le avventure di Betty Boop e dei suoi amorevoli compagni cani e gatti  sono anche in  fumetti, "Betty Boop e Felix" raccontano la vita quotidiana di Betty insieme al suo gatto Felix.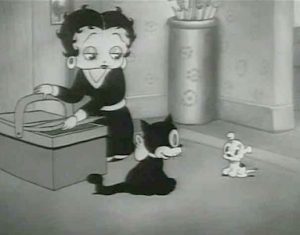 Betty Boop è anche protagonista negli articoli pubblicitari in televisione e sui giornali: nella pubblicità vintage per la bevanda coca cola, nel 1960 in "Betty Boop 409 cleaner"  un prodotto per pulire la cucina, nel 1986 Betty indossa un vestitino indaco per la pubblicità del latte, sponsorizza il cioccolato Hershey, nel 2012 la scintillante Betty Boop reclamizza il makeup e profumo Lancome e nel 2017 un lipstick rosso della "Mac Cosmectics. Lo stile classico e affascinante di Betty Boop è diventato popolare anche nella moda. Betty Boop  è sempre stata vista come rappresentazione della femminilità ma soprattutto una donna libera che lavora, si diverte ed è se' stessa.