Reviewed by LindaAnn LoSchiavo for L'Idea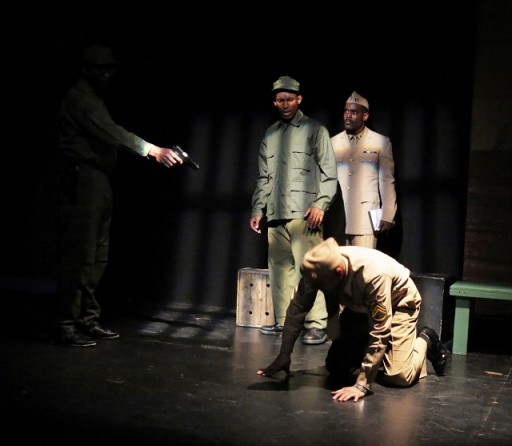 "A Soldier's Play" by Charles Fuller was first presented off-Broadway at Theatre Four (now Julia Miles Theatre), 424 West 55th St., NYC.  It opened November 20, 1981, closed January 2, 1983 (468 performances), scooping four prestigious awards: Pulitzer Prize for Drama, 1982; Drama Critics' Circle Award for Best American Play, 1981; Outer Critics Circle Award for Best Off-Broadway Play, 1981; and an Obie Award, boosting the careers of Denzel Washington, Samuel L. Jackson, and others. In 1984, it came to the big screen as "A Soldier's Story."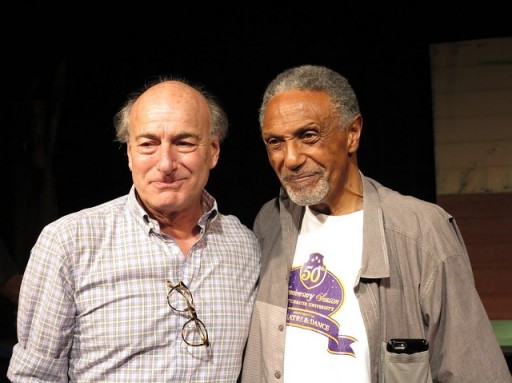 While it is important to deal with race politics and show how intolerance warps mankind,  it's dismaying to discover that a Pulitzer-winning drama has ignored playwriting's cardinal rule: show don't tell. Huge hunks of blah-blah exposition lard the narrative's meatiest scenes with too much fat. Whenever Captain Richard Davenport (CHAZ REUBEN), a Black military lawyer who graduated from Howard, faces the audience, it signals another mortar round of speechifying.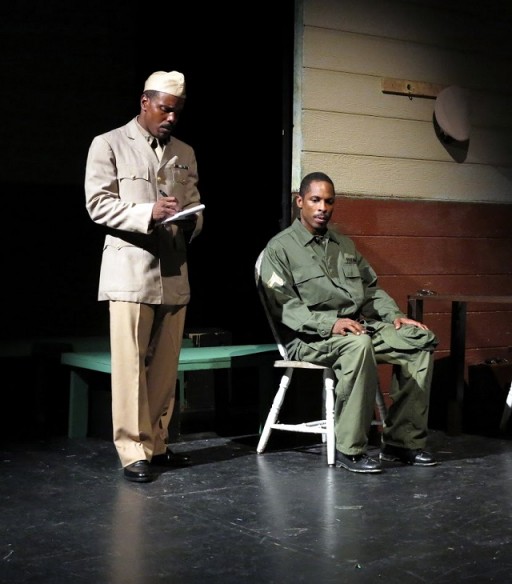 Set in 1944, when the military was still racially segregated, Fuller's murder mystery takes place at Fort Neal, a U.S. Army base in Louisiana. The opening scene is riveting: the death of a Black Sergeant, Vernon Waters (GIL TUCKER), by an unseen shooter. The expectation is that the murder will be investigated; the hope is that the killer is caught and justice will prevail.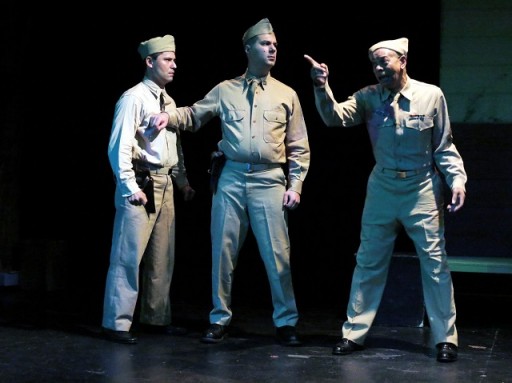 Some of that occurs but, again, the author stumbles where it counts most — — the aftermath. An apology tendered to Captain Davenport by Captain Wilcox (AARON SPARKS) is couched in such politically correct language that it strikes a false note. As if there hasn't already been a bunker full of blather, there's a lengthy coda. It's amusing to hear that Sergeant Vernon Waters, fatally shot in peacetime, is lauded as a World War II battlefield hero, thanks to a paperwork error. Why didn't Charles Fuller pause his pen here? Instead Captain Davenport adds that the entire company was slaughtered by Germans in The Loire Valley. Thud.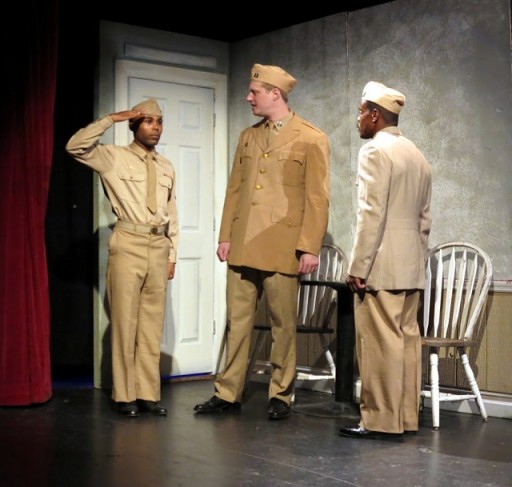 Whenever Fuller dramatizes his whodunit — — instead of making a character drone on — — the play is most engaging. Flashbacks are skillfully woven into the scenes. For the most part, the dialogue snaps to attention. The racial tensions are painfully believable and Fuller makes good use of these to create red herrings regarding the real motive and the killer.
The ensemble cast of twelve included five charismatic actors who lived their roles. Stand-outs were CHAZ REUBEN as Captain Richard Davenport, GIL TUCKER as Sergeant Vernon Waters, FULTON HODGES as Private James Wilkie, HORACE GLASPER as Private Louis Henson, and ADRAIN WASHINGTON as PFC Melvin Peterson. A talkback revealed that Mr. Tucker and Mr. Hodges had first done their roles in a production staged 20 years ago.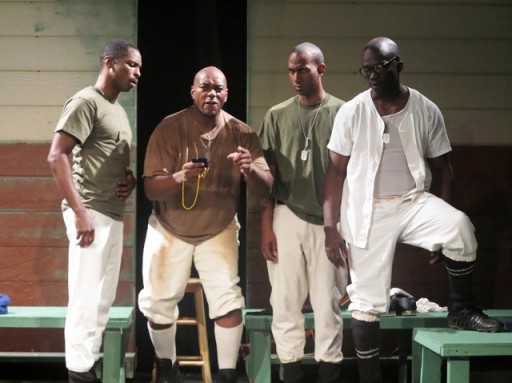 Director Charles Weldon, NEC's A.D., has lots to manage with this tug-of-war between monologues and flashbacks. For the most part, he does a laudable job. Puzzling choices included the opening scene, where the Caucasian Captain Wilcox is placed far back. When a Black G.I. requests permission to speak, Wilcox nods his head instead of saying "yes," therefore, a soldier standing forward could not, logically, see his silent assent. Another oddity is having a soldier transport a table and 2 chairs to the front of the house in a very theatrical manner while Davenport is holding forth on the murder investigation. Since the furniture could have been positioned in advance, the distraction made no sense. Moreover, it plays out not unlike a vaudeville comic who wriggled onstage by mistake.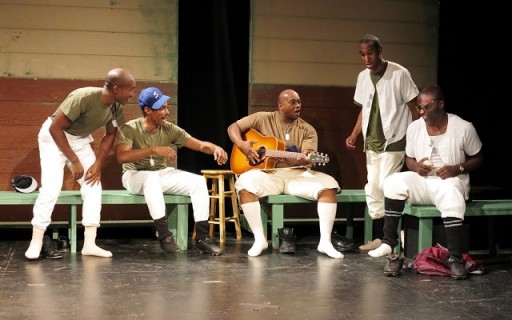 Costume Designer Ali Turns did a decent job within the limitations of outfitting the soldiers attached to Fort Neal and the barracks of the 221st Chemical Smoke Generating Company in 1944. Davenport's sunglasses and Waters's pipe channeled the spirit of famed 5-Star general Douglas MacArthur, a prominent hero in the Pacific theater during World War II who received the Medal of Honor. Even African-Americans have a white role model sometime.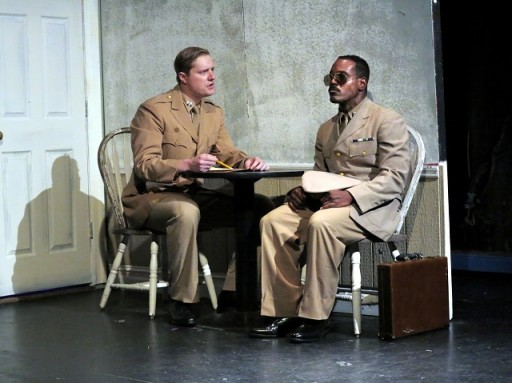 The sound design by Jacqui Anscombe was realistic and did the job.
Scenic Designer Chris Cumberbatch neatly conveyed the feeling of a barracks, a stockade, and two field offices with a Spartan economy.
It's the 50th anniversary season for The Negro Ensemble Company and the generous owners of the iconic Theatre 80 Saint Marks have given them a new home. Bravo to the Otway family.
Even in 2017, we have witnessed that individuals of any shade, and not only the "high yellows," can be "split by the madness of race in America," as Captain Davenport says.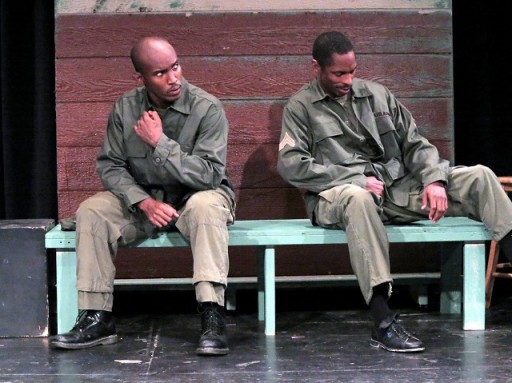 * * *
WHAT: The Negro Ensemble Company's production of its 50th Anniversary Season: a revival of "A Soldier's Play" by Charles Fuller, the company's most famous and successful work.
WHEN: Performances are September 27 to October 8 at Theatre 80 St. Marks, 80 St. Marks Place. The production schedule is: Wednesdays through Fridays at 7:00 PM, Saturdays and Sundays at 3:00 PM and 7:00 PM. Running time is 90 minutes. Director is Charles Weldon, the troupe's current Artistic Director.
CAST:  Gilbert Tucker, Layon Gray, P.J. Max, Horace Glasper, Buck Hinkle, Derek Dean, Jay Ward, Arron Lloyd, Adrain Washington, Fulton Hodges, Aaron Sparks, and Jimmy Gary, Jr.