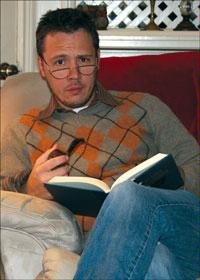 Scott Hilburn is the creator of The Argyle Sweater. Boasting a readership ranging from The Washington Post and the Los Angeles Times to the Calgary Herald, Hilburn's colorful cartoon panel fuses his visceral talent and bold pen stroke. What results is a cerebrally astute cartoon panel that comments on popular culture, human nature, and sporks in a clever, spontaneously rich way. It is a comic panel where one should expect the unexpected — where animals can talk, the imaginary becomes real and politicians tell the truth.
With more than one million greeting cards sold, Scott Hilburn's The Argyle Sweater dresses-up the funny page with an argyle-wearing assortment of cavemen, bears, moths, and pompadour-having humans, along with an occasional evil scientist.
Born in 1971, Hilburn grew up in Garland, Texas, a suburb of Dallas. He earned his bachelor's degree from Argosy University and began working towards his master's in clinical psychology/professional counseling before interrupting his post-graduate studies to pursue his lifelong dream of becoming a starving cartoonist. Hilburn and his family currently live in the Dallas area.

L'IDEA MAGAZINE: Scott, how did your first strip develop? Was it always a one-panelcartoon or have you attempted a four-panel cartoon in those now-far beginnings with ComicSherpa?
SCOTT HILBURN: I did try a drawing an unrelated strip once, but it was long before Comics Sherpa was around.  The brief dalliance with that strip is what prompted me to try my hand at developing a single panel. I think most cartoonists are naturally better suited to drawing one or the other.  It didn't take me long to figure out that I was in the 'single panel' category.
L'IDEA MAGAZINE: You won a silver medal for your work in interactive media. Could you tell us something more about that?
SCOTT HILBURN:  Wow, that was a lifetime ago!  I worked in the training department of a major telecommunications company creating Flash based e-learning modules.  My team consisted of two project managers, a web developer and myself (interactive/animation specialist).  We entered one of our modules in what was considered to be one of the industry's elite competitions and one a silver award (2nd place).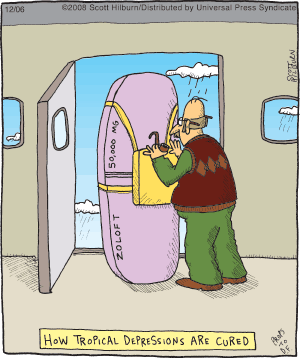 L'IDEA MAGAZINE: You certainly have a very diverse education: an A.A.S. degree in Computer Animation and Multimedia, a B.A. in Psychology and graduate work in Professional Counseling/Clinical Psychology. How did you go from Computer Animation to Clinical Psychology, especially considering your success with your cartoon work?
SCOTT HILBURN:  Well, I've always wanted to become a cartoonist but after getting married and having kids, life kinda got in the way.  Between a full time job and two kids, I was pretty busy. I had degrees in fields that interested me and leveraged them into a comfortable career.
However, after getting divorced, I suddenly found myself with a lot of free time on my hands and decided that if I was ever to pursue my dream career, this was my opportunity.
L'IDEA MAGAZINE: Your biography states that you are single father of two young girls (the daughters are 11 and 13). How many ideas do you get from raising them?
SCOTT HILBURN:  I've gotten a few ideas from something I've overheard my kids say or do, but honestly, not as many as you'd think.  More often, my ideas come from pop culture, historical references or presenting animals or fairy tale characters with human settings and real life experiences.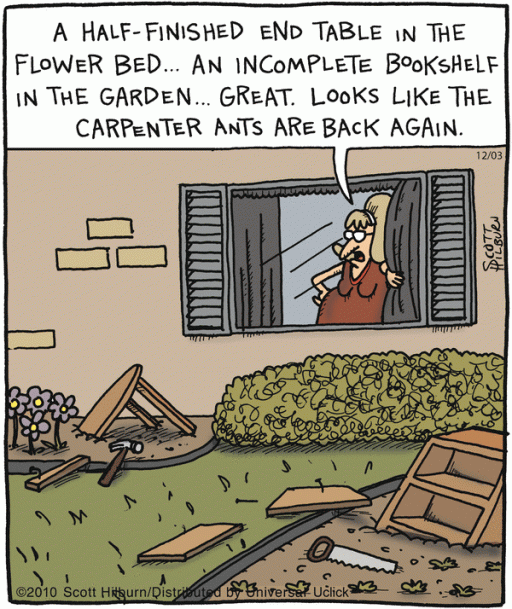 L'IDEA MAGAZINE: Is the surrealistic humor in The Argyle Sweater something that was always a part of your natural reaction to events? Specifically, is the cartoon an adaptation to your true personality or is it something that was refined through trial and error?
SCOTT HILBURN:  I suppose it's a little of both.  I've always been kinda funny and had an offbeat sense of humor but I do think there was a brief maturation phase where I had to learn how to present those ideas on paper in a coherent way.
L'IDEA MAGAZINE: Were you always interested in becoming a cartoonist? Which ones were the strips that inspired you, impressed you and influenced you the most?
SCOTT HILBURN:  I can't remember a time when I didn't want to be a cartoonist.  I was influenced at different times by different comics.  In my younger years I was drawn to the comics section because of the drawings.  I liked the fluid strokes in Blondie and the clean lines in Beetle Bailey. As I grew older though, I became interested in comics for a different reason: the humor.  By then, Larson was clearly one of my biggest influences – but I also read NYer cartoonists like Sam Gross and Tom Cheney.  I was always impressed at how a single panel cartoonist could say so much in just one frame – especially when the humor is inferred and required some thought on the part of the reader. That "A-HA!" moment is something I try to create in my own cartoons.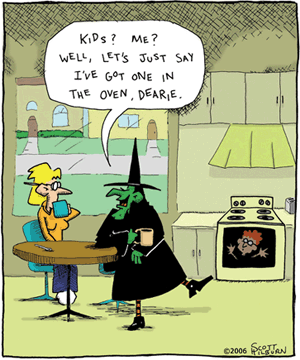 L'IDEA MAGAZINE: Did you ever imagine that The Argyle Sweater would have been so popular and in such a relative amount of time?
SCOTT HILBURN:  Never.  I'm still surprised (and delighted) at it's success.
L'IDEA MAGAZINE: Preparing a strip, or in your case a single panel, for a newspaper has some limitations in content tied to its medium, and the strip may be censored. Is this process allowing your full creativity to be expressed or is it restraining it?
SCOTT HILBURN:  I think it's very a slippery slope for me.  I tend to prefer edgier/darker humor.  However, because newspaper reader demographics skew a bit older, they're also a bit more conservative.  I usually draw whatever I think is funny and show my unfiltered ideas to my editors.  I depend on them to let me know when a joke is too much for mainstream newsprint. Sometimes I agree, sometimes I don't.  Sometimes we're in agreement about a particular gag and move forward with it only to have a newspaper ask for a replacement.  It is a bit stifling (and frustrating) to watch other mediums (like primetime tv) progress in it's standards of acceptability while some newspapers still have an almost Puritan view.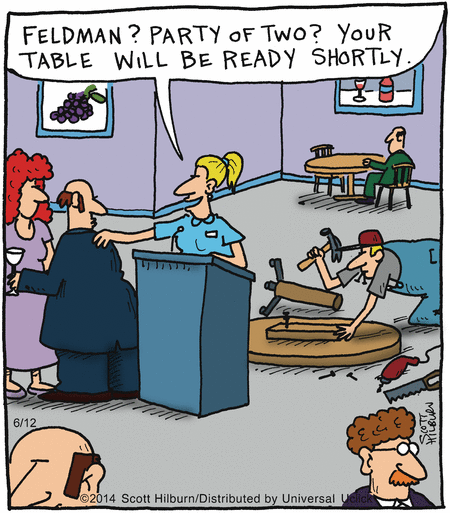 L'IDEA MAGAZINE: Which ones are the contemporary comic strips you like the most and why?
SCOTT HILBURN:  Like I said, most of the contemporary comics I like are a little edgier in their humor.  Pearls Before Swine, Lio, Pooch Cafe', Off the Mark.
L'IDEA MAGAZINE: Is this famous book of rejected gags still in the works?
SCOTT HILBURN:  I'm still toying with the idea but I don't think it's something my publisher is interested in so if it happens it'll have to be self-published – which requires a lot of extra time on my part.  It may happen.
L'IDEA MAGAZINE: For a while, there was some controversy regarding your strip, mainly criticisms from Gary Larson's fans who accused you of copying his drawing style and his humor (Note: there are objectively some similarities between the strips, but the originality of The Argyle Sweater has by now been proven by  six years of uninterrupted hilarity). What has been your reaction to these accusations?
SCOTT HILBURN: As I mentioned, I was clearly influenced by Larson.  But primarily in my style of humor and tone. As for my drawing style, the only thing I've intentionally borrowed from Larson was the "straight line" eyes.  It gives my characters a sort of deadpan delivery that I love. Any other similarities in drawing style are unintentional.
And for every e-mail I've gotten that dislike any perceived similarities to The Far Side, I've gotten 50 that love my comic for the same reason.
L'IDEA MAGAZINE: Scott, are you now working full time as a cartoonist? Do you have any projects in the works at the moment? What about the near future? Do you expect to expand into novels or maybe another type of comics?
SCOTT HILBURN:  I haven't had a day job in 5 1/2 years and love being a full time cartoonist! As for other projects, I'm still looking for a way to share my rejected work.  That might come in the form of a book or possibly even greeting cards.  Not sure I'll ever have time to devote to pursuing novels or other comics.  I'm in awe of the cartoonists that can do that.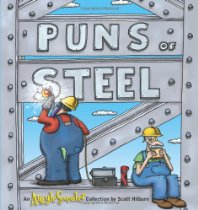 L'IDEA MAGAZINE: A lot of people claim newspapers, and comics with them, are doomed and will be completely replaced by the Internet. Do you agree with this gloomy view of the world?
SCOTT HILBURN: I suspect someday, that may indeed be the truth.  My guess (maybe "hope" is more appropriate) is that it's still a few decades away -but it wouldn't surprise me to eventually see those predictions come to fruition.
L'IDEA MAGAZINE: Have you ever used people around you, such as friends or relatives, as characters (even though masked) in your strip?
SCOTT HILBURN:  Not that I can think of. And if I did, I probably wouldn't want them to know I was poking fun at them.  Ha!
L'IDEA MAGAZINE: If you could be doing any jobs in the world, what would it be and why?
SCOTT HILBURN:  You mean, besides the one I'm doing?  I guess I'd like to be a pro baseball player. Who wouldn't?  They make millions of dollars to stay in shape, play a game that they love and travel. What a life!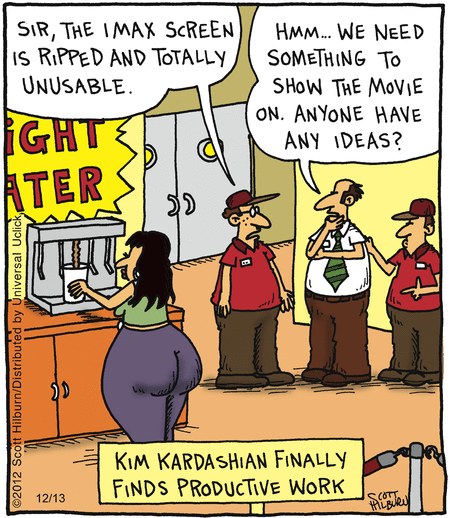 L'IDEA MAGAZINE: Scott, if you could choose to meet a person, any person in history, regardless of time constrictions, who would that person be and why?
SCOTT HILBURN: There are a ton of historical figures I'd love to meet.  But I couldn't pick just one.  It'd have to be three. The Three Stooges.  I grew up watching them and think it'd be amazing to hear about their lives firsthand.
L'IDEA MAGAZINE: Do you have any hobbies?
SCOTT HILBURN:  I love racquetball.  I'm an insatiable history buff. And I'm a huge baseball fan.
L'IDEA MAGAZINE: Who is the cartoon artist you admire the most and why?
SCOTT HILBURN: I admire most of the cartoonists I grew up reading. They're the reason I do what I do. I think I really fell in love with George Herriman's art, though.  I love Krazy Kat and Herriman's art style is, for me, captivating.