MADONNA DEGLI ANGELI TORINO
È una piazzetta accogliente, piccola al mondo, una piazzetta italiana, speciale per la Chiesa Madonna degli Angeli, dove sulla facciata un suggestivo dipinto stile bizantino presenta una Madonna con Bambino.
Le origini della Chiesa risalgono al XVII secolo, parlando con Padre Marco Moioli dei Padri di San Camillo de Lellis, ha raccontato come la Chiesa di appartenenza di un monastero, divenne poi una parrocchia nel 1834.
L'architetto torinese Carlo Ceppi provvede al restauro tra il 1910 e il 1911, disegnando una nuova facciata; vengono inoltre costruite la cupola e il campanile.
La Chiesa Madonna degli Angeli conserva diversi capolavori, in stile liberty e barocco, la pianta è a navata con cappelle laterali, due grandi altari barocco, un bellissimo dipinto con Madonna e bambinello di Trani, Sicilia che non si sa come sia arrivato a Torino e di cui non si conosce l'autore.
Nel 1620 Margherita Roussillon, marchesa di Riva di Chieri, acquista la zona dove sarebbe stato costruito l'ordine dei Francescani Riformati Minori e nel 1631 iniziano i lavori con il contributo di Maurizio di Savoia.
Sulla facciata della Chiesa si può ammirare una Madonna in abito bianco con in braccio il bambino Gesù, in una luce d'oro; l'immagine è molto toccante: il volto di entrambi pieni di amore, il bimbo che con tenerezza si tiene alla madre. Nel dipinto si vedono San Francesco d'Assisi, alcuni putti con biondi riccioli, il paesaggio della Porziuncola nei dintorni di Assisi, e un boschetto.
L'ingresso è incorniciato in una arcata e nella lunetta centrale si trova un mosaico del 1961; recentemente la Chiesa Madonna degli Angeli è stata ristrutturata all'esterno ma la Cupola risulta essere pesante, con problemi per il sostegno della Chiesa; sarebbero necessari dei lavori per la conservazione della Chiesa Madonna degli Angeli, un capolavoro di un valore inestimabile.
Perché la Chiesa non venga chiusa, per realizzare il restauro e il rifacimento della facciata si può inviare un contributo al seguente numero IBAN IT 23Y0306909606100000067421
ANNA & MARIA SCIACCA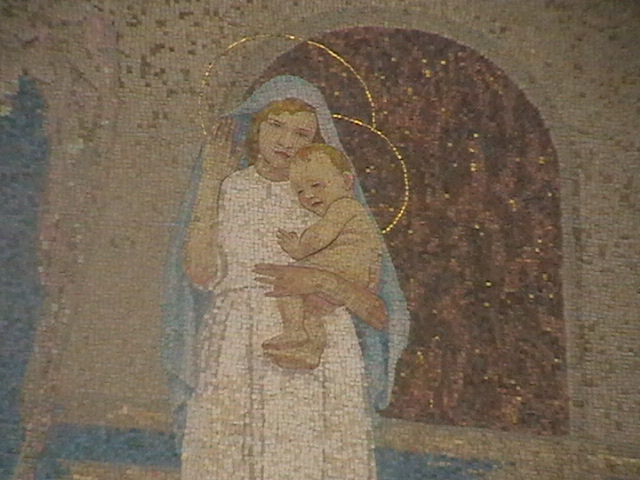 ---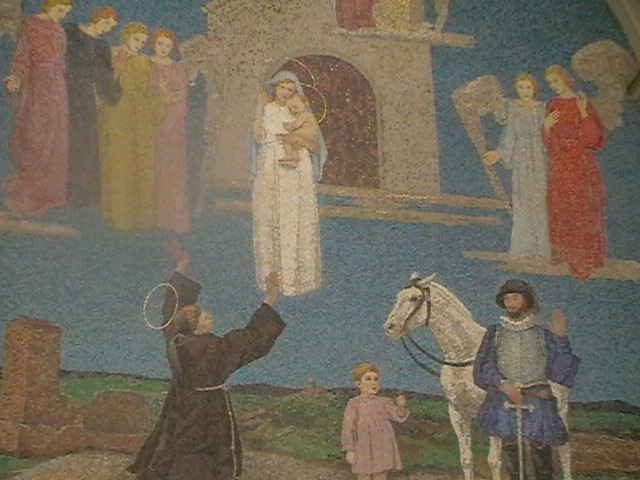 MADONNA DEGLI ANGELI CHURCH IN TURIN
It's a welcoming square, small for the world, an Italian square, notable because of the church of the Madonna degli Angeli; on the facade, a suggestive byzantine-style painting presents a Madonna and child.
The origins of the church date back to the XVII century; speaking with Father Marco Moioli of the Padri di San Camillo de Lellis, we were told how the church, belonging originally to a monastery, became a parish in 1834.
The Turin architect Carlo Ceppi provided for the restoration, designing a new facade between 1910 and 1911; at that time, the dome and the bell tower were built.
The Madonna degli Angeli church keeps several masterpieces of art nouveau and baroque style; it has a nave with side chapels, two large baroque altars, a beautiful painting with Madonna and a Baby child made in Trani, Sicily, of which it is not known the author and how it arrived in Turin.
In 1620, Margherita Roussillon, marchioness of Riva of Chieri bought the area upon which the Franciscan Reformed Minor order was built, and in 1631, the works began with the contribution of Maurizio di Savoia.
On the facade of the church, you can admire a Madonna in a white dress with a Baby Jesus in her arms in a golden light; the image is very touching: their face is full of love and the child is holding on to his mother with tenderness. In the painting, there's Saint Francis of Assisi, some cupids with blond curls, the landscape of the Porziuncola near Assisi, and a grove further on.
The entrance is framed in an arch and in the central lunette, there is a mosaic of 1961. Recently, the Madonna degli Angeli church has been renovated on the outside, but the dome is heavy, with problems for the church's support; work would be needed for the conservation of the Madonna degli Angeli church, a unique masterpiece of inestimable value.
For the church not to be closed, and to execute the restoration and the reconstruction of the facade, you can send a contribution to this bank number: IBAN IT 23Y0306909606100000067421
ANNA & MARIA SCIACCA