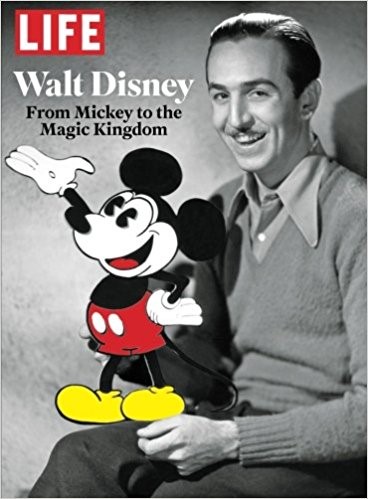 Mickey Mouse is a funny animal cartoon character and the mascot of The Walt Disney Company. His full name is Michael Theodore Mouse. Created by Walt Disney and Ub Iwerks at the Walt Disney Studios in 1928, Mickey is a  mouse who typically wears red shorts, large yellow shoes, and white gloves. He first appeared in the short "Plane Crazy", debuting in the short film "Steamboat Willie" (1928), one of the first sound cartoons.
He went on to appear in over 130 films, including "The Picnic" (1930), "The grocery boy" (1932), "The Band Concert" (1935), "Hawaiian holiday"(1937),  "The simple things" (1953); Mickey appeared primarily in short films, but also occasionally in feature-length films.
Beginning in 1930, Mickey has also been featured extensively as a comic strip character, Mickey has also appeared in comic books such as Disney Italy's Topolino, MM – Mickey Mouse Mystery Magazine, and Wizards of Mickey, and in television series such as The Mickey Mouse Club.
Mickey generally appears alongside his girlfriend Minnie Mouse, his pet dog Pluto; his friends are Donald Duck and Goofy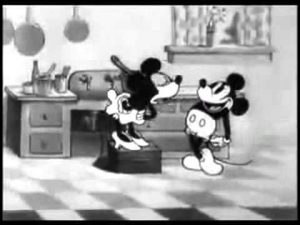 Black and white films (1929 –1935)
Mickey with Minnie Mouse in "Building a Building" (1933).
In Mickey's early films he was often a character (1929) not as a hero, but as an ineffective young suitor to Minnie Mouse. "The Barn Dance" is the first time in which Mickey is turned down by Minnie.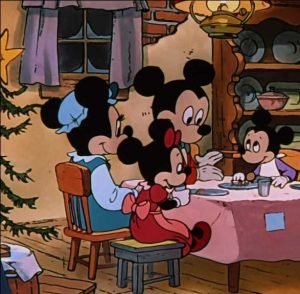 Color films (1935–1953)
Mickey in "The Band Concert" (1935).
Mickey first appeared animated in color in "Parade of the Award Nominees" in 1932. Mickey appeared in his first feature-length film, "Fantasia" in 1940. His screen role as The Sorcerer's  Apprentice, set to the symphonic poem of the same name by Paul Dukas.
Television and  films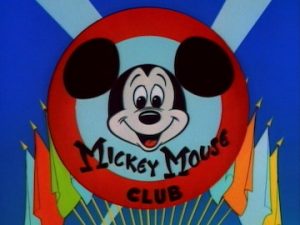 In the 1950s, Mickey became more known for his appearances on television, particularly with The Mickey Mouse Club. Many of his theatrical cartoon shorts were rereleased on television series such as Ink & Paint Club. Mickey returned to theatrical animation in 1983 with Mickey's Christmas Carol, an adaptation of Charles Dickens' A Christmas Carol in which Mickey played Bob Cratchit. This was followed up in 1990 with "The Prince and the Pauper".
Mickey played in the 1990 television special The Muppets at Walt Disney World where he met Kermit the Frog.
A large part of Mickey's screen persona is his famously shy, falsetto voice. From 1928 until 1947, Mickey was voiced by Walt Disney himself; after that year Mickey's voice was handed over to veteran Disney musician and actor Jimmy MacDonald, and Disney only occasionally gave voice to Mickey until 1966, the year of his death. McDonald continued with his work until his retirement in 1976. Until 1983 various actors gave Mickey his voice. In that year, Wyne Allwine took over the job and held it until his passing in 2009.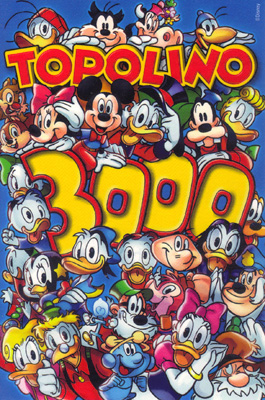 In Europe, Mickey Mouse became the main attraction of a number of comics magazines, the most famous being Topolino in Italy from 1932 on, Le Journal de Mickey in France from 1934 on, Don Miki in Spain, and the Greek Miky Maous.
Mickey was the main character for the series MM Mickey Mouse Mystery Magazine published in Italy from 1999 to 2001; he also appeared in the Italian fantasy comic saga Wizards of Mickey. In 1970, Mickey realized a disco album which went double platinum; he also performed with Minnie in  "Mickey's surprise party" a commercial short made for the National Biscuit Company in 1937, the "American Motors 1955 Nash automobiles", the television spot  for the chips "Pizzoli – Le Croccomagie Topolino" in 2016, "McDonald's Happy meal" tv spot in 2020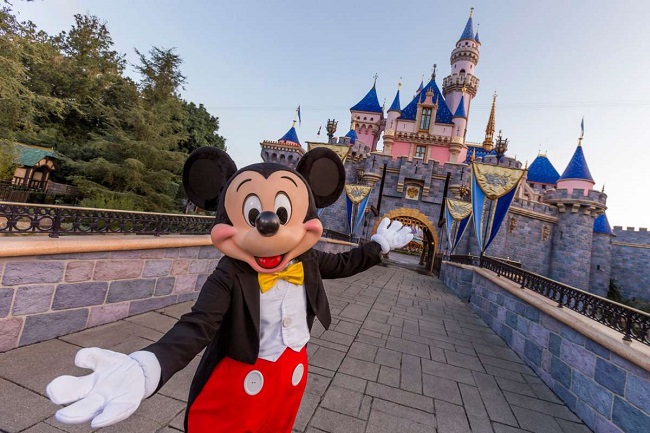 Mickey at the Disney Parks
As the official Walt Disney mascot, Mickey has played a central role in the Disney parks since the opening of Disneyland in 1955, Mickey also features in several specific attractions at Disney parks, Mickey's Toontown Disneyland and Tokyo Disneyland.  Mickey Mouse has received ten nominations for the Academy Award for Best Animated Short Film. In 1978 Mickey Mouse was the first cartoon character to earn a star on the Hollywood Walk of Fame in Los Angeles, California
GALLERY