By Joseph M. Calisi © 2021 All Rights Reserved
Little Italy, Manhattan, December 2, 2021 – The area many immigrants from Italy fled to in New York City over a century ago into an area that became known as Little Italy (La Piccola Italia) whose heart was along Mulberry Street. In recent decades, a number of Italian-based venues along this historic area have been disappearing due to high real estate prices, and fleeing to points outside Manhattan.
Today, there's only one place left, E. Rossi & Co.'s 'Little Italy's Oldest Gift Shop' as the others have gone away. The 111-year old family storefront still sells a variety of items at 193 Grand Street near the corner of Grand and Mulberry Streets. While the store sells many reminders of the past, their inventory reflects current day items and can be reached at https://erossico.com/; https://erossico.com/shop; or social: @erossiconyc.
Ernesto Rossi, who emigrated from near Naples, Italy in 1900, opened this family storefront operation in 1910. The gift shop has moved from its original site to nearby locations over the years as Ernesto's grandson, Ernie now proudly mans the operation. Other items such as newspapers were sold here once as well that included an Italian music publishing company. Published music is still sold here but that now includes Italian American pop culture, CDs, religious items, Italian novelties, souvenirs, 'la Cucina kitchen items and utensils, coffee supplies Italian soccer jerseys, hooded pullover sweatshirts, and zippered jackets that say Italia as well as selling Italian & Neapolitan music. For espresso aficionados, Bialetti coffee pots with the Italian tri-colors are proudly displayed for sale.
Recent lockdowns coupled with declining tourism and foot traffic have added to the strain of operating. According to Ernie, "This building isn't the only one listed for sale as the historic building next to The Italian American Museum; the building that houses Caffé Napoli and others are also for sale. The leases for those businesses may go on for some short-term length of time going forward. E. Rossi and Co.'s 'Little Italy's Oldest Gift Shop' will be open through this holiday season."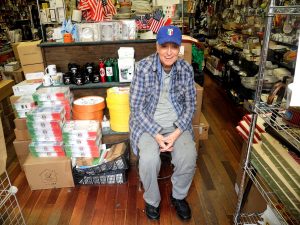 The potential sale of this and other buildings is part of the ongoing gentrification of Little Italy, where those icons have moved into history over the years.
Ernie Rossi, the proprietor that operates E. Rossi and Co. said, "I will keep the store running as long as I can to keep the last Italian goods store going and give Italian Americans something to see in the area." He began working at the store at the age of 10 and it represents his life's work.
There is hope. On the day I visited Ernie's shop on November 28th, a representative of Mayor de Blasio's office was there to try and help keep the business open, possibly at another location. On Tuesday Nov. 30th, City Hall sent two representatives from the Department of Small Business Services (SBS) to discuss the situation with Mr. Rossi.
On December 1st, SBS issued a statement that SBS has connected the business owner Ernest Rossi to a NYS Grant program so that he can apply. We are also providing an account manager to further assist in the application process and said, "The story of E. Rossi and Co. is a classic New York City story full of charm and history. It is shops like this that make New York City so special. The Department of Small Business Services in partnership with the Mediating Establishment and Neighborhood Disputes team (part of OATH) has visited the shop and is currently working to connect the shop owner with financial assistance and free legal help. As we do with every mom and pop shop that reaches out for help, SBS is using all the tools we have to provide the shop with resources needed to stay open," said a spokesperson for the NYC Department of Small Business Services."
 GALLERY