Archive for Author Archive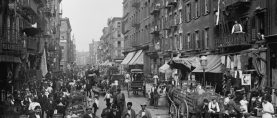 Posted On: February 13, 2019
Di Laura Klinkon Nel corso di tradurre alcuni sonetti di Edna St. Vincent Millay (1892-1950), comincio a capire [...]
The opinions expressed in our published works are those of the author(s) and do not reflect the opinions of L'IDEA MAGAZINE, Idea Graphics or its Editors.
IDEA PRESS ANNOUNCES…/IDEA PRESS ANNUNCIA…
SOME GRIEF, SOME JOY
By Leo Vadalà
----------------------------------------------------------------- Immigration to America is a dream fulfilled for a young Italian teenager and the beginning of a saga that will challenge the reader with its many surprising developments. This novel, drafted as a memoir, will make you root for the protagonist, cry for him and wish for his success while keeping you completely absorbed by the twists and turns of his life path. A masterpiece of narrative exploits that combines all the emotional conflicts of the immigrant`s life with the joys of love and an unexpected tragedy to create a perfect novel..