Reviewed by LindaAnn LoSchiavo for L'Idea
William Shakespeare featured twins in two comedies, The Comedy of Errors (1593) and Twelfth Night (1601), aware of the dramatic potential in mistaken identity, gender-bending, and the misdirected affection for look-alikes.
Synopsis:  In the kingdom of Illyria, Duke Orsino pines for the love of Olivia, a wealthy, dour noblewoman who is in mourning and refusing all suitors. Meanwhile, after a shipwreck, Viola, a young, aristocratic woman from Messaline, is swept onto the Illyrian coast and assumes Sebastian, her beloved twin, has drowned. As Viola is mulling over her situation, a local sea captain relays gossip about Orsino's doomed courtship. Though Viola suggests working for one of them, it seems more practical to be disguised as the newcomer Cesario, and be attached to the dukedom. When Cesario is promoted to a page, duties include delivering Orsino's love messages to Olivia. Believing Cesario to be a male, Olivia falls for "him." Meanwhile, daily dealings with the Duke make Viola swoon over him, creating comical love triangles.
There's a twinship in watching a performance as attendee and reviewer.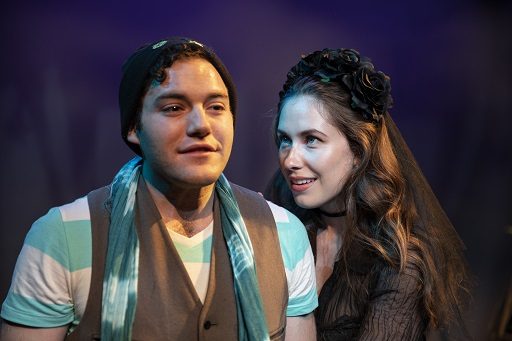 The Bard has a fan club so it's likely his work attracts a sweetheart audience. Ticket-holders either already adore this play and/or came to applaud a friend in the production. Based on my observations, it's fair to say that this group was entertained, laughed at the slapstick silliness, overlooked the flaws.
Cofounder—artistic director Lynnea Benson briskly directed this rom-com following Shakespeare's First Folio, the same text offered at The Globe during the Elizabethan era, untouched by modern meddling. The pace never flagged and the theatrics were punctuated by Ted Zurkowski's incidental music.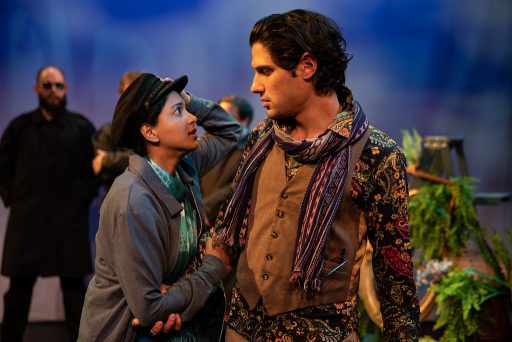 Naturally, a gimlet-eyed playwright / drama critic sees things differently. Even as the tempo and lyrical language loft you along, there's some curious casting and other hiccups that make "Twelfth Night" seem tossed together. It starts with the set.
Asa Benally designed a seafoam green tangle that might have been appropriate for the grands hommes scenes of "Once on This Island," too. A complex collage of chairs, palm trees, arches, grapes, curiosities, a ladder, frame, candle, cup, and table, this tableau is fringed with greenery and tall grass. To me, it symbolized a sleepy fairytale atmosphere freighted with neglect but also electric with possibilities. Nevertheless, it remained static. Except for a pause when a cast member sat down, no one interacted with it nor used the props.
Then there is an ill-conceived intro to two main characters: Orsino [JONATHAN REED WEXLER] and Viola [ALYSSA DIAMOND].
The famous opening line — — "If music be the food of love, play on" — —spoken by Duke Orsino, is accompanied by the hammy tossing of a rose from his mouth as he tangoes with Curio [DANI FRANCO]. But his festive sentiment is  soured by his melancholic follow-up: "Give me excess of it; that surfeiting, /The appetite may sicken, and so die." [1.1.1–3] Unless you know the play, however, you'll miss the somber mood these two lines convey in the whirl of the Flamenco music, choreography, and buoyant pacing. We'd understand Orsino's depression and lovesickness better if Benson's focus was not so hellbent on being cutesy.
ALYSSA DIAMOND, a capable winsome actress, is totally miscast as Viola. Rehearsal photos indicate that the Frog and Peach team was unsure how to present her. For example, she's seen wearing a fake mustache and even a Greek captain's hat before they settled on a watch cap adorned with two brooches.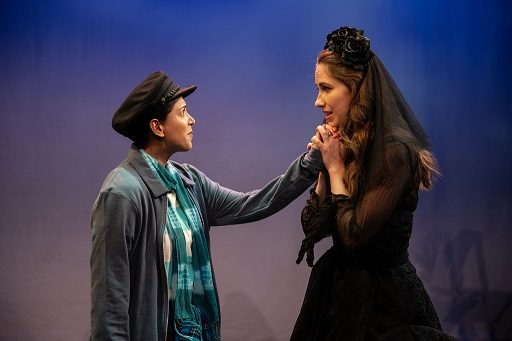 Viola's first appearance is a mess. Two shipwrecked sailors writhing and moaning upstage this damsel in distress, looking frail in a tattered gown (the last time she'll wear feminine garb). SHASHWAT GUPTA, excellent in the role of the priest, is a stiff cardboard captain, showing little interest in Viola. She deserves a sharper, more intense focus. Nevertheless, the poor framing of this crucial scene is not the only problem with Viola.
Since the players are supposed to be confused by the twin's close resemblance, it would have been wiser to choose a Viola closer in height and build to Sebastian [KYLE PRIMACK]. Instead, by casting an actress who is so petite and childlike that she looks 12 years old as Cesario, any scene where a tall, imposing Olivia [KAROLINE PATRICK] is lusting after the young page and trying to get "him" into bed is merely cringeworthy and creepy.
Asa Benally's intriguing costume designs are a mish-mash of layered looks using modern and retro pieces and it works — — except for Antonio [JOHN L. PAYNE]. Why is Antonio wearing a black leather motorcycle jacket? The character looks like he walked in off Bleecker Street by mistake.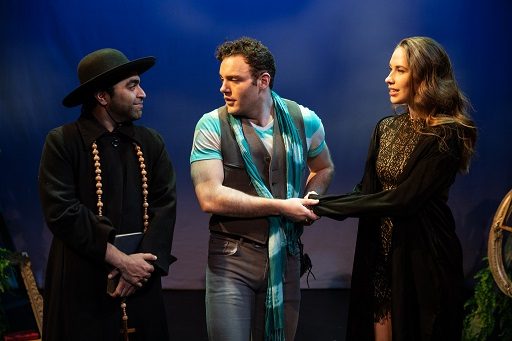 If you've seen different versions of "Twelfth Night," you may realize you're laughing less often here because the sassiest ribald ripostes flash by like a bullet train. Benson's quicksilver pacing sometimes draws the audience's focus away from where it needs to be. And maybe the speed got tongues twisted. At the performance I attended, too many actors were tripping on their lines.
No doubt, there's much to praise here, too. Parents brought their kids, who looked like they were having a good time — — perhaps reassured by the press release's cheeky promise that the play will be "over before you know it."
The cast features Martin Bodenheimer, Jamar Brathwaite, Alyssa Diamond, Dani Franco, Daniel Garcia, Shashwat Gupta, Kevin Hauver, Steve Mazzoccone, Karoline Patrick, John L. Payne, Richard James Porter, Blake Kelton Prentiss, Kyle Primack, Amy Frances Quint, Steven Ungar, and Jonathan Reed Wexler.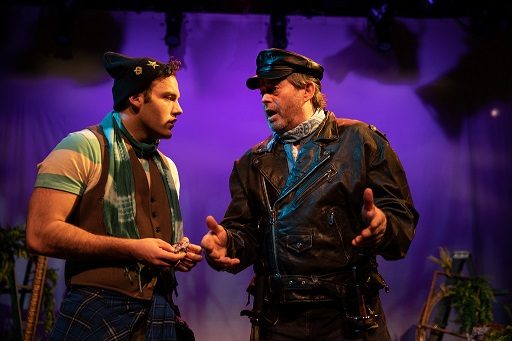 Additionally, the creative team includes lighting design by three-time Tony nominee Dennis Parichy, choreography by Geneva Jenkins, and fight direction by Marcus Watson. Rafaella Rossi serves as stage manager.
Frog and Peach Theatre Company will stage their production of "Twelfth Night," running until March 17, 2019, at the Sheen Center Black Box Theater, 18 Bleecker Street, New York, NY.
 Photos by Maria Baranova