In honor of all the fallen heroes and Memorial Day celebrations, we are proud to introduce you, our readers, to a special song written for this event.
"The Banner Yet Waves" is a song Dr. Mary Rorro composed for Memorial Day to honor and pay tribute to fallen soldiers, and also for any time.
The song combines elements of The Pledge of Allegiance, The Star-Spangled Banner, and Abraham Lincoln's Gettysburg Address, and it wants to commemorate those who served and sacrificed, honoring the flag and the country.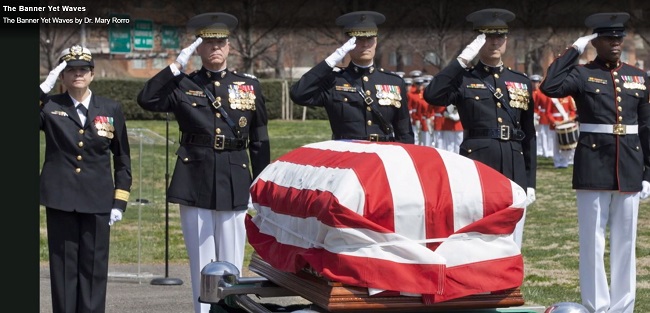 Click on the image above for a link to the song and video
Here's a comment by the composer: "As a physician and musician, I blend music into my psychiatric practice with veterans in the New Jersey Veterans Affairs Healthcare System. Two video links, from WQXR, the former radio station of The New York Times, and The American Veteran show, feature my therapeutic music program "A Few Good Notes," in action at the VA, with a group of Vietnam veterans. As you can witness, music possesses powerful therapeutic effects in their journey toward healing.
As part of the program, veteran volunteers also teach vets guitar lessons and I play with them on viola both in the clinic and community."
Dr. Rorro has collaborated with the veteran volunteers at St. Peter's University in Jersey City, and at Drumthwacket, the New Jersey Governor's Mansion in Princeton, and she has performed for various veteran ceremonies and events in New York, including at St. Patrick's Cathedral, the 9/11 Memorial for the 50th Anniversary of the Vietnam War, the Intrepid, and at the World War II Memorial in Washington.
---
The Banner Yet Waves
Allegiance pledged
to the flag
hand over heart
our solemn oath
All gave some
some gave all
honoring our flag
until their fall
Remember patriots
one nation under God, invoking
the last full, their last full
measure of devotion
Land of the free
home of the brave
the banner yet waves
upon your graves
Music and lyrics composed by: Dr. Mary Rorro
Click on the links below to see videos on the program…
---