Interview by Tiziano Thomas Dossena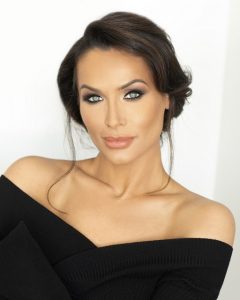 Vincenza Carrieri Russo was a winner of our Miss Idea contest many years ago, and since then she has accomplished many goals and touched many lives with her indefatigable work in the community. We had the opportunity to have a nice talk with her…
L'Idea Magazine: You have been in the pageant business in various functions: contestant, winner, promoter, pageant image consultant, and organizer. At the moment, you are now the Executive State Director of the Miss Delaware USA and Miss Delaware Teen USA Pageants, under the Miss Universe Organization. What does that position entail for you?
Vincenza Carrieri-Russo:  There are 3 facets to what I do as an Executive State Director. First, I have the responsibility of managing the current state titleholders throughout their year. Next, I handle all of the administrative work in the production of the annual event. Finally, I have the opportunity to work with the dynamic women who enter the event, which happens all year round. Essentially, my job is to instill the values of the Miss Universe Organization by EMPOWERING WOMEN.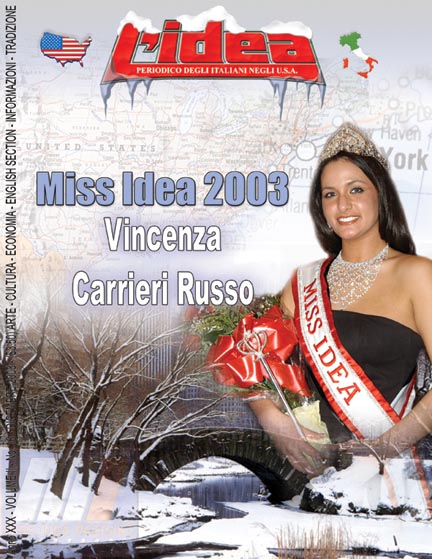 L'Idea Magazine: So many years have gone by from that day when you became Miss Idea, the official winner of the 2003 contest by our magazine. You also kindly collaborated with our organization in the following pageants. How does it feel to be interviewed by the magazine that recognized you at the beginning of your participation in the pageant business?
Vincenza Carrieri-Russo: I am truly honored by the audience you've provided me, once again. In the 20+ years of my pageant career, I've had so many incredible opportunities and have met so many wonderful people. To be interviewed by an Italian-American national magazine is an honor in itself. And, I am so proud to be an Italian-American woman.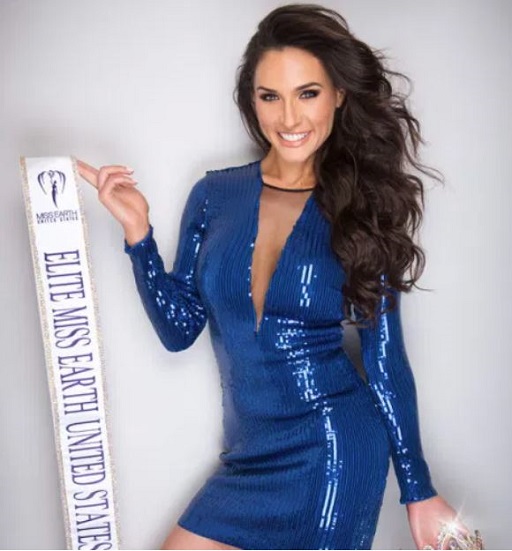 L'Idea Magazine: You have achieved many victories in the world of pageants: Miss Mola di Bari 2001, Miss Grumo 2002, Miss Tri-County 2003 (Semifinalist at the Miss Delaware America Pageant), our very own Miss Idea 2003, Miss Brandywine 2004 (Top 10 at the Miss Delaware America Pageant), Miss Puglia 2005 (Semifinalist at the Miss Italy Philadelphia Pageant), Miss First State 2006, Miss Wilmington 2007, Miss Delaware USA 2008 (Semifinalist at the Miss USA Pageant), Miss Delaware Italy USA 2010 (Top 6 at the Miss Italy USA pageant/Preliminary to Miss Italy World), Miss Delaware United States 2014 (2nd Runner-Up at the Miss United States Pageant/Preliminary to Miss World), Elite Miss Earth United States 2015, and 2nd runner-up spot at the prestigious National Miss United States Pageant. Could you talk a bit about the difference between these experiences?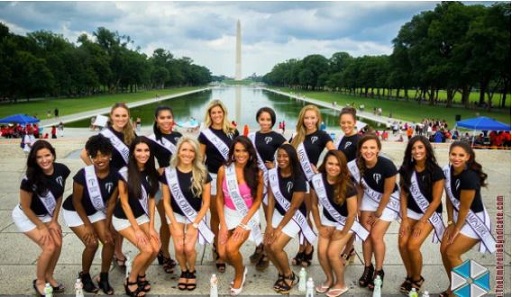 Vincenza Carrieri-Russo: Each title, competition, pageant, and experience has shaped me into the woman I am today. Through all of those amazing successes, I also know what it is to experience defeat many times. In my 20+ years of my pageant career, I have lost more times than I have won. However, I always feel that you learn so much more about yourself when you don't succeed on the first try. Sometimes it takes a few (or more!) tries.
My favorite quote is, "It doesn't matter how long it takes, as long as you get there." I always remind myself to never give up and continue to try and try again. I have to admit, when I finally won the title of Miss Delaware USA 2008, it was by far the most rewarding feeling in the entire world. To finally achieve a goal that I had dedicated countless hours to preparing and practicing for, was truly humbling and gratifying.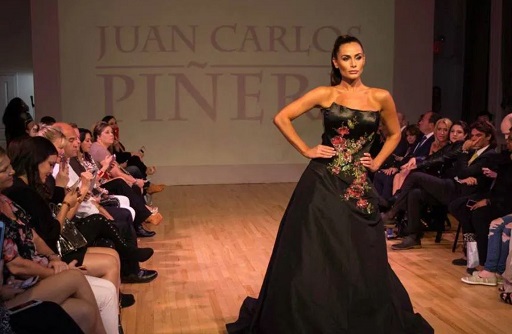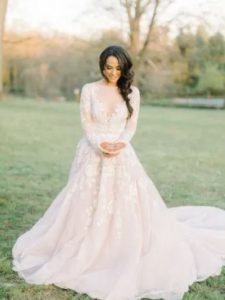 L'Idea Magazine: You also modeled for bathing suits and wedding gowns and walked for multiple top couture designers from Italy to Vegas to New York. How different is the world of modeling from the world of pageants? Which designer impressed you the most? Which one gave you the most unusual experience?
Vincenza Carrieri-Russo: The designer that I had the honor and privilege of modeling for on several occasions is Karen Sabag. She is a top couture and celebrity designer. When I competed for Miss USA, she designed my dream gown! It was breathtaking and perfect. Later on, I competed for Miss United States, and she dressed me for that pageant, too. Her designs are one-of-a-kind. She never makes the same piece twice. My favorite part of the experience is when she draws out your dream gown in person and then she makes it come to life. I adore Karen so much!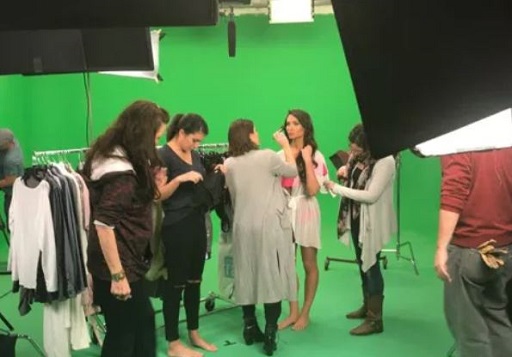 L'Idea Magazine: Commercials for TV; you have done many. Could you mention a few and tell us which one was the most interesting occurrence for you in that field?
Vincenza Carrieri-Russo: I moved into the commercial and acting world after my pageant competition years. I really enjoyed being in front of an audience and camera, so it was only fitting to dive into this field next… To date, I have filmed over 40 TV commercials for Primo Hoagies, Fiat, Mercedes Benz, Bikini Zone, Palm Springs Casino, and Mount Airy Casino, to name just a few.
My most interesting experience would have to be learning to adapt to any situation and to "go with the flow." My many years competing in pageants taught me to be self-sufficient and flexible. When you are on set, not everything is going to go smoothly. And, it is important to be flexible. One of my mottos is, "Stay ready, so you don't have to get ready."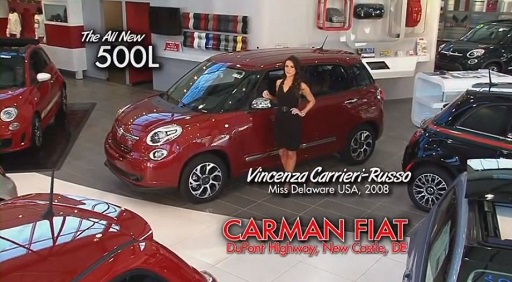 L'Idea Magazine:  Besides being an actress, a celebrity host, and a model, you are the co-owner of "Vincenza & Margherita Italian-American Bistro," where you are the "Queen of the Kitchen," and "Ice Cream Delight" What brought to open a restaurant and an ice cream shop?
Vincenza Carrieri-Russo: My sister Margherita and I are the 3rd generation of Carrieri-Russos in the restaurant and hospitality world. So, it was only fitting to continue the tradition by opening up V&M Bistro. Our father, Vincenzo, is the Executive Chef and an incredible mentor. Mom has also played a huge role. She is the "glue" that keeps us together. Our two brothers help out too. This is truly a family affair!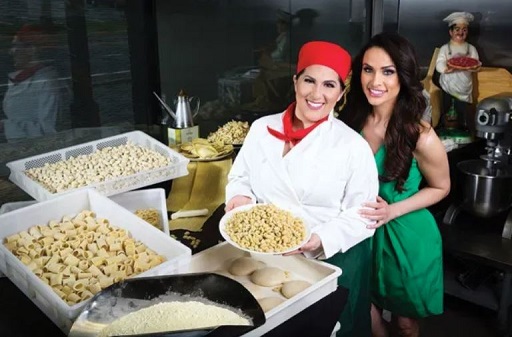 L'Idea Magazine: What type of cuisine does your bistro carry? I heard it got recognized with awards…
Vincenza Carrieri-Russo: We are known for both our traditional and contemporary takes on delicious Italian-American food. And, we have been very fortunate that our local community, county and state have recognized us for quite a few awards. These include Best Italian Restaurant, Best Homemade Gnocchi, and Best Specialty Cocktails, especially our famous Limoncello Ice Martini! We actually make our limoncello and our lemon ice in-house!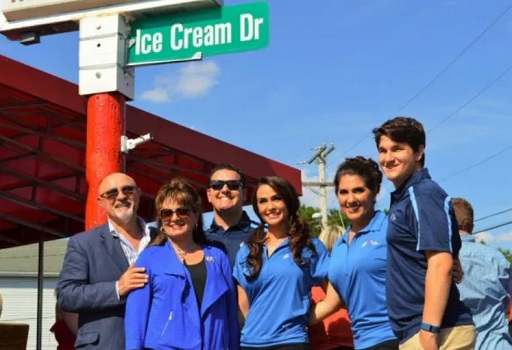 L'Idea Magazine: Which one is your favorite dish?
Vincenza Carrieri-Russo: Other than our famous Sicilian Pizza, which is out of this world, I enjoy the Timballo or the Cioppino!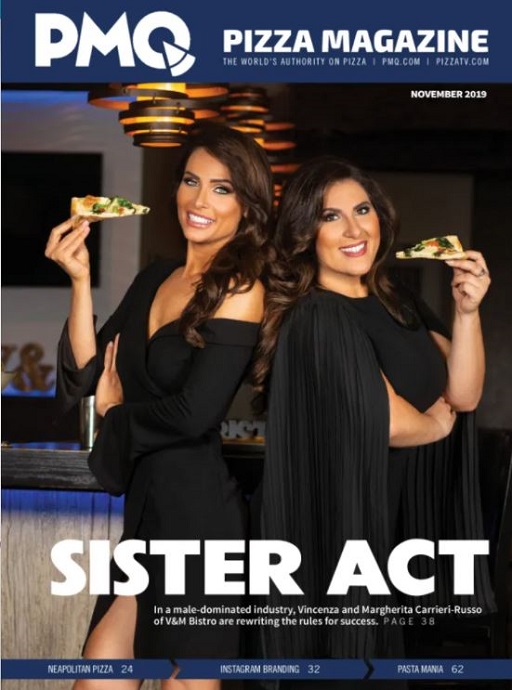 L'Idea Magazine: How is the restaurant coping with the Covid19 situation?
Vincenza Carrieri Russo: We have learned the art of the pivot. At the beginning of the pandemic, the moment the Governor of Delaware announced that all restaurants had to shut down their dine-in service, we adapted quickly. Within 24 hours, we turned our fancy dine-in restaurant into a full-blown, old-school pizzeria. I remember calling my Dad on the phone and telling him that we had to take the restaurant back to the early pizza shop days, which is where he started it all with my Nonno Italo over 50 years ago. I am not sure how my sister and I would be surviving this insanity without his guidance and wisdom.
It is almost 10 months and we are still operating exclusively as a take-out business. We are constantly evolving, just to stay alive. The restaurant industry is taking the hardest hit of them all. We are in survival mode!
We have implemented new ideas to stay relevant and we maintain a consistent presence online. We introduced our V&M Market, where we sell sauce, cheese, vegetables, bread, and desserts! We also introduced V&M Barlour, where we make and handcrafted alcohol-infused ice cream for take-out only, which we call BOOZY ICE CREAM! It's incredible!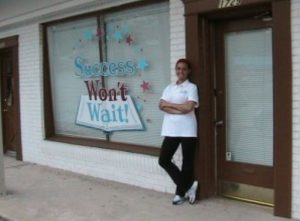 L'Idea Magazine: When you were just 18 years old, you co-founded Success Won't Wait!, a not-for-profit literacy program based in Wilmington, Delaware, whose mission is to encourage reading, particularly by children, and services Delaware and the surrounding states. What made you decide to do that and how involved are you still in that organization?
Vincenza Carrieri-Russo: I never set out to co-found a non-profit literacy organization… it just happened! I clearly saw the need for improving literacy in my community. And, with my own struggles with reading comprehension as a young child, I felt it was my calling.
I am still very active in advocating for literacy and encouraging children to read, especially starting at a young age. Studies have shown, spending at least 15 minutes a day reading can improve self-confidence and academic achievement.


Currently, with Covid certain projects have been postponed; but we are still very active with redistributing books. We are taking every safety precaution to make sure all of the books are properly cleaned and wipe down every one with organic cleaner before redistribution.
Once schools reopen, I have plans to partner with a local school district and donate 1 book to every single student in all eight elementary schools. That will be over 5,000 books! I look forward to that day!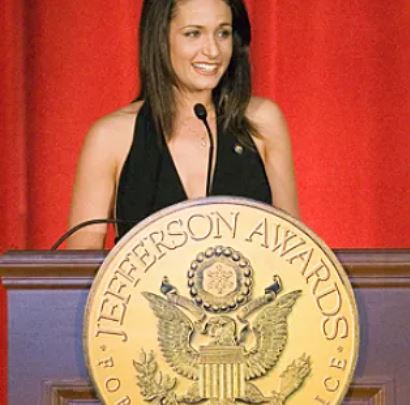 L'Idea Magazine: You have been honored with several prestigious awards for your ongoing literacy efforts, including the "State of Delaware Jefferson Award," the "Daily Points of Light Award" as the Nation's Volunteer of the Day, the "Governor's Outstanding Volunteer Award,"  the "National Jacqueline Kennedy Onassis Award for outstanding community service," and many more. Were there one or more particular awards that made you feel most appreciated? And the most exciting ones?
Vincenza Carrieri-Russo: As a committed advocate for volunteering and giving back to the community, you do not work for recognition or awards. You do it out of the kindness of your heart. It is a selfless act. Volunteering to me is truly rewarding and you cannot put a price tag on that.
I never expected any of these incredible honors. I was actually surprised when I started to receive notifications on my nominations, which is an honor in itself. Every single award had tremendous meaning to me and helped promote my mission for eradicating illiteracy.
If I had to pick one, it would have been the Jefferson Award: "National Jacqueline Kennedy Onassis Award for Outstanding Community Service." This particular award is considered to be the "Nobel Prize in Community Service."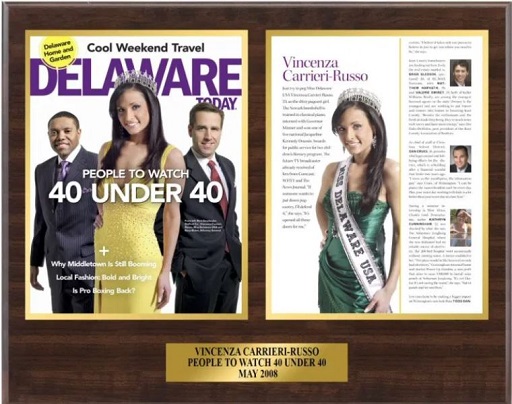 L'Idea Magazine: You were named 2012 Woman of the Year Candidate & Spokesperson for the Leukemia & Lymphoma Society. Being a Lymphoma survivor myself, I wondered what that society did and what your duties would have been…
Vincenza Carrieri-Russo: As the Woman of the Year Candidate, I became a spokesperson for the Leukemia & Lymphoma Society for one year. My job was to educate and raise funds to help find a cure. My Uncle Joe is a survivor and I accepted this responsibility in his honor.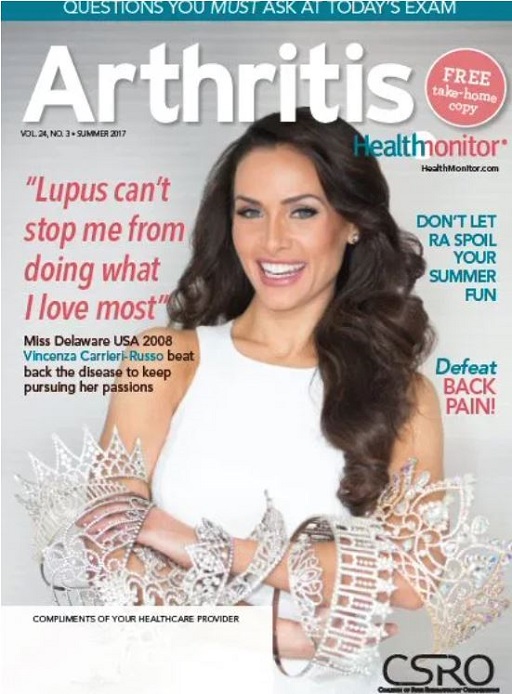 L'Idea Magazine: You are now the spokesperson for Lupus since you have been diagnosed with it in 2011. What does that require of you?
Vincenza Carrieri-Russo: I've been a Lupus warrior for about 10 years now. Let's just say it has been quite the journey since officially being diagnosed. If you don't know what Lupus is, it is an autoimmune disease that attacks your body, specifically, all major organs such as your lungs, brain, liver, and heart. The list of symptoms is endless. Some days are great, where I can conquer the world and some days are very bad, where I can't even move or walk. The sad reality is that Lupus is debilitating and life-threatening. Unfortunately, there is no cure (yet). Since being diagnosed, I felt it was important to use my voice to be a spokesperson for this incurable illness. I truly believe we will find a cure someday. Until then, my job is to create awareness and help educate those who don't quite understand what Lupus is.
To date, I was featured on the cover of Arthritis Magazine and became a panel speaker for The Lupus Foundation of America (Tri-state chapter). Every year, I participate in the annual Lupus Walk in Delaware. My team name is "Team Vincenza/Beyond The Crown" if you are interested in joining my team next year!
L'Idea Magazine: With all these whirlwind activities in which you are involved, do you ever find time for yourself?
Vincenza Carrieri-Russo: Honestly, no… Haha! However, I feel it is extremely important to allocate time for family and sleep. So, I make it a point to do so. It's also very important to take care of your mental health.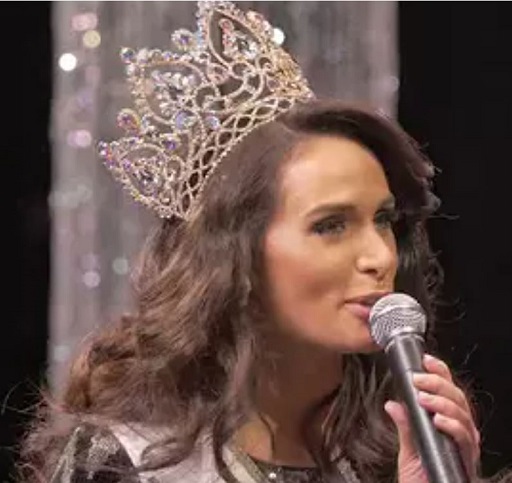 L'Idea Magazine: How important was your being of Italian origins on the choices of your life? How strongly do you feel about your Italian heritage?
Vincenza Carrieri-Russo: I am PROUD Italian American. I have so much love for my culture, heritage, and traditions. My grandparents and parents always instilled old school values in me. Family is everything!
L'Idea Magazine: Any special projects that you are working on at this moment?
Vincenza Carrieri-Russo: Yes! However, I cannot reveal it quite yet. Let's just say it's going to be fun and delicious!
L'Idea Magazine: Do you have an unfulfilled dream?
Vincenza Carrieri-Russo: Actually, I have a bucket list of unfulfilled dreams. I am a big dreamer and a firm believer in setting goals and working hard to achieve them! I believe it is important to follow your dreams. I will share with you just with one of them… As a strong advocate for promoting literacy, I want to write a children's book. (I already had preliminary meetings with a few publishers).
L'Idea Magazine: If you had the opportunity to meet a character from history, any character, and speak to them, who would he or she be, and what would you ask?
Vincenza Carrieri-Russo: I would love to meet Dr. Maria Montessori. As a female leader, she broke barriers in her time and paved the way for so many. She revolutionized the field of early education and defied the odds.
My question to her: Would you change the way your life played out?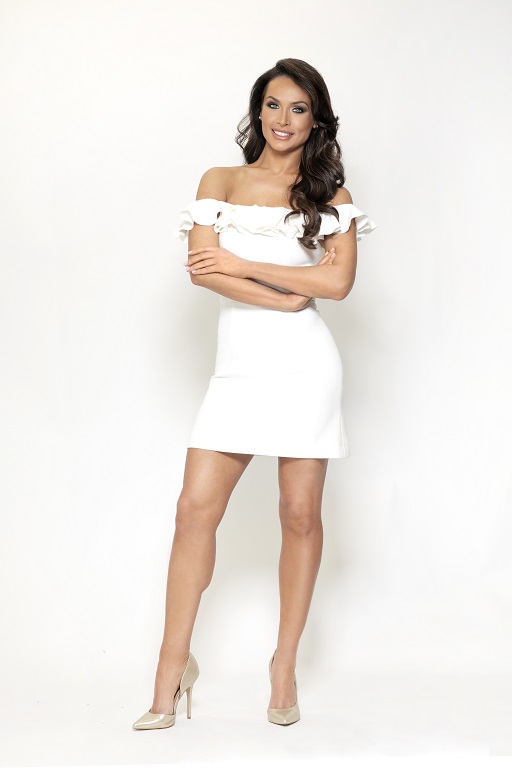 L'Idea Magazine: A message for our readers?
Vincenza Carrieri-Russo: During these uncertain times, it is important to protect your inner peace and your mental health. As a Lupus warrior for almost 10 years now, I have learned that nobody can take care of you better than YOU. Your health comes first; everything else is second. While everyone is experiencing something different during this pandemic, never forget to allocate time for a mental health check.