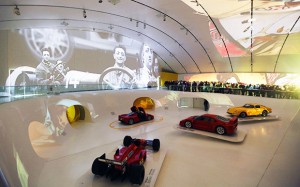 May 17th is a special day at the Enzo Ferrari Museum in Modena, with many events in the name of fun and art as part of the all-night activities organised throughout the city. From 6 to 8pm the Museum will stage the first ever game of Superpush, aimed at being played in open spaces and gardens.
It features home-built model cars, made from any material in any shape, with ball bearings instead of wheels, to be run down a track marked out with traffic cones, according to similar rules to those applied to marbles on the beach. It brings back memories therefore of games that all kids played a lot in the last century, this time in a special setting. All sorts of personalities are taking part, including the chef, Massimo Bottura, who races with the number 3, the number of stars his restaurant has won, former motorcycle world champion, Luca Cadalora and the Modena Volley players, as well as some well known journalists. There is also a Superpush championship, which gets underway in Maranello on 28 June.
At the same time and up to 9pm, inside the Museum, the famous Chinese performance artist Liu Bolin will put on a show. Known as the invisible man, he is famous for painting his body so that when photographed against a backdrop, he disappears from view. Bolin will be painted in the spectacular backdrop of the Museum in the colours and shape of an Enzo Ferrari car. The public will be able to watch the technique involved in painting the artist's body and face. Only six prints of the photo will be made and signed, to be sold in major international contemporary art galleries.