Un inizio scoppiettante con star internazionali di tutto rilievo da Lady Gaga al suo esordio come attrice e diretta da un altro grande attore Bradley Cooper, Ryan Gosling adorato dalle donne e perché no anche dagli uomini.
Film interessanti scelti con cura e da persone che amano il cinema e si vede, temi ovviamente i più disparati che toccano il sociale o che parlano d'amore,storie tragiche e tragicomiche,il festival, le sue strutture decisamente gradevoli, ci sono più restrizioni alcune dovute per avere più ordine in quello che qualcuno tanti anni fa ha chiamato : sagra paesana.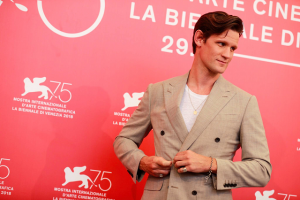 Ho seguito conferenze stampa che raccontano i film che si spera si vedranno al cinema, film che magari vinceranno un Oscar come La La Land presentato proprio qui a Venezia, altri resteranno comunque scolpiti nel cuore di pochi, peccato.
Le conferenze stampa sono a volte quasi una confessione da parte del cast,registi e produttori, c'è chi adora raccontarsi, chi scherza con i giornalisti, chi fa politica nel senso che esprime le proprie idee senza remore.
Tra i film che soggettivamente ho trovato "impressive" sono stati "Charlie Says" la vera storia di Charles Manson, i suoi efferati delitti, la sua setta di cui lui era capo indiscusso, umiliava le donne e le trattava come schiave sessuali, completamente plagiate tanto da spingerle ad omicidi terribili in nome di una ideologia raffazzonata tra Freud e un'idea distorta del socialismo, un guazzabuglio mentale e pericoloso.
Un film che è un pugno nello stomaco è : "What you gonna do when the world's on fire?" Di Roberto Minervini, siamo in America, quell'America in cui i neri sono ancora perseguitati dal KKK, dove se sei nero difficilmente trovi lavoro, dove gang di giovanissimi sbandati, spesso abusati si perdono, un difficile rapporto con la polizia e così nasce il rinnovato Black Panther Party.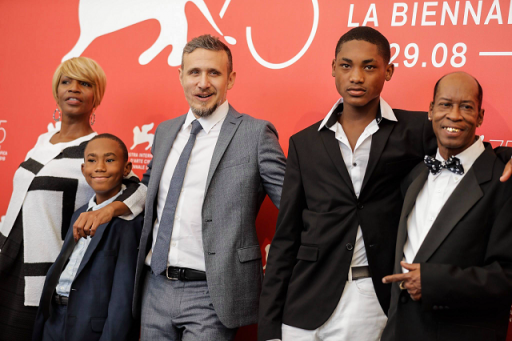 Fanno ronde di sicurezza, non sono armati,portano da bere e da mangiare ai senzatetto indifferentemente a bianchi e neri, rivendicano diritti dovuti.
Non ci sono scene di violenza e comunque è un film duro.
"El Pepe, una vita suprema" una lunga intervista al presidente Uruguayano Muijca che dava il suo stipendio ai poveri, andava con il suo maggiolone ed ex guerrigliero Tupamaros, il film è di Emir Kusturica.
Ovviamente la connotazione è molto politicizzata.
Tra i film restaurati un film siriano del regista Golestan, stranissimo destino questo film che doveva essere presente a Venezia ben 55 anni fa e che invece fu letteralmente rubato all'autore, per essere ritrovato, restaurato e inclusi pezzi tagliati dalla censura, il film : "the Brick the wall" è a tratti angosciante ma poetico con un finale aperto e ci mostra Teheran degli anni '60 a tratti sembra Las Vegas e dall'altra una povertà, una corruzione paurosa, uno spaccato della società dell'epoca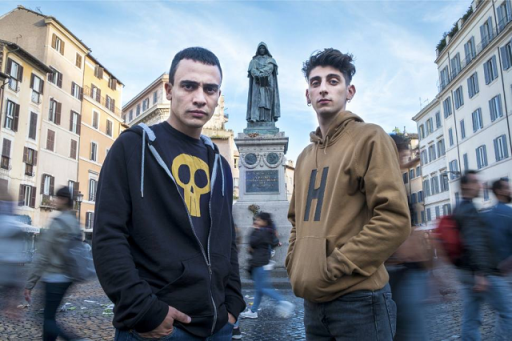 Due film più "leggeri" sono: "La profezia dell'Armadillo" di Zero Calcare, siamo a Roma in periferia, un giovane grafico vive dando lezioni private di francese e disegnando manifesti, ma c'è una presenza che l'accompagna un gigantesco Armadillo che filosofeggia e che in realtà più che un amico immaginario è la sua coscienza,battute in romanesco, situazioni ridicole, si ride e si pensa.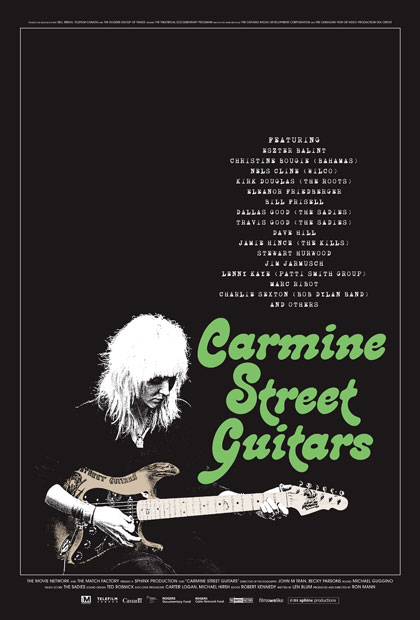 Interamente girato a New York anzi in un negozio "Carmine's Street Guitars" chitarre fatte interamente a mano da un immigrato italiano che serve i migliori musicisti da Jim Jarmush ispiratore del film a chitarristi di Patty Smith e Bob Dylan, tutti innamorati di queste chitarre fatte con legno riciclato preso da vecchi edifici demoliti e che l'autore chiama " le ossa di New York" bravissima la ragazza apprendista Cindy Huley che porterà avanti la sua storia,creando splendide chitarre.
La mostra continua e le sorprese pure.